Finding the Right Bridal Accessories for Your Wedding Look
Think you're finished with your wedding ensemble once you've found "the dress"? You better think again!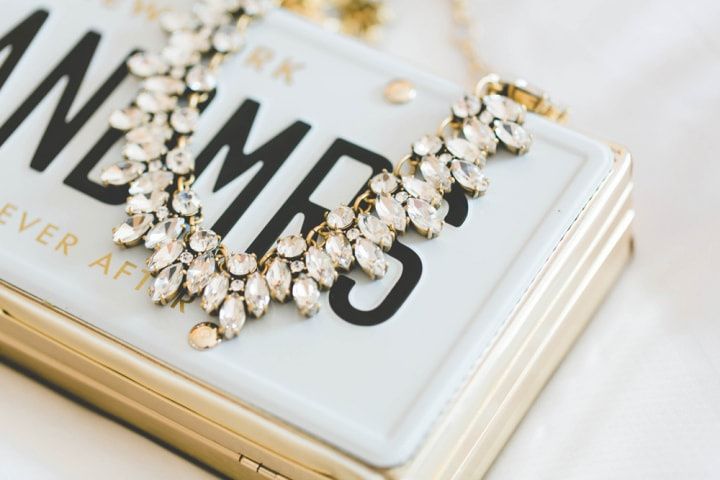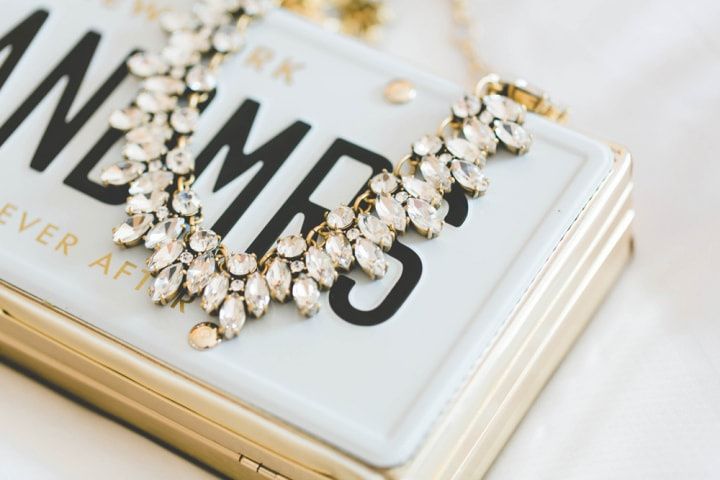 Amping up your wedding look is easy, all you need is a few fantastic bridal accessories. From accenting your bridal ensemble with a sparkling necklace to adding that extra oomph with a killer pair of stilettos, there's a lot you can do to take your look to the next level. But, before you dive into online shopping, there are a few key rules to remember.
Here are a few tips on finding the right bridal accessories for your wedding look.
Bridal Jewellery
No, you don't have to be dripping with diamonds à la Marilyn Monroe on your wedding day, but a little sparkle never hurt anyone. Adding bridal accessories like a necklace to accent an interesting neckline or some earrings to spotlight your stunning wedding makeup or updo is an amazing idea. Remember, any baubles you wear should be strategically placed to enhance your look. If you want to skip stacking on pendants and bracelets, there is one piece of jewellery you definitely should be wearing: your engagement ring.
Wedding Shoes
You should look stunning from head to toe on your wedding day, so don't forget to spend a little time hunting for the perfect pair of shoes. While you want to look like a million bucks, you should still be able to strut down that aisle with confidence. Lusting after Christian Louboutin Pigalles is something pretty much every woman does, but if you're hosting a beach ceremony they may not be the shoes for you. Speaking of Louboutins, you'll want to make sure you're not overspending on your shoes, so check-in with your wedding budget before you go wild in The Bay's high-end section. Once you've purchased the perfect pair, bring them along to dress fittings to make sure they work with your dress.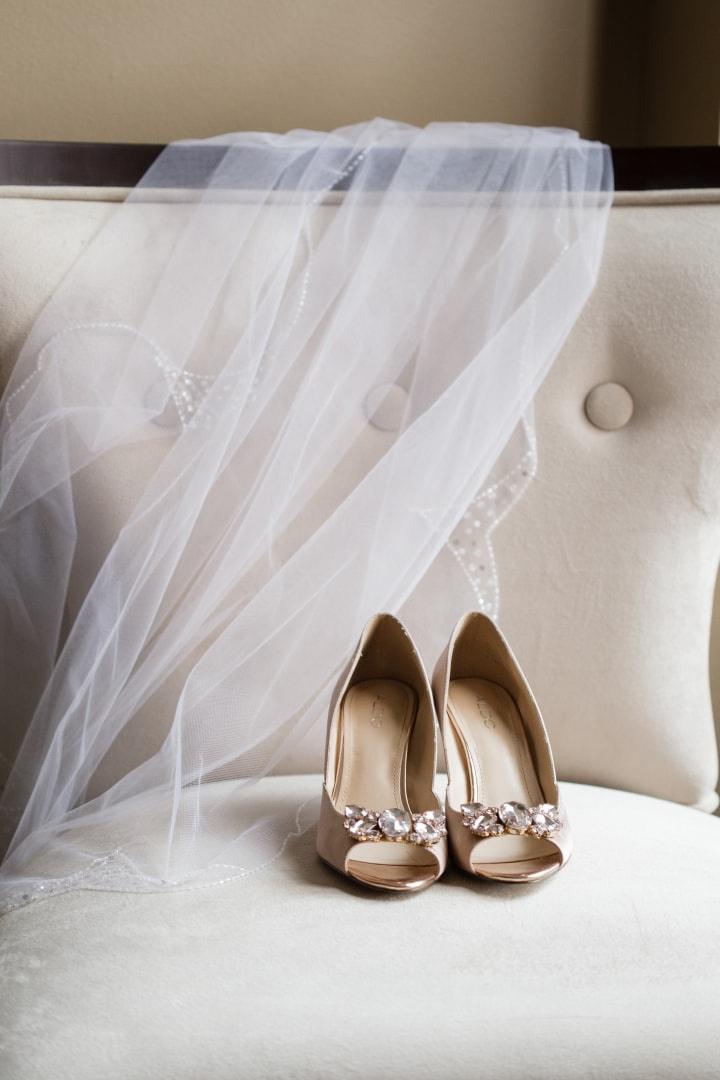 Bridal Hairpiece and Veil
The wedding veil is the cherry on top of the entire bridal ensemble. While they're not right for everyone, we suggest giving them a fair shot. The first step to finding a wedding hairpiece that works is to make it match your dress. Remember, you want it to complement your look, not drag it down. Once you've settled on a type of veil, you'll want to tailor it to your face. Not all veils are created equal, so look for something that highlights your face. Too much fabric can easily overwhelm ladies with more delicate features, so pay attention to size, fabric and style.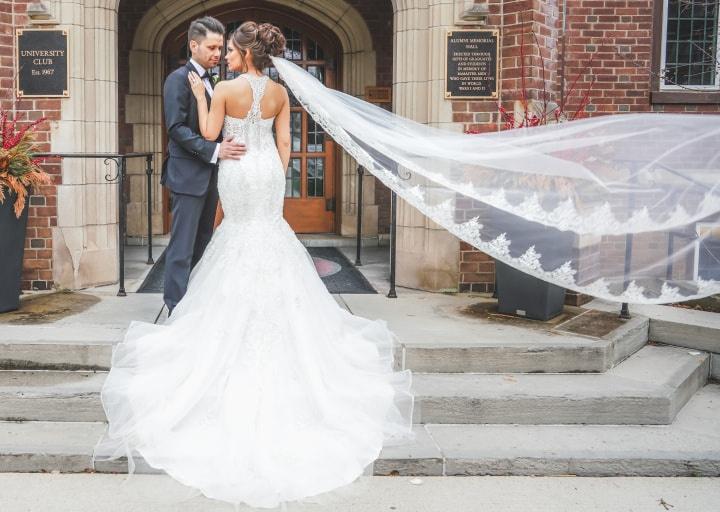 Wedding Dress Cover Up
Every Canadian knows better than to step outside without a jacket after September. So, if you're hosting your wedding in the fall or winter months you may need to add on a wedding dress cover up or coat to throw on top of your wedding ensemble (especially if you want to get some dreamy outdoor photos). While you may be tempted to throw on your Canada Goose and be done with it, we suggest looking for something a little more fashionable. A faux fur stole or cute lacey cardigan may be the perfect bridal accessory to your outfit.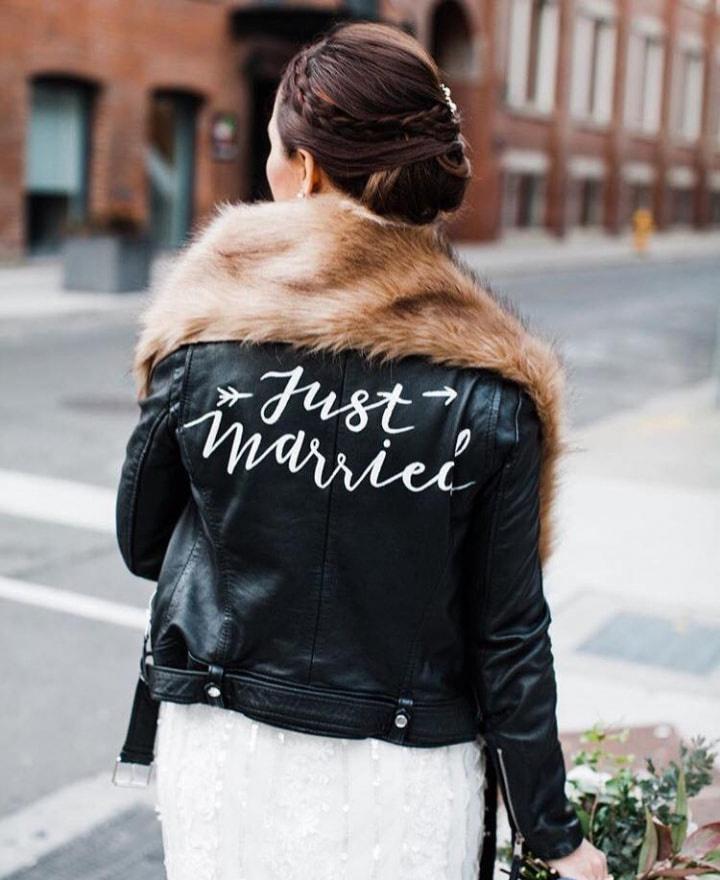 Find bridal accessories on WeddingWire »