Should I Rent My Wedding Dress?
Don't want to invest a ton of money on a gown you'll only wear once? Here's why you should consider a wedding dress rental.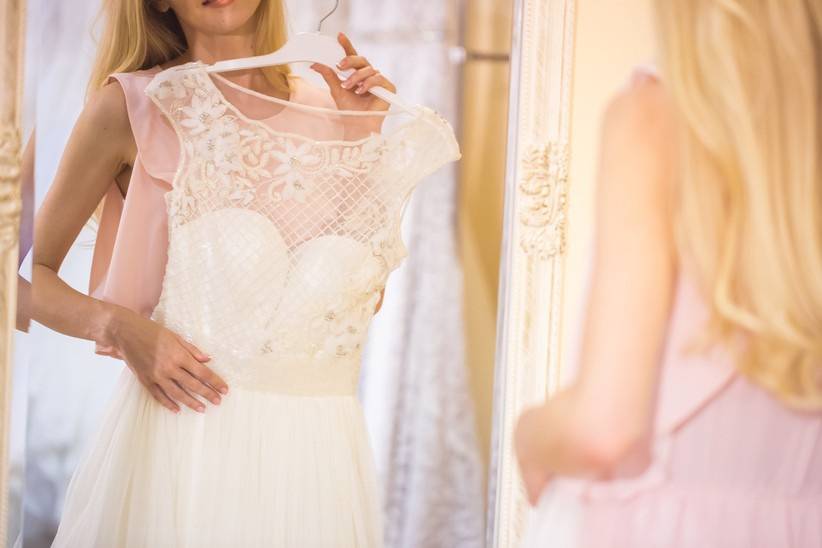 So you're thinking about a wedding dress rental? We get it. Committing to purchasing a wedding dress can be tough. Not only do you have to find the perfect style and silhouette for your body, but you also have to shell out a ton of cash for something you'll (likely) only wear once, which can be pretty difficult to justify. While some brides are A-OK ponying up the big bucks for a designer gown, others want to be a bit thriftier when it comes to their wedding wardrobe. If you're in the latter category, renting a wedding dress may be the way to go.
Here's why you may want to consider a wedding dress rental.
It will save you tons of money
If you've done your research, you already know that wedding dresses can cost thousands of dollars, and once you've invested in a venue, caterer, wedding cake and other essentials, that number can seem pretty daunting. Renting a wedding dress means you don't have to give up your life savings to get the dress of your dreams, so it's definitely an option worth considering. Bonus: because wedding dress rentals typically only cost a couple of hundred dollars, you'll probably have enough money to rent two dreamy dresses, so you can switch up your bridal look for your reception.
You won't have to justify your spending
One major problem with a wedding dress? You only get to wear it once. Even if you have enough money to afford a one-of-a-kind Monique Lhuillier ball gown, you may not want to splurge on it, and that's totally understandable. Renting a wedding dress typically costs $200 or $300 and that's a lot easier to get on board with than, say, a $5000 bespoke gown.
You'll be able to get the dress of your dreams
Speaking of designer wedding dresses and custom gowns, there's a good chance (if you're a bride on a budget) that you won't be able to afford the one you want without cutting some serious spending corners elsewhere. If you go the renting route, you'll be able to choose a dress from your preferred label without racking up some serious debt, which is obviously ideal.
You may be able to find sweet package deals
Your look won't be complete with just a gown, but don't worry, most wedding dress rental companies offer package deals that include things like wedding veils, sashes and other accessories. That means you can take care of your entire bridal ensemble in one fell swoop for a seriously discounted prices.
It won't take up space in your closet after the wedding
Figuring out how to clean, preserve and store your wedding dress after your celebration has wrapped isn't exactly fun (or cheap). One of the major pluses of a wedding dress rental is that you have to deal with none of that. Sure, you may have to pay a cleaning fee to your company, but the rest is up to them.
Ready to rent a wedding dress? We've rounded up where to find wedding dress rentals in Toronto, Montreal and Vancouver to help you out.