5 Ways to Cut Wedding Favour Costs
Looking to save a few bucks on your wedding favours? Here are a few surefire ways to keeps costs down.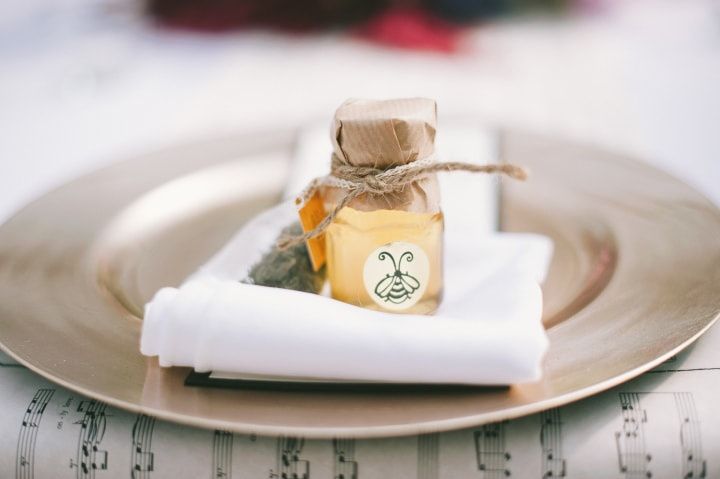 Wedding favours shouldn't cost a fortune – in fact, they typically only eat up around 1% of a couple's wedding budget. While they aren't a huge expense, you could be using those dollars to get you your dream wedding veil or to order your guests another round of hors d'oeuvres at your cocktail hour, so it's understandable that you may want to slash a few bucks off your bill.
Here are a few ways to cut wedding favour costs.
DIY wedding favours
While you may not be able to handle baking your wedding cake or sewing your bridesmaid gowns, wedding favours are one thing you can definitely DIY for your big day. Cookies, s'mores kits and pint-sized potted plants are pretty foolproof options that won't take up too much time or money to craft. Keep in mind that if your guest list has hundreds of names on it you may be better off buying.
Wrap them yourself
While having your wedding favours packaged and ready to go may save you a bit of time, it definitely won't save you any money. Ordering gift-wrapping usually costs extra, so we suggest skipping it and packaging them up at home. Don't want to spend hours alone wrapping cookies in itty bitty cellophane bags? This is a super productive bridesmaid bonding activity that you can do with your besties while watching movies or testing out your reception playlist.
Keep your eye out for sales
Channel your inner bargain hunter and look for sales on giftable goodies; peruse the internet for sale codes, scour magazines for coupons and sign up for store emails to take advantage of subscriber discounts. Also, mark major shopping holidays like Black Friday and Boxing Day on your calendar - you'll definitely find some deals on those days.
Ask about deals
You may be able to set up a sweet deal if you talk to the right person. Vendors are usually willing to cut down the price of wedding favours if you're buying dozens at one time, so do a bit of research before placing your order online and calling it a day. Note that not all companies advertise this as an option, so you may have to put in some leg work, make a few calls or send out an email or two.
Have your wedding favours serve double duty
Are you planning on creating a candy bar at your wedding so that your guests can dig into Hershey's Kisses and sour keys after dinner? Make it double as your favour station! Stack it with little bags or boxes so that your guests can save some of their favourite sweets for later. Voila! That's your dessert and your wedding favours done and dusted in one fell swoop.
Find your wedding favours on WeddingWire »