The Ultimate Bridal Beauty Routine
If you're working on perfecting your bridal beauty routine, we've got the lowdown on everything you should be doing in the weeks leading up to your big day.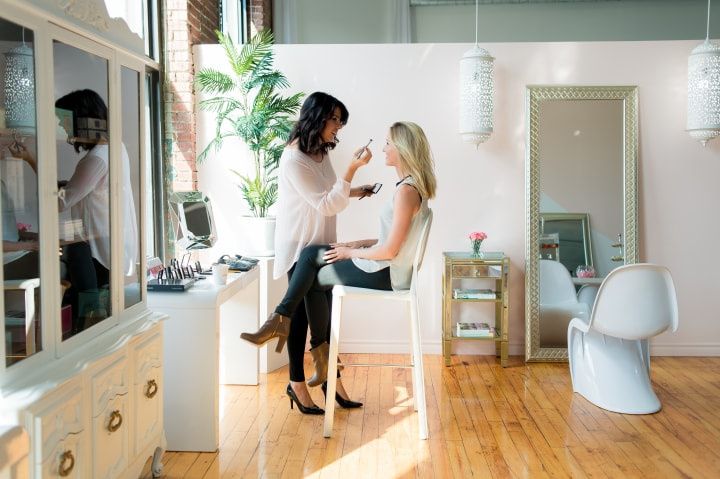 Everyone wants to have that red carpet glow on their wedding day, but it takes a little bit more effort than hiring an amazing wedding makeup artist. Sure, they'll come as a huge help on your big day, but there are a few other things you should consider working into your bridal beauty routine, too. From introducing more H2O into your diet to getting your lashes done here's what you should be doing before your wedding (and when) so far as bridal beauty is concerned.
Here is your ultimate bridal beauty routine.
The month before your big day
It may seem early, but now's the time to start easing into your bridal beauty routine. Tweak your skincare regimen and incorporate a few lux new products - maybe an indulgent serum, scrub or mask - to whip your face and body into shape. You'll probably want to consult an expert before throwing in anything new, just to be on the safe side (no need to risk aggravating your skin!). If you haven't started already, try to cut down on the fast food and up your water intake, too. Your body will love you for it and you're bound to see some glowy results.
The week before your big day
Your wedding day is sneaking up fast. One week out you'll want to schedule all your big bridal beauty appointments. What are those? Waxing, teeth whitening, lash extensions, airbrush tanning and nails. Waxing, whitening and lash extensions can be done about seven days in advance of your wedding - so put those into your calendar first. As for the rest, two or three days before should do the trick. Remember, now's not the time to test out new aestheticians and artists, go with your old and faithfuls so that the results don't come as an unpleasant surprise.
The day before your big day
One day left! You're probably holding back squeals of excitement and can't wait for your moment in the spotlight. Take this time to let your skin breathe. Don't go crazy with serums, masks or exfoliating treatments - you don't want to risk making your skin flare-up. You'll also want to give your hair a good wash and condition, but stay away from your tools - you want your hairdresser to be working with unstyled locks for your wedding. Also, remember to get in your eight glasses of water and try your best to get a good night's rest (it isn't called beauty sleep for nothing!).
On your big day
Now that you've dealt with all the big picture stuff, all that's left to do is let your wedding hairstylist and makeup artist work their magic. You can sit back and relax because you're not in the driver's seat anymore. Throw on your getting-ready playlist and let them primp and prep you VIP style.
Pictured at top: Wonderblush is a Montreal beauty studio for brides. They've got you covered for all your hair, makeup, lashes and spray tan needs.
Find your wedding makeup artist and hairstylist on WeddingWire »