5 Bridal Beauty Nightmares and How to Fix them
From breakouts to sunburns, here are some of the most common bridal beauty nightmares and how to fix them.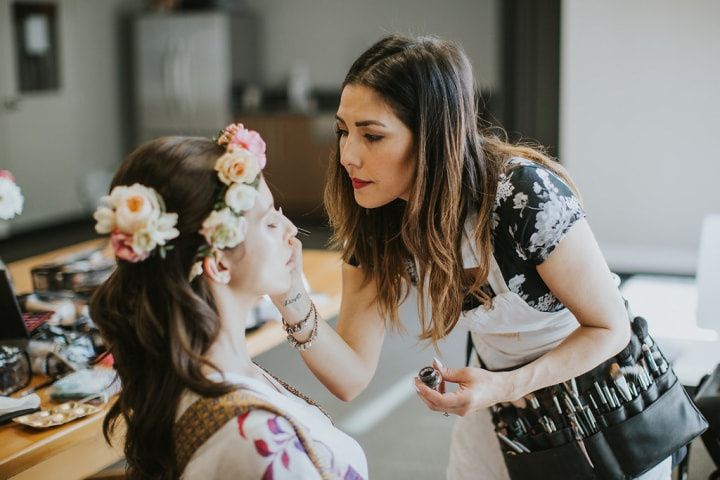 We've all suffered through a sunburn and/or gotten a little tweezer-happy and plucked a few too many hairs from our eyebrows, but if it happens on (or around) your wedding day it can be double as devastating. Unfortunately, you may face one of these nightmarish situations, too (even if you've created a flawless bridal beauty routine). These are some of the more common scenarios, and how to tend to them.
Here's how to fix any bridal beauty blunders you may have before your big day.
Bad Fake Tan
Scenario: you wake up only to find that your fake tan is more orange than bronze and has left you with streaks up and down your body. Don't worry, while it may look bad at first glance, you definitely don't have to call off your wedding. Having a product like fake tan remover (or a pantry stocked with lemon juice and baking soda to make your own) is a must. You may also want to ask your makeup artist if they can help you conceal more extreme issues with a body foundation (like MAC Face and Body).
Breakout
Maybe you didn't get enough sleep, maybe you didn't drink enough water or maybe you're just a little bit stressed out. Pretty much anything can cause a breakout, so don't be too hard on yourself. If a pimple appears before your wedding day, resist the urge to pop it. Yes, it's tempting, but I promise you that it will do more harm than good. Your makeup artist is a professional and will know just what to use to conceal it. If you really can't stop staring at it, try using a product like Mario Badescu's drying lotion after going through the rest of your typical skin regimen.
Over-Plucked Eyebrows
It's easy to go overboard with a pair of tweezers (we've all been there). If you plucked a few more than just the stray hairs the evening before your wedding, don't stress about your bridal beauty look. We live in a time where bigger and bolder eyebrows are all the rage, so makeup artists are typically armed with brow pomades, powders and gels (you may want to shoot yours a text before she packs up her kit to give her the news). Note: if you're doing your own makeup, Anastasia Beverly Hills is your best bet for brow products. They have a wide selection of products and colours and can be found at nearly every Sephora.
Chapped Lips
You don't want anything to get in the way of that perfect first kiss, so chapped lips are a real bridal beauty no-no. Lathering your pout with chapstick will help, but there are a few extra steps you may want to take. Consider applying a lip scrub - you can buy or DIY it - and following up a lip mask to give you that perfect, silky smooth smile (Bite Beauty makes an amazing agave one).
Sunburn
Oh no! You spent the day before your wedding soaking up the sun with your MOH and now you're stuck with a sunburn. Before you ask your photographer to shoot strictly in black and white, there are a few ways to fix yourself up. Step one: don't scratch. Irritating your skin will only make things worse. Apply aloe to sooth affected areas and then get on to colour correcting with lotions and potions (with the help of your skilled makeup artist, obviously). Seriously, a good foundation can work wonders.
Need to hire a bridal beauty pro? Find your wedding makeup artist on WeddingWire »