10 Questions to Ask a Wedding Makeup Artist
It's always important to schedule a Q& A with your wedding makeup artist before fully committing. Here are some key questions to ask before taking the plunge.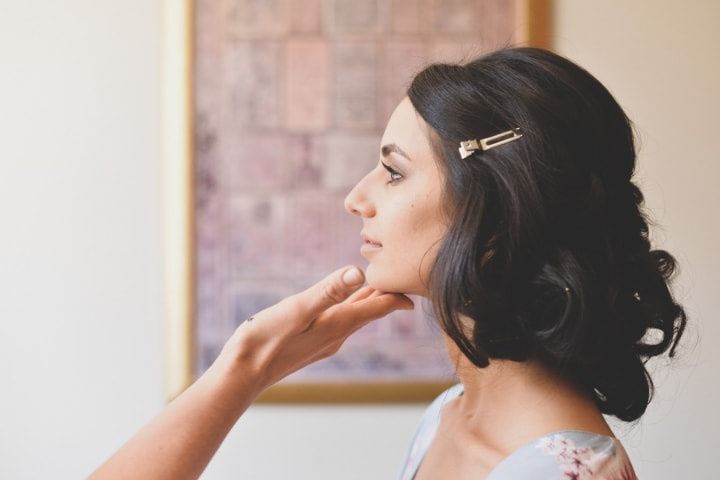 Once you've found the perfect wedding dress and hairstyle for your big day, you'll want to move on to handling your wedding makeup look. Whether you're going with Kardashian-inspired glam or a more natural look, choosing the right wedding makeup artist is essential. Before you start signing contracts and writing cheques there are a few important things you'll want to know to make sure you've found the right artist for you.
Here are the key questions to ask your wedding makeup artist.
1. Are you available on my wedding day?
This is the first question you'll want to ask. Why? If the artist of your dreams isn't available on your date it's good to know sooner rather than later. Make sure to ask when they're available for trials, as well!
2. What's your standard rate and what does that include?
You're going to have to fit your wedding makeup artist into your wedding budget, so cut to the chase and ask about cost at the beginning of your conversation. Though your artist might advertise one price, there may be some additional costs to make note of (for example, do you have any tattoos to cover up? It'll probably cost more than a few loonies to kiss them goodbye). Specifically, you'll want the balance for pre-wedding trials, your wedding day services and any additional costs.
3. Can you travel for my wedding day?
This is a key question if you've planned something out of town. Wedding makeup artists aren't always available to hop on a plane or train as they may have other obligations or clients to tend to. Ask your artist whether they are able to follow you to your destination right out of the gate. If not, it's on to the next one. If you want to skip the hassle and cost of travel, look for an artist who already resides in or around your wedding destination.
4. Can I book a wedding makeup trial appointment?
No matter how much you trust them, you don't want your first appointment with your makeup artist to be your wedding day. Request a trial run or two so that you can try out different styles and products to see what works before committing completely.
5. Do you have a portfolio?
Flipping through your makeup artist's portfolio will give you an idea of their personal style and ability. If your artist looks like he or she cakes on the makeup and you want a more natural look for your big day, now may be the time to start looking at other options. Testimonials and references will also help you determine whether you've found "the one".
6. What beauty products do you use?
Anyone with problematic skin knows that the wrong product can wreak havoc on your face. You'll want to get the lowdown on what products and brands your artist plans on working with so that your skin doesn't freak out on your big day. Side note: If you care about things like parabens, cruelty-free brands or all-natural cosmetics, now's the time to ask about those, too.
7. How can you make my wedding makeup last and look good in photos?
Your wedding day will be a long one, filled with emotions and probably a healthy dose of tears. Make sure your artist is up to the task of keeping your wedding makeup looking pretty no matter what the circumstances. Ask what they can do to minimize shine, lock on your foundation and keep those mascara tears at bay.
8. Are you able to do my bridal party's makeup as well?
If you want your bridesmaids to have a cohesive look, having the same wedding makeup artist is key. Though one or two of them can probably do a killer job of applying winged liner, you don't want to leave the others floundering around (that's just asking for some makeup mishaps). Having your makeup artist handle your entire party means that you won't have to put your faith in more than one person. After all, if he or she does a great job, why keep hunting?
9. What wedding makeup look would you suggest for me?
Having trouble picking out a look for yourself? Getting a few tips from your wedding makeup artist is a good idea. There's a good chance that your artist has worked on many brides with different face shapes, features and colouring - meaning they have an idea of what's flattering and what's best avoided on your wedding day.
10. Can I see your contract?
Asking to see a copy of your makeup artist's standard contract should take care of any unanswered questions. Their contract should lay out all pre-wedding day, wedding day services plus any additional fees that may impact your balance (like travel fees, parking, etc.). Once you've seen a draft, you'll know exactly what you're in for.
Find your wedding makeup artist on WeddingWire »