Everything You Need To Know About Wedding Makeup
From your primer to your polish, there's a lot that will go into your wedding makeup look. Here's a lowdown on all the products.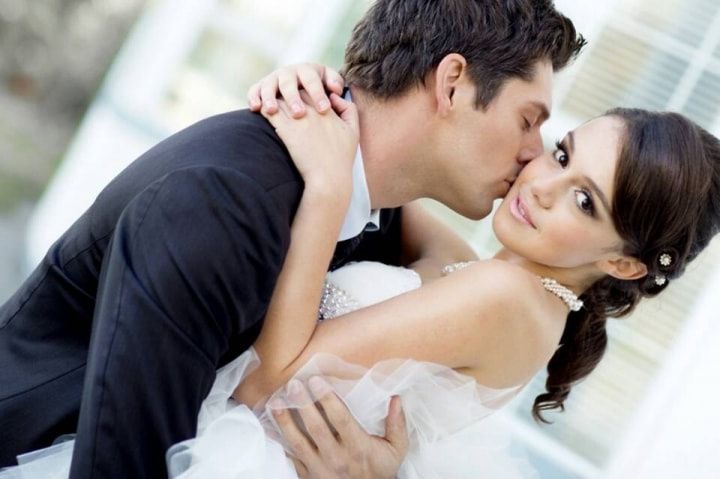 After you've had a quick Q&A with your makeup artist and hashed out what you want your wedding makeup style to be, you're ready to start learning the tricks of the trade. Before you sit down with your artist to plan your wedding look, learn the basics. From primer to polish, there are a lot of products that will go into your wedding look. Remember, you shouldn't feel pressured to shellac on layers of makeup if it doesn't suit you - so use your intuition.
Here's everything you need to know about wedding makeup.
Primer
Your wedding makeup artist will normally begin by priming your face and eyelids. This will smooth out your skin and ensure that all the product that they place on top won't budge. Primer also adds a layer of protection between your skin and the rest of your makeup, so it should save you from breaking out. It comes in dozens of types: mattifying, hydrating, colour correcting, sun protecting - the list goes on and on. Make sure you know your skin type and what it reacts to so that you don't run into problems on your big day.
Foundation
The next layer is foundation. This will help hide any imperfections on your face (AKA those pesky zits and scars) and help with colour correcting. If you don't have much to cover up or want your freckles to show through, request that your artist use a lighter coverage foundation, BB cream or tinted moisturizer. Again, you'll want to know your skin type for this one. You don't want you skin to dry out or look like an oil slick in your wedding photos!
Concealer and Corrector
Chances are you'll be too giddy to get a good night's sleep before your wedding, so concealer is your BFF. It tends to be thicker and more heavy duty than foundation, making it perfect for covering up those bags under your eyes. Your artist may also use a pink or peachy colour corrector to help counteract those dark circles. This trick is also used for acne, but with green-hued corrector (it cancels out redness).
Powder
Your wedding makeup artist will then go in with a light dusting of powder to reduce shine and mattify your base. This is where things can start looking cakey, so make sure your artist uses a light hand.
Contour and Highlight
Now it's time to find your inner Kardashian. Contour and highlight products play with shadows and light. They can sharpen your cheekbones and jawline, slim down your nose and give rounded faces a little more structure. Word to the wise, there is a fine line between oily and glowy, so if you plan on going for a strong highlight, make sure the sun won't be blazing down on you during your ceremony. Tip: if you want a more natural look go for a light dusting of bronzer instead of a harsh contour.
Blush
Work with your artist to find the perfect pinky shade for your skin. You won't want to look like you're actually blushing throughout your entire ceremony, so look for one subtle enough for your skin tone.
Eyes
You know what they say, "the eyes are the windows to your soul". Pretty yours up with some neutral-hued shadows, simple winged liner and a few coats of waterproof mascara for good measure. If you want to delve even deeper into the world of eye makeup, many brides like adding false lashes or even smoking out their wedding makeup. You probably don't want to look like you're going clubbing on your wedding day, so use dark shadows sparingly.
Brows
If you're going with a bold eye look, you may want to bolster your brows a bit. Not gifted like Cara Delevingne? That's fine. Ask your artist to fill yours in a little with a pencil or pomade. If you don't want to go the whole nine yards, consider adding some brow gel to keep your hair in place.
Lips
The last thing you want is for your lip colour to transfer onto your new spouse when you seal the deal at the altar. Ask your artist for a longwearing lip colour like a liquid lipstick so that it doesn't move from your mouth. This is especially crucial if you're going for something darker than a nude shade. They'll probably add a lip liner to keep things looking crisp in photos and IRL, as well. If you're an all-natural kind of beauty, don't feel pressured to rock a lip colour. Lip balm works just fine for some of us!
Setting spray
One of the last steps in the entire process is locking it all in. Your artist will normally do this with a setting spray that'll help keep your makeup in tact from dawn until dusk. This is especially necessary if you're getting hitched in the summer months.
Body
Body makeup will help polish off your wedding look. No, this doesn't mean dousing your body in foundation or booking a spray tan (unless you want to). It means adding a bit of shimmer - not glitter - to your body with a lotion or spray. You can also ask your wedding makeup artist to cover up any visible tattoos (if you don't want to show them off on your wedding day).
Nails
You don't want your nails to steal the show on your big day, so opt for something neutral. Adding a few bits of bling can help jazz them up a little, but make sure they're not taking away from the rest of your look.