Should We Postpone Our Honeymoon?
Thinking of postponing your honeymoon for a while? There are plenty of pros and cons to consider before setting the decision in stone.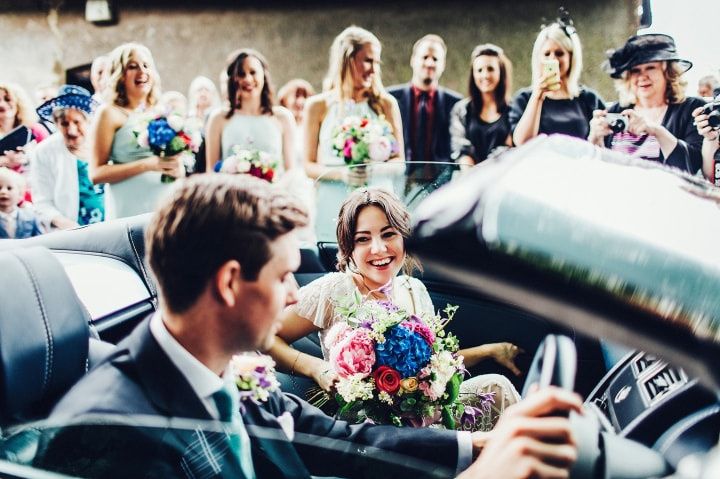 In an ideal world your reception would wrap and you'd hop on a plane to honeymoon on a beach in some faraway place and sip pina coladas, leaving your daily cares behind in the great white north for another day. While that may work for some, it's not exactly feasible for everyone. You may need to postpone your honeymoon to fit with your life, budget or schedule - and that is A-OK - you just have to consider an alternative route.
Here's what to think about when considering whether to postpone your honeymoon.
REASONS TO POSTPONE YOUR HONEYMOON
You'll have time to save up
After paying your caterer, florist, planner, venue staff and the rest of the dream team that put your wedding day together you'll probably be feeling a little frugal. If you think heading off to Aruba the day after your ceremony will have you living on a steady diet of ramen for the next 365 days, it may be a good idea to save up for a while and then set out on your holiday. On the other hand, if you already have most of the fees taken care of thanks to your honeymoon registry, why not hop on a jet ASAP?
You'll have time to take a breather
Returning to everyday life may be even harder if you don't take a breather between your wedding and honeymoon. If you step onto a jet straight away you'll have to face returning to a pile of wedding-related chores on top of your regular work and life duties (no fun). Consider taking some time to decompress at home after your big day so you can tie up those loose ends. Sort out your wedding gifts, send out your thank-you cards, get your decor into storage and ease into married life. Having the little things taken care of will save you from waking up in the middle of the night in a cold sweat because you had a nightmare about forgetting to thank your second cousin for that Kitchenaid stand mixer.
You can make it work for your schedule
Got a big presentation at work coming up? Well, you may not want to prepare for it by working on your tan and drinking margaritas by the pool. If you postpone your honeymoon, then you can pick the best vacation time for you. Bonus: you won't have to use all your personal days in one fell swoop, after all, you probably already took a few "sick days" to prep for your wedding.
You have another big event to look forward to
Coming down from the emotional high of your wedding can be quite the doozy and you don't want to crash after your honeymoon. Saving your big romantic vacation for later will give you something to look forward to, making the post-wedding blues more bearable.

REASONS TO HIT THE ROAD ASAP
You have to reenter the real world
Once your wedding has wrapped your metaphorical carriage will turn back into a pumpkin and you'll be forced to return to everyday life (I know, it's sad). If you set out on your honeymoon immediately you'll get to enjoy a few moments with your new spouse and live in that lovely fairytale world a little bit longer - and, hey, what's wrong with that?
You won't have time for any R&R
Gearing up for your big day probably took a lot out of you, so getting some rest and relaxation is a total must. After staring at screens, china patterns and seating charts for weeks on end, you'll want - nay, need - something a little more substantial. If you opt to postpone your honeymoon you'll miss having that valuable time to recuperate. Sure, you could book a spa day or go on a tech cleanse, but you deserve more than that.
It may lose its magic
If you wait too long to go on your honeymoon it may just feel like another vacation, especially if you and your bae tend to jetset year round. While there's absolutely nothing wrong with an average holiday, you'll want your honeymoon to have some spark, and that could be lost if you wait a few months.

FIND THE MIDDLE GROUND
Want the magic of an immediate vacay as well as the benefits of postponing your honeymoon? Well, good news, you can have that! Opt to take a quick minimoon right after your wedding wraps and go on your "real" honeymoon later down the line. That way you can save up for an extravagant, romantic vacation while still getting the rest, relaxation and alone time your need after your big day.