5 Cool Ways to Document Your Honeymoon
There are plenty of creative ways to document the trip that go beyond a stack of photographs (or, more likely, a phone full of digital snaps). Here are a few fun ideas to try out.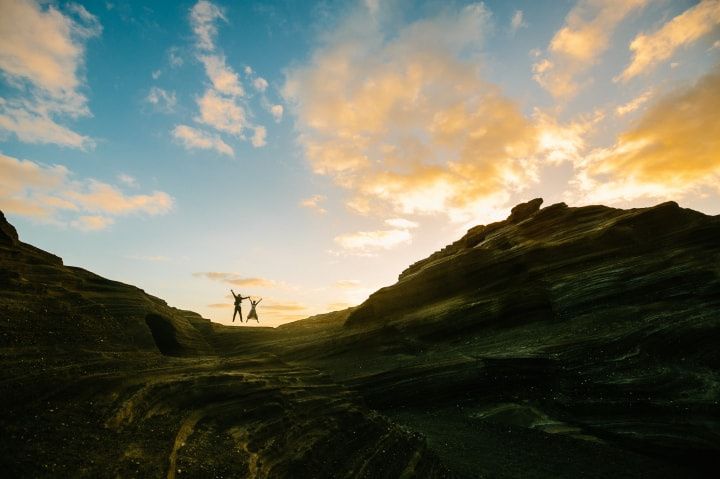 Your honeymoon is a special occasion you'll certainly want to remember forever. Trust us—your future self will thank you for capturing these once-in-a-lifetime memories! There are plenty of creative ways to capture your honeymoon destination and document the trip that go beyond a stack of photographs (or, more likely, a phone full of digital snaps).
Here are a few fun ideas to try out.
Honeymoon Journal
Chronicle your honeymoon through your own voice and jot down special little details you don't want to forget. Describe delicious meals, breathtaking scenes, funny stories, and memorable conversations. You may choose to record as you go or set aside a particular time each evening to recount the day's events. When you've returned from your trip, you can go back and add photos to correspond with each entry.
Travel Blog
For the more tech-savvy couples, a travel blog can be a fun way to document your adventures and share them with friends and family back home. Honeymoon blogs can be especially great for couples embarking on long, multi-destination trips. Accompany your text with photo collages, use geotags to plot your travels on a map, or include social media buttons so readers can follow your real-time updates. Before you leave for your trip, make sure to share the blog URL with friends and family members so they can check it regularly.
Tip: Instagram more your thing? Document your trip using Instagram stories (and download them for safekeeping). Also, post photos using your unique hashtag so you can easily tap back to browse all of your honeymoon pics.
Video
Some things—the panoramic view from the top of a mountain you've just hiked, for example—are best captured on video. Travel with a pocket-sized camcorder or simply set your smartphone camera to video mode. Keep the camera rolling throughout the trip and then compile the footage into a cool, romantic montage using basic video editing software. Keep it simple or go all out with music, voice-overs, or visual effects! Upload the final product for a keepsake you'll be sure to watch again and again over the years.
Shadow Box
If you're up for getting a little crafty, a shadow box can be a cool way to display photos and mementos you collected throughout your trip. Items like ticket stubs, maps, postcards, little souvenirs, and matchbooks from restaurants and cafes you enjoyed are all perfect shadow box materials—so be sure to save them along the way! Come up with clever ways to display your items. Put sand from your favourite beach in a mini bottle, hang photos along a string with miniature clothespins, or jot down quotes and mount them on patterned cardstock.
Scrapbook
Choose your favourite photos and arrange them into compelling compositions that chronicle your trip. Add decorative accents like colourful paper cutouts, stickers, and stamps. Before you begin the project, outline your layout and select an overall aesthetic so you don't become overwhelmed with options and end up with a cluttered mess. Choose a colour palette and make a list of materials before you head to the craft store—this will help you stick to a nice, cohesive theme. Display your scrapbook on a prominent shelf or coffee table to share with family and friends when they visit your place.
Find your honeymoon travel expert on WeddingWire »