6 Major Wedding Photography Don'ts
Your wedding photos are something thing you really want to get right. Avoid these pitfalls and you'll nail 'em.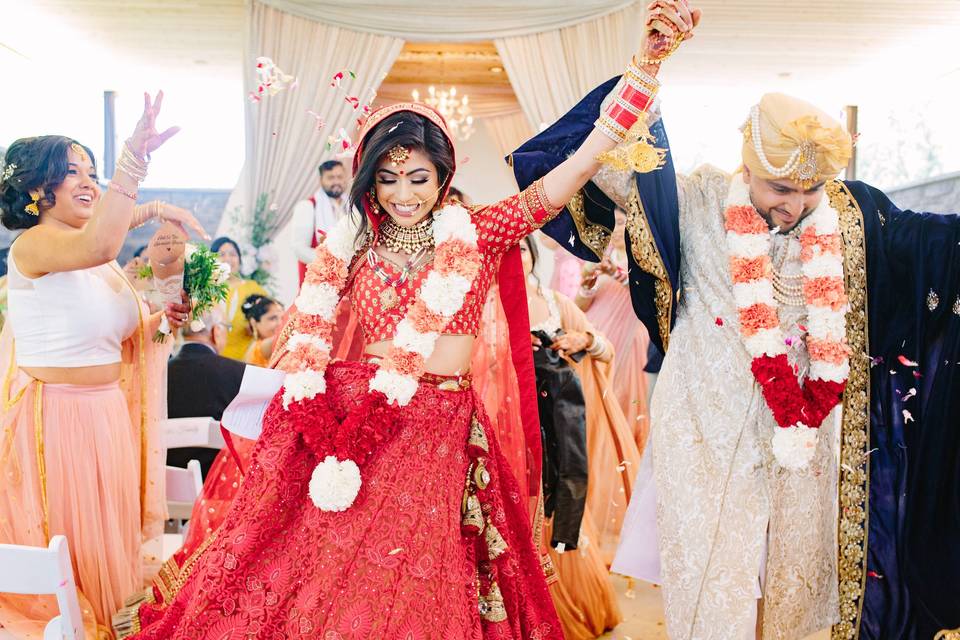 Pictured here: Rima and Tushar's colourful wedding ceremony exit captured by Lindsie Grey Weddings.
You're going to cherish your wedding photos for your entire life, so, naturally, you want them to be perfect. While your photographer will probably offer you all the sage wisdom you need to pose perfectly and nail your portraits, there are a few no-nos you'll want to remember. From backseat photo directing to letting the spotlight get to you, these are all the things you shouldn't do.
Here are a few major photography don'ts.
Don't skip hiring a professional wedding photographer
Your baby cousin may have just gotten their hands on a shiny new DSLR, but they probably shouldn't be the one taking your wedding photos. I mean, yes, if they have a full portfolio of successful wedding shots, go ahead and book them, but if you're going to be their first event, you probably should reconsider. These pictures will hold some of your happiest memories and you definitely don't want them to be out of focus or poorly framed.
Don't hire a photographer you can't connect with
Speaking of photographers, you want to feel comfortable with the guy or gal taking your pictures. They'll be following you around and directing you on your big day, so you want to have a solid relationship with them. Remember, they may have the most beautiful photography style in the world, but if you feel awkward in front of their lens, your pics may come out looking lacklustre.
Don't stress about the cameras
Even if you're super camera shy, you don't want to skip documenting your wedding day. It may take a little while to ease into having everyone's eyes and cameras on you, but the photos will be well worth it. Try your best to focus on the fun you're having, not whether you look photo-ready. Your photographer will make you look your best, just have a little faith in them.
Don't over pose
While some planned out shots are great, you don't want your album filled with faux grins. Let your photographer know that you'd love to see some candids find their way into the mix. People tend to look their best (and happiest) when they aren't even trying!
Don't forget to take the important photos
Even though you'll be busy on your wedding day, you shouldn't forget to pose for the essential photos. Shots like first looks and family portraits require a bit of coordination, so don't forget to plan them out with your nearest and dearest and your photographer. You don't have to have them scheduled down to the second, but you should have a basic time frame in mind for these money shots (i.e.: right before/after the ceremony or during the cocktail hour). Pro tip: we've put together the essential wedding photos poses to try.
Don't micromanage your photographer
You've probably hired a trained professional to take your wedding photos, so you should put your trust in them. Though you may want to note any specific things that you know you really want captured on film (you can always give them this wedding photography checklist), you shouldn't be following them around while they shoot. This isn't their first rodeo, so you should spend your time enjoying every moment of your wedding, not backseat directing.
Find your wedding photographer on WeddingWire »