How to Choose a Ring Bearer Outfit
Trying to decide on a ring bearer outfit for your wedding day? Here are a few helpful tips to guide you.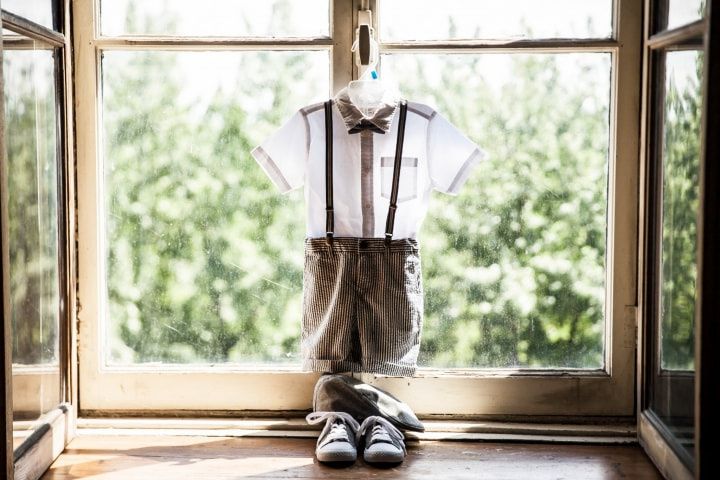 So, you've chosen the perfect tyke to task with the job of ring bearer? That's awesome, but your job isn't finished yet! You've got to choose an adorable ring bearer outfit for him to sport on your big day. Yes, you want him to look like a million bucks, but there are a few other things you'll need to take into consideration, too. We've laid it all out for you here to make shopping a little bit easier.
Here's how to choose a ring bearer outfit.
Keep it on-theme
Your wedding theme probably informed most of your wedding planning decisions, from the style of your wedding cake to your venue. If you don't know what type of ring bearer outfit to go for, let it inspire his look, too. For example, if you're hosting a black tie affair, think about putting him in a classic tuxedo. Having a vintage wedding? Dress him in a ring bearer knickers outfit. Or maybe you're doing a more rustic celebration in a barn or backyard? An adorable flannel shirt with some cute jeans or trousers might work perfectly.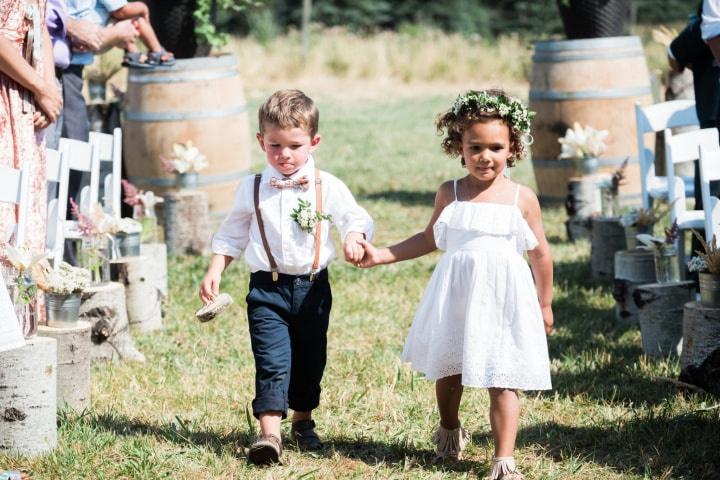 Pay attention to costs
You've probably carefully budgeted out every part of your wedding, and you shouldn't drop the ball when it comes to a ring bearer outfit. Regardless of who's paying (you or the parents), aim to keep costs as low as possible. If you're really strapped for cash, we suggest opting for a rental instead of buying (remember, this is a look they'll probably only wear once).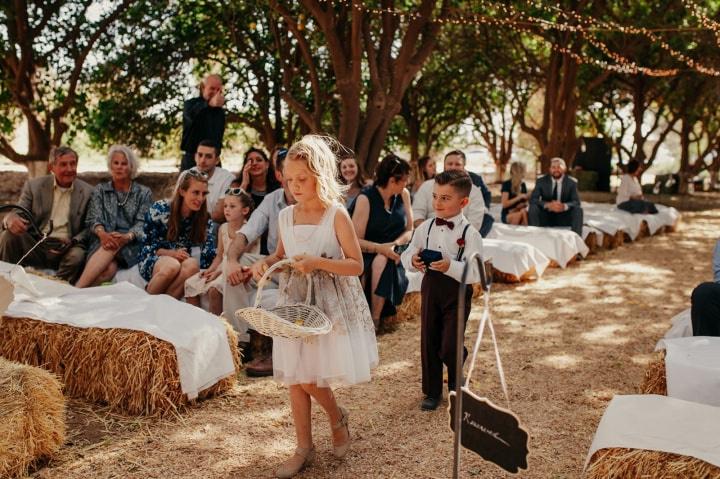 Make comfort a priority
Most kids care more about comfort than style, so make sure the look you choose isn't itchy, starchy or stiff. You'll want to bring them to try their ring bearer outfit on before purchasing so that they can let you know how they feel in it. If they complain about being uncomfortable after a few seconds in the dressing room, they'll probably be complaining for the duration of your ceremony and reception. P.S. you'll also want to think about the weather - you don't want them getting too hot or too cold (that's just asking for a tantrum).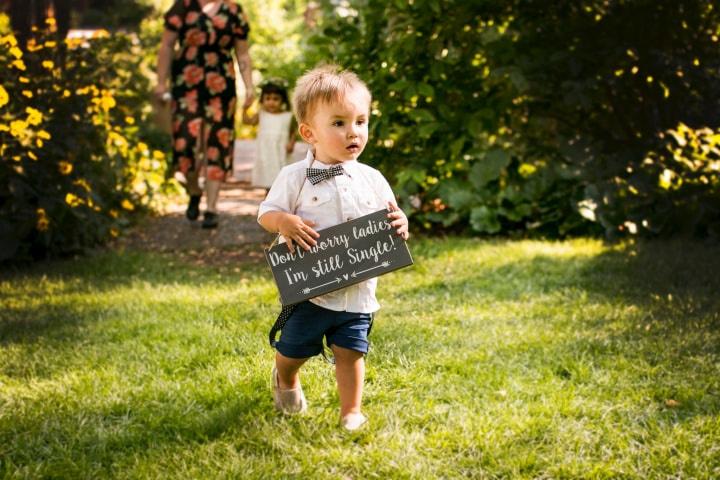 Let the ring bearer give his two cents
You probably don't want to give a tyke the job of choosing his own wedding outfit - there's a good chance that'll result in a ring bearer dressed as Batman or some other costume - but you can totally give them a vote. For example, if you can't decide between a cute little tuxedo and a more relaxed look with suspenders and patterned trousers, let the little one pick between the two. Not only will this take the decision making off your plate, but it'll make dressing them on the big day a heck of a lot easier for his parents.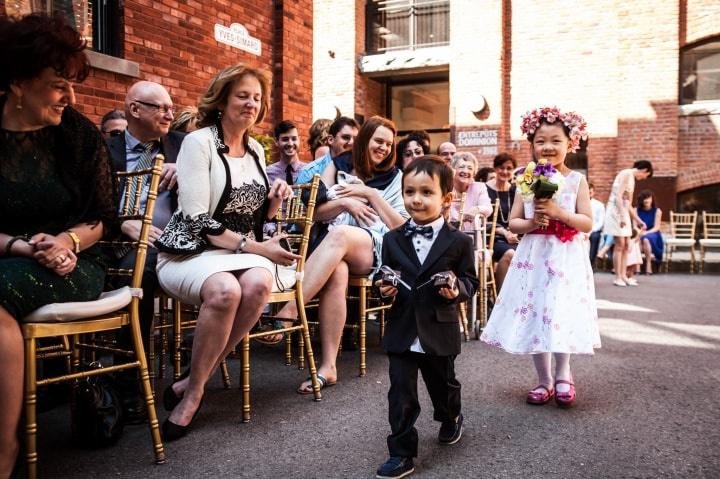 Accessorize
The little things can make a big difference to a ring bearer outfit! Ring bearer accessories like a cute little baker boy cap, an adorable bow tie or a fun patterned pocket square will add a funky twist to an otherwise plain ensemble. Of course, if you're aiming for a minimalist look, you can skip the extra bells and whistles (the best accessory is a smile, anyway!).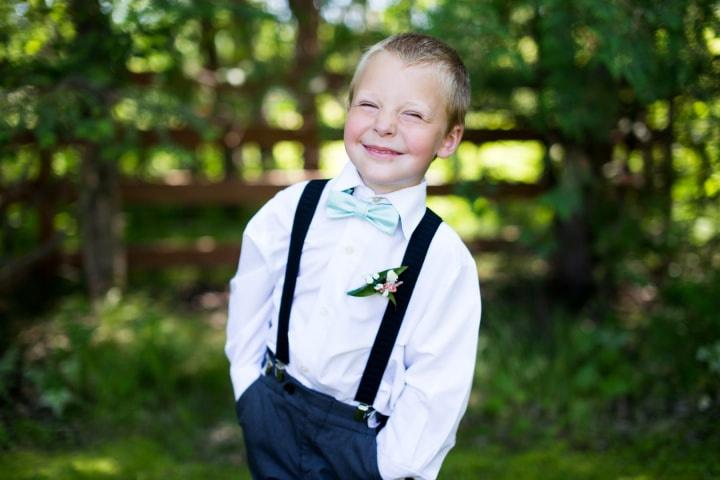 Don't forget about your colour scheme
Everybody in the wedding party – you, the bridesmaids and the groomsmen – are probably sporting clothing in the same or similar shades, and so should your ring bearer. If you don't want to go for a bright coloured shirt, trousers or suit, add pops of colour with the pocket square, tie and other accessories.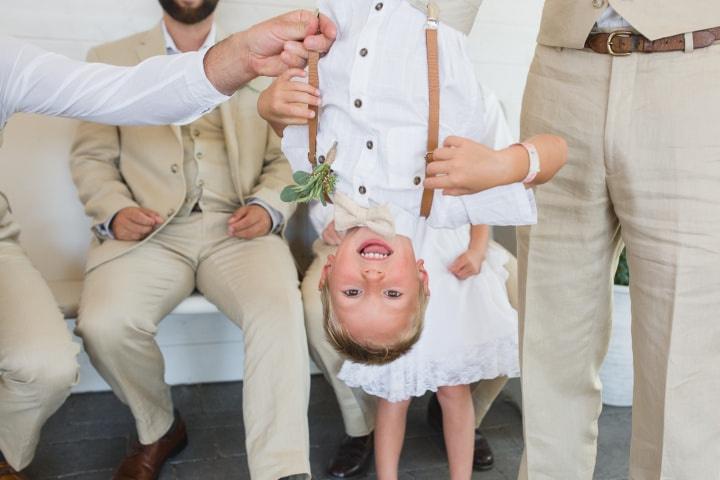 Join the "ring bearer" discussions in our community forums »