The Best Engagement Photo Locations in Toronto
Planning on shooting your engagement photos in Toronto? Here are the best backdrops for your photo session in the city.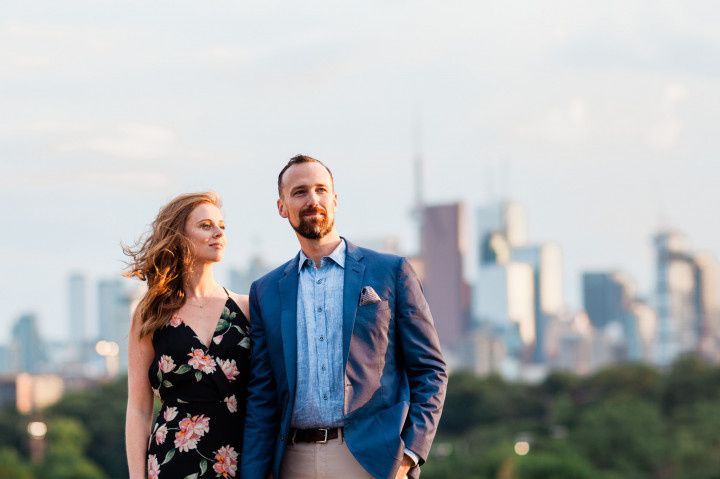 Looking for picture-perfect engagement photo locations in Toronto? We've got you covered. From stunning gardens to graffiti-covered buildings to drop dead gorgeous museums, this city really does have all you could ever want. Keep in mind that you don't have to choose just one. If you've got the time (and money), you could visit a handful of these spots in one day and get an array of awesome shots.
Here are the best engagement photo locations in Toronto.
Graffiti Alley
If you've ever attempted to score a street style photo for your Instagram grid, you know Graffiti Alley well. Located right off of Queen West, it's one of Toronto's best worst-kept secrets and has become a pretty popular tourist attraction thanks to its array of colourful, unique murals. For your engagement photo shoot, we suggest hitting it between 9 and 5 on a weekday to avoid the 'grammers, fashionistas and out-of-towners.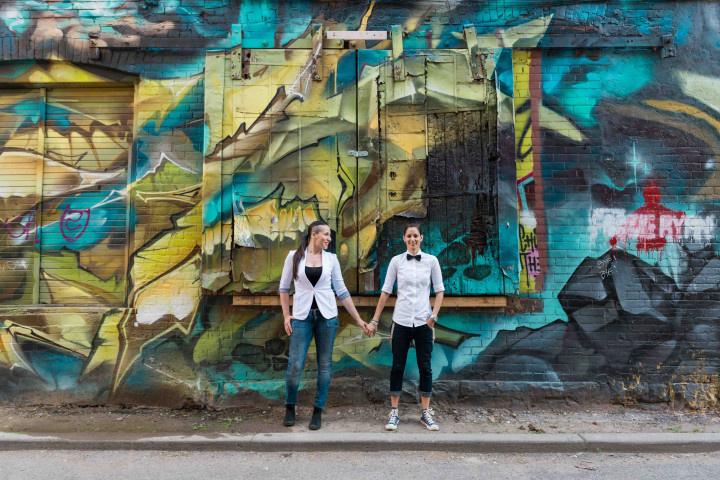 Kensington Market
You've probably had your fair share of shopping trips and drunken bar-hopping adventures in Kensington Market, but you may not have considered it as a destination for your engagement photo shoot - let's change that! Its murals, quirky boutiques, vintage shops and patios make for stellar backdrops and won't cost a dime to shoot at. As with most street locations, you'll want to aim for a weekday to avoid the tourists and weekend warriors.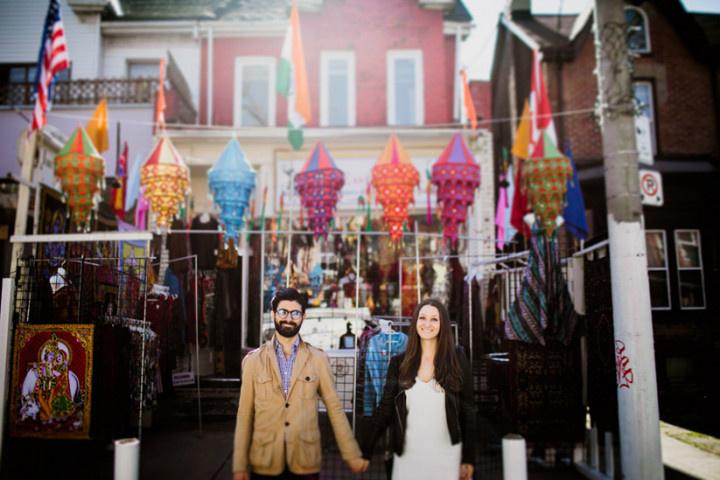 Polson Pier
If you want the Toronto skyline as your photo backdrop, Polson Pier is the place to go. You'll get stellar shots featuring the waterfront and the city's most beloved buildings in the background (hey, CN Tower!). We highly suggest shooting at sunset for some truly epic pics.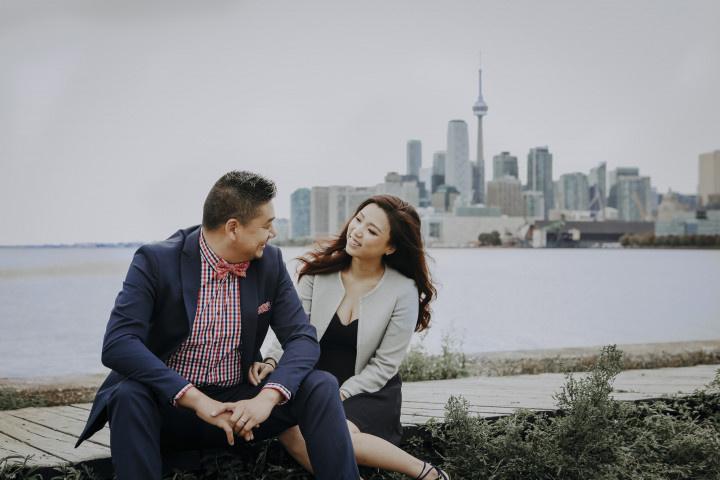 Underpass Park
Underpass Park is the perfect engagement photo location in Toronto for couples who are on the hunt for something with some serious industrial-chic flair. It's located underneath the Eastern Avenue, Richmond and Adelaide Overpasses (hence its name) and is anything but your typical park. Instead of a lush green space, you'll find bright, bold murals, installations, LED spotlights and a concrete-covered expanse. It's usually populated by basketball players (thanks to the built-in courts) and skateboarders, so if you want less action, you may want to schedule your engagement session at sunrise as this couple did.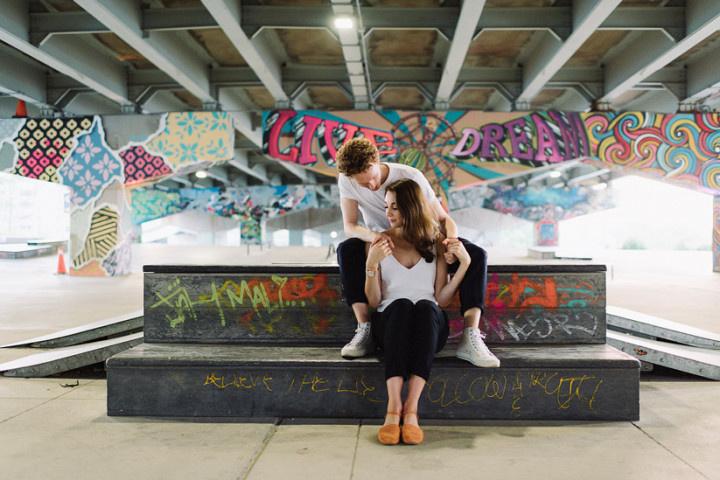 Toronto Reference Library
If the two of you are total bookworms, a library is a natural choice for your engagement photo location. Head to one of the city's best, the Toronto Reference Library, to shoot your pics in the stacks. We highly suggest picking out (or bringing along) a few of your favourite titles so that you can do some shots of you reading. P.S. you definitely don't want to shoot during exam season - unless of course, you want some super-stressed, over-caffeinated students making accidental appearances.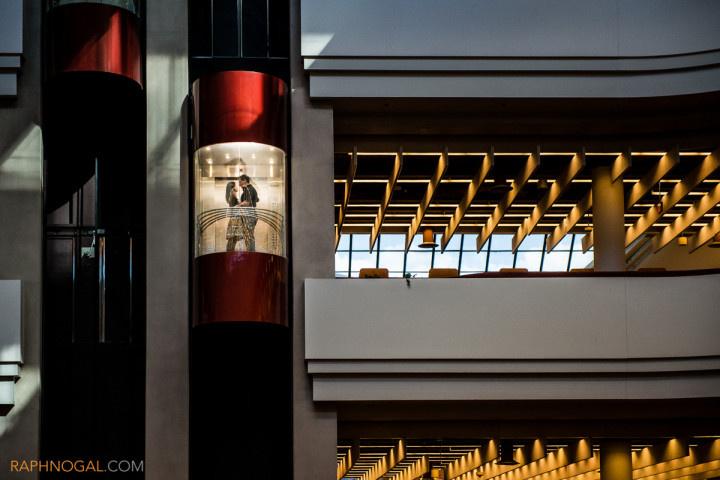 The ROM
Skirt past the hordes of tourists to take some epic engagement photos amongst the dino bones, ancient relics and tapestries at The ROM. You don't even have to enter the museum to get some great shots - it's exterior is pretty darn stunning (thanks to the Michael Lee-Chin renovation) and is great for those in the market for something on the more modern side.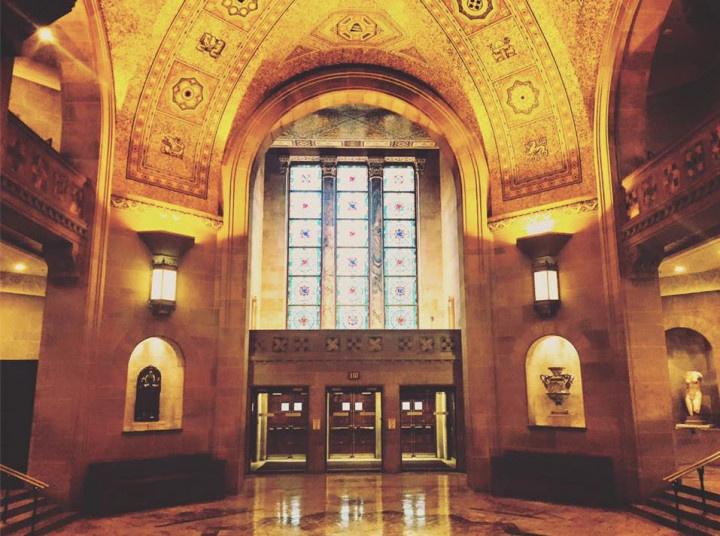 Aga Khan Museum
The Aga Khan Museum is a bit of a trek from downtown Toronto but has everything you could ever want in an engagement photo shoot location. It was designed by Fumihiko Maki, a Pritzker Prize winner and is the perfect mix of Islamic design and contemporary architecture. But the main structure isn't your only backdrop option! It also has a Vladimir Djurovic-designed outdoor garden which features over 1000 trees, beautiful blooms and reflecting pools.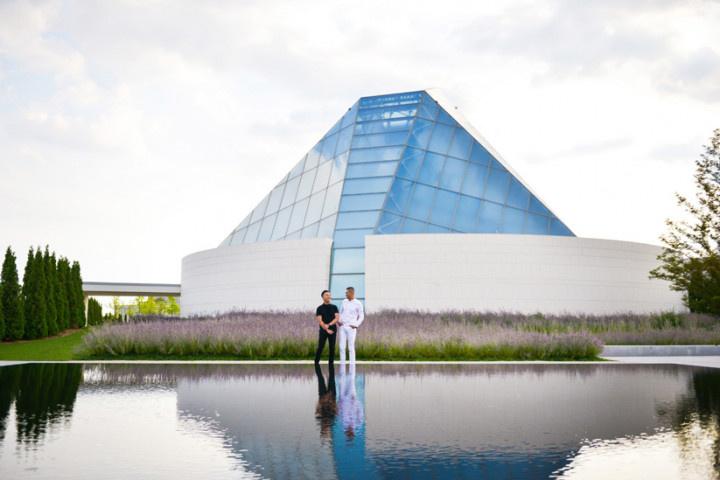 Evergreen Brick Works
The Evergreen Brick Works is by far one of the coolest engagement photo locations in Toronto. What was once a lacklustre quarry has been transformed into an eco-friendly destination with exposed brick, graffiti and an expansive green space filled with gorgeous trees, flowers and wildlife. This means you'll have plenty of choices when it comes to backdrops, ranging from industrial-chic to nature-filled, and who doesn't want that?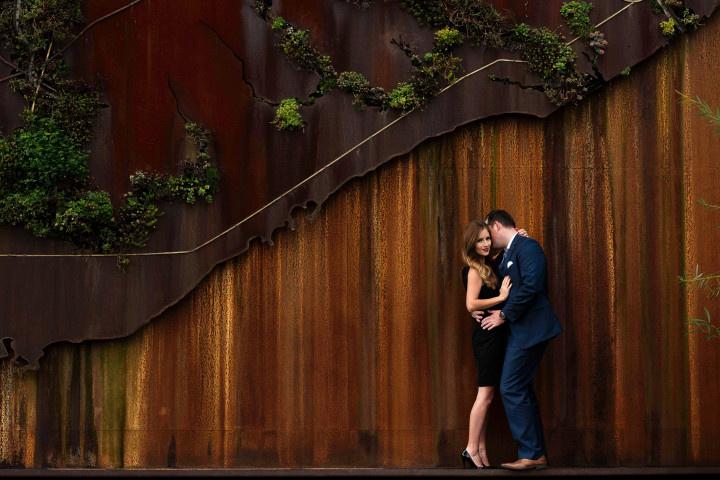 Riverdale Park East
Riverdale Park East played a major role in Wallace and Chantry's love story in The F Word, and it can play an equally important role in yours. Find a spot on the hill and ask your wedding photographer to get the city skyline in the background. There's also the Rooster Cafe across the street if you want to snap some sweet outdoor or indoor cafe shots, too.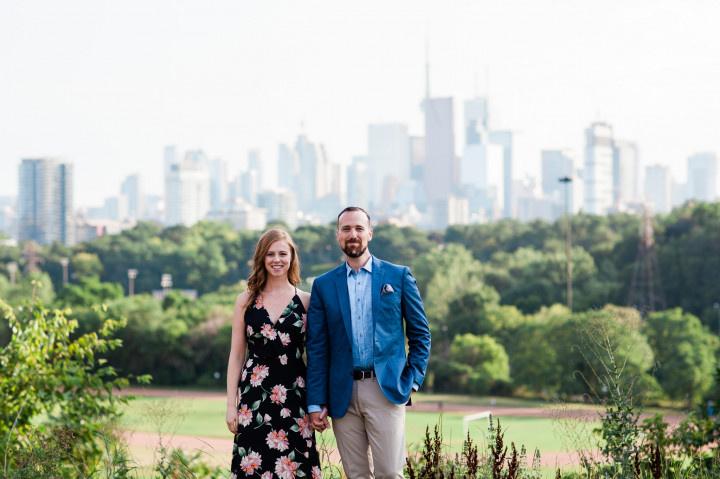 Allan Gardens
A little too cold to shoot in the great outdoors? Allan Gardens is the engagement photo location in Toronto for you. Its garden thrives year-round thanks to the balmy conditions inside, so you can be surrounded by beautiful blooms, even in the midst of a Polar Vortex.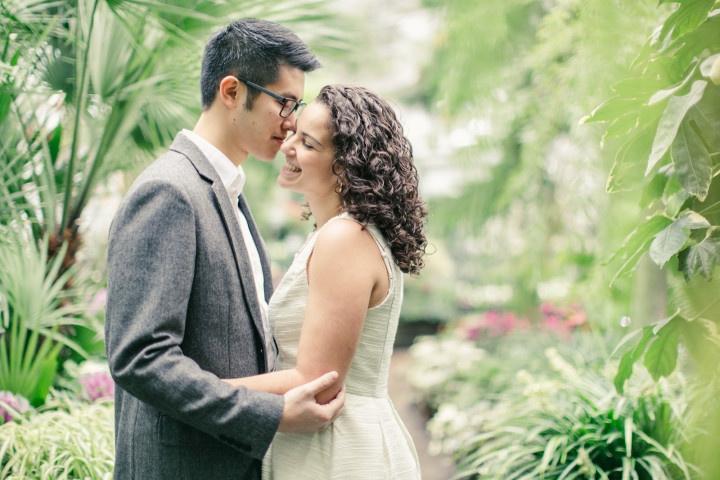 Distillery District
Want your engagement photos to look like they were in a different era? Head to the Distillery District. The neighbourhood boasts 19th-century buildings, cobblestone streets, outdoor sculptures and plenty of cool boutiques and restaurants (all of which are engagement photo-worthy). Keep in mind that you'll need a permit to hold a professional shoot in its streets, so work it into your budget and plan ahead of time.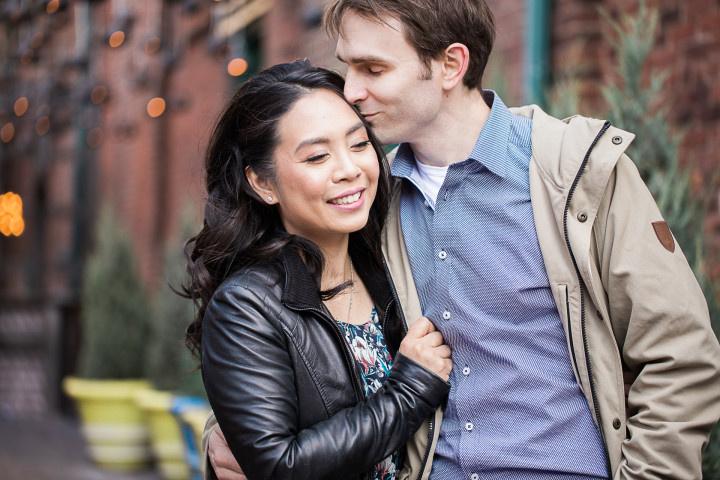 Find a wedding photographer for your engagement photos on WeddingWire »