10 Things You Need to Know About Bridesmaid Dress Shopping
Ready to starting searching for your bridesmaid dresses? Here's everything you need to know before you hit the stores.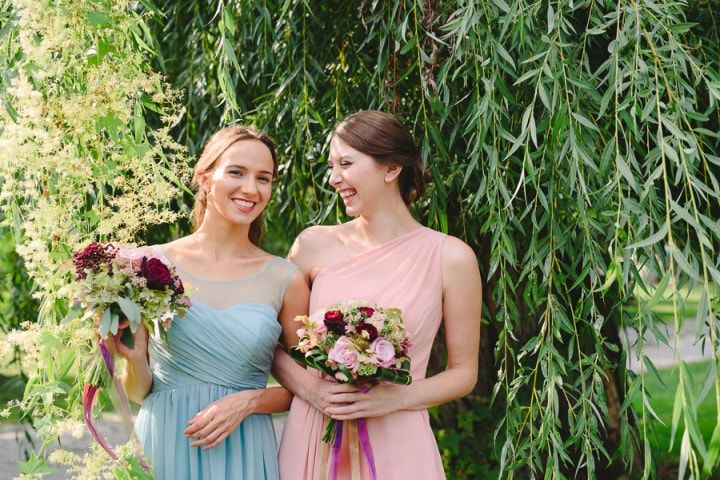 Thought you were finished with frocks after finding your wedding gown? Think again! Your next mission is to hunt down some seriously stunning bridesmaid dresses for your squad. You want your besties to look like a million bucks on your wedding day, so they'll need the perfect ensembles. Before you make a beeline for your favourite bridal boutique and start sifting through bridesmaid dresses, read this.
Here are a few things you need to know about bridesmaid dress shopping.
Find a time that works for everyone
You'll want to bring your entire bridesmaid squad along for the ride, so make sure you book your shopping trip far in advance. Remember, each of your lovely ladies has a different schedule and you'll need to try your best to accommodate everyone.
Do your homework
You should have an idea of what you're looking for before you set foot in any salons. Dress stores can be pretty overwhelming and having a vision will help you narrow your search. Think about colour, length, silhouette, sleeve length and neckline. While you don't need to have every detail nailed down, having a solid idea is important.
Don't eat right before shopping
Yes, an hour before bridesmaid dress shopping may sound like the perfect time for a bestie brunch, but we suggest holding off until after shopping. If stomachs are rumbling suggest a snack, but don't go crazy with bottomless mimosas and eggs benny. Your friends probably won't feel their best after devouring piles and piles of carbs.
Take your theme into account
This one's kind of a no-brainer, but you don't want to abandon your wedding theme when choosing bridesmaid gowns. If you're hosting a summer garden wedding maybe consider putting your 'maids in pastel, tea-length gowns. Or, perhaps you're doing a swanky vintage affair? Formal maxi dresses may be the perfect look for your gals.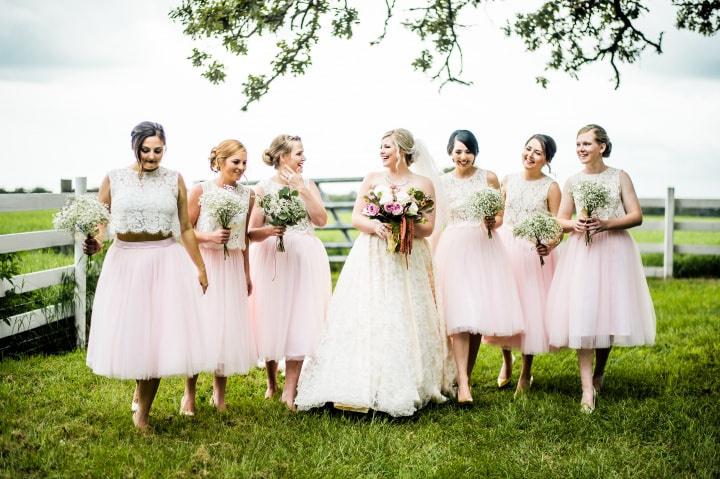 Make sure your bridesmaids come prepared
You probably learned this lesson while trying on bridal gowns, but dresses won't look their best unless you're wearing the right undergarments. Ask your bridesmaids to bring along strapless bras and seamless panties so that you (and they) can get a feel for what the dress looks like without any stray straps or visible lines. If you're bringing along a larger party, you may want to ask them to bring robes, as well. Some boutiques only have one or two dressing rooms and they may need something to wear between changes.
Give your maid-of-honour the spotlight
While your bridesmaid's dresses will probably look pretty similar - be that in silhouette, colour or both - you may want to give your right-hand gal a bit of extra sparkle. Think about giving your MOH an accessory, like a shimmering belt, or switching things up completely for her dress.
Have them try on different styles
Though you've probably scoured the internet and found the dress style of your dreams, it may not look as good in reality. Every body is different, and mermaid or sheath dresses might not flatter your friends' shapes. Ask them to try on a few different styles so you get a feel for what works and what doesn't. And, remember, they can all wear different silhouettes if you want them to!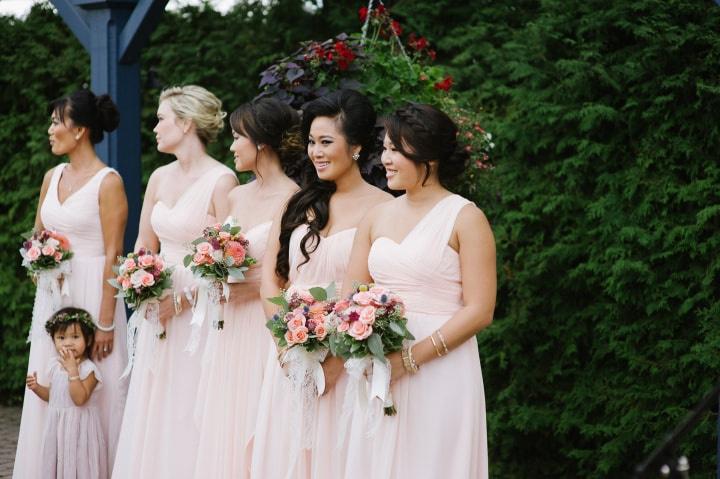 Don't forget about hair
Different bridesmaid dresses call for different 'dos. If you're going for something with an asymmetrical or interesting neckline, you may want to opt for chic chignons. Or, perhaps you want them to look like boho beauties in long, flowing gowns? A tousled wavy 'do would be perfect. Pro tip: bring along a few elastics and clips so you can try different styles as you go.
Be budget savvy
There's a good chance that what you see on the gown's price tag won't be what you end up paying. That's right, after taxes, shipping and alterations are tacked on, you'll most likely be looking at a much bigger bill. Whoever's ponying up the cash (AKA you or your 'maids) probably doesn't want to shell out hundreds on a gown that they'll only wear once, so don't be afraid to ask your salesperson about discounts. They may be able to give you a good deal since you're buying in bulk.
Have a backup plan
If you've chosen a particularly popular style for your bridesmaid dresses, they may be unavailable when you go to place your order. Though the store may get them in before you big day, you probably don't want to risk it. To avoid running into trouble weeks before your wedding, decide on a second style that you love almost as much and let your consultant know. Ask them to notify you before ordering the gowns so you know exactly what you're getting.
Find bridal boutiques on WeddingWire »