Ready to start hunting for your dream Halifax wedding venue? Finding the perfect place for your 'I dos' is never easy, but we're here to help make your hunt a little less stressful. From elegant hotels to breweries to restaurants, this city has no shortage of wedding-worthy spots.
Here are Halifax wedding venues for every type of couple.
For the elegant couple: Lord Nelson Hotel & Suites
Give your wedding a dash of old school elegance by hosting it at the Lord Nelson. Inside you'll find sky-high ceilings, massive windows, Swarovski chandeliers, custom plaster moldings and vintage-inspired decor. The luxury 4-star hotel is equipped with 10 equally gorgeous event spaces ranging from intimate to expansive, giving you plenty of options.
For the artists: Art Gallery of Nova Scotia
Whether you fancy yourselves professional painters or just love looking at the works of Van Gogh, Degas and Renoir in your free time, a gallery is the ideal place for you to get married. Lucky for you, the Art Gallery of Nova Scotia welcomes events of all types, including weddings. It has a handful of theatres, meeting rooms and gallery spaces available, so you can choose something that suits the size and style of your dream wedding best.
For the historians: Halifax Citadel National Historic Site
Travel back in time on your wedding day by taking your celebration to the Halifax Citadel National Historic Site. It's been around since the mid 1700s and has maintained its original charm over the years (with a few necessary updates, of course). It has five event spaces available, the largest of which can accommodate 300 guests.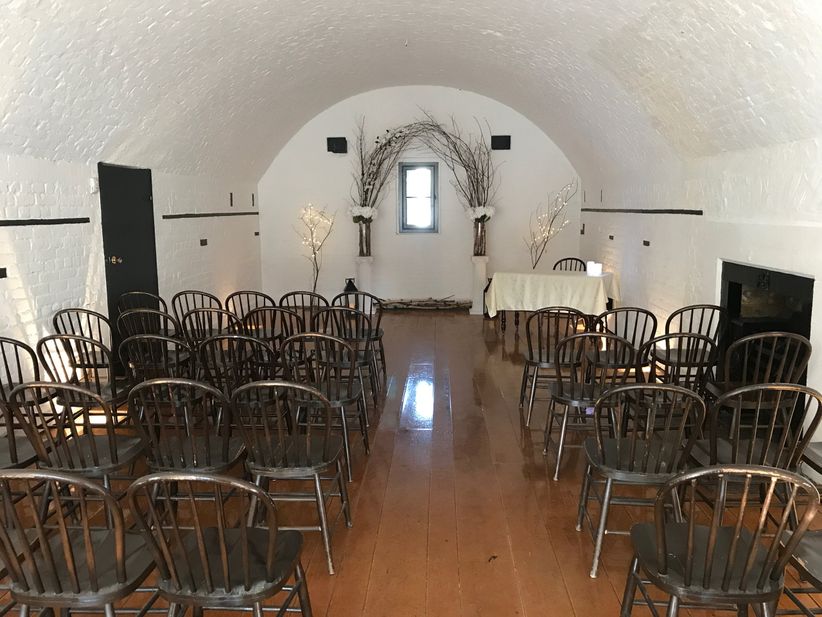 For the beer lovers: Alexander Keith's Brewery
So, bonding over beer is kind of your thing? Well, we suggest bringing your big day to Halifax's most beloved taproom, Alexander Keith's Brewery. The almost 200-year old space has plenty of brick and iron, giving it old timey charm and some serious industrial-chic vibes. It can be used for weddings both big and small, giving you plenty of wiggle room with your guest list.
For the aquatically inclined: Shining Waters Marine
If you dream of saying you vows by the water, take the 20 minute drive out of the city to Shining Waters Marine. This stunning Halifax wedding venue has both indoor and outdoor spaces available, so whether you want to tie the knot in the sun or in the comfort of an event hall, you can make it happen here. It can host parties of up to 200 guests, so go ahead and add a few extra plus ones to your list.
For the foodies: Lot Six
Do you pride yourselves on having refined palates? Are you always up for new restaurant experiences? Do you spend your time studying the latest trends in the food world? It sounds like a restaurant wedding venue will be right up your alley. Lot Six is one of the city's finest, flaunting a massive skylit ceiling, stone walls, hanging lights and all the greenery you could ever want. Its private event space can only fit around 20 guests, so you'll probably want to splurge and do a full buyout for your big day.
For the lucky ones: Casino Nova Scotia
Get Lady Luck on your good side by hosting your wedding at Casino Nova Scotia. Instead of playing blackjack and trying to win big on the slots, you'll be mixing, mingling and enjoying your new relationship status among friends and family. Its event rooms are elegant, vintage-inspired and offer amazing views of Halifax Harbour and beyond. The largest can accommodate 350 guests, so you should be able to host all of your nearest and dearest.
For the scholars: Dalhousie University Club
It's time to head back to your alma mater! This time around you won't be dealing with exam stress and essays - you'll be getting hitched! The Dalhousie University Club is an elegant setting that's much more aesthetically appealing than the school's lecture halls and classrooms. Its Great Hall gives off some serious Harry Potter vibes thanks to its vaulted ceilings and ornate chandeliers. It can fit up to 200 guests, but can also be used for more intimate soirees.
For the bookworms: Halifax Central Library
If you and your fiancé(e) are a couple of bookworms, this may just be the perfect Halifax wedding venue for you. The modern space already has all the decor you need thanks to its colourful library of books, so you won't have to go overboard with bunting, banners and extra floral arrangements. It can accommodate all sizes of weddings, from intimate celebrations to large-scale events.
For the rustic duo: Hatfield Farm
Want to escape city life on your big day? Head to Hatfield Farm. This picturesque rustic getaway is a mere half hour drive from the city centre, making it easy for you and your guests to drive to. Its stone fireplaces, exposed beamwork and wood-heavy decor make it perfect for pairs who can't get enough of that shabby-chic look and can be transformed to fit just about any theme. The space is large enough for 225 guests, so you should have no trouble fitting in everyone from your cousins to college roommates.
Find more Halifax wedding venues on WeddingWire »