9 Questions Couples Forget to Ask Wedding Venue Coordinators
Think you've found the wedding venue of your dreams? You'll want to ask these questions before signing any contracts.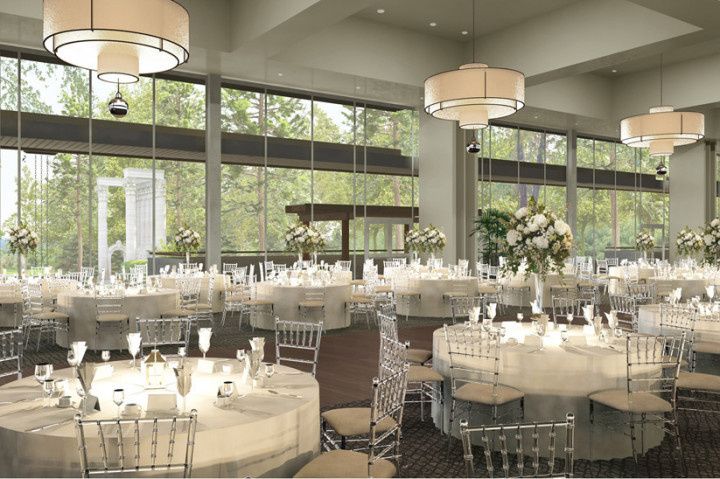 Your venue is the biggest part of your wedding, so getting it right is essential. Once you think you've found "the one", you'll want to schedule a meeting and prepare questions to ask the wedding venue coordinator to learn all the ins and outs. Yes, a venue may seem perfect at face value, but even the most stunning places can have their pitfalls (like busted AC or no wheelchair accessibility).
Here are a few essential questions to ask wedding venue coordinators that many couples forget.
What will happen if the weather starts acting up?
You'll be hashing out your wedding plans months before the big day, so you probably won't have a clue what the weather will look like when it actually arrives. If you're planning an outdoor affair, you'll want to make sure your venue has a plan B (like tents or an indoor space) if Mother Nature decides to let it pour.
Do you have AC and/or heating?
The last thing you want is to spend your wedding night shaking and shivering from the cold or sweating through your dress thanks to the sweltering heat, so this is an important question to ask wedding venue coordinators. Make sure your venue is temperature controlled so that you (and all your guests) are comfortable.
Can I take a look at the bathrooms?
Planning a massive wedding? Well, you're going to need more than a single stall bathroom to cater to your guests. Take a look at how many washrooms are available to make sure it all makes sense.
How big can I make my dance floor?
You can get a good idea of the size of your dance floor just by looking at a place, but you shouldn't go off of an estimate, you should know the actual square footage. Remember, the space doesn't need to be big enough for all of your guests at once, not everyone will want to hit the floor when "Dancing Queen" comes on. The general rule is three to four square feet of room per guest, with space for two-thirds of your entire headcount.
What's the parking situation?
Unless you've splurged on shuttles for all of your guests, a fair few of them will probably be driving. So, naturally, they'll need a place to park. Don't forget to inquire about valet and lot parking, as well as the cost of it.
Can I take a look at your rules and regulations?
While the venue coordinator has probably explained most of the rules and regulations to you, there's a good chance they've let a few things slip. Ask to see a hard copy of their rules and regulations so that you know everything you're in for. Look for clauses about noise, candles and camera-flashes - these things may seem little, but they also may mess with your wedding vision.
How much time will I have for setup and breakdown?
This is a key question to ask wedding venue coordinators. Most of your focus will be on how long you have to actually celebrate but don't forget about setup and breakdown. Things like putting up tents and breaking down all of your centerpieces will take time - probably more than an hour - so it needs to be factored into the cost. Some venues will allow your vendors to begin setting up the night before, which can be a major lifesaver.
Are you accessible to guests with special needs?
You don't want your grandfather to miss seeing you say your vows or attending your reception because your venue doesn't work with his wheelchair. If any of your guests are disabled or have special needs, you'll need to choose a venue that works for them. Ask about your prospective venue's accessibility, or if they have ways of adjusting their setup to accommodate such guests.
Can I have my rehearsal here the night before?
Holding your ceremony at the venue? Another question to ask wedding venue coordinators is if the space is available for a rehearsal the night before the main event. This will help you and your wedding party get to know the lay of the land and practice their roles before the big day, which is a must.