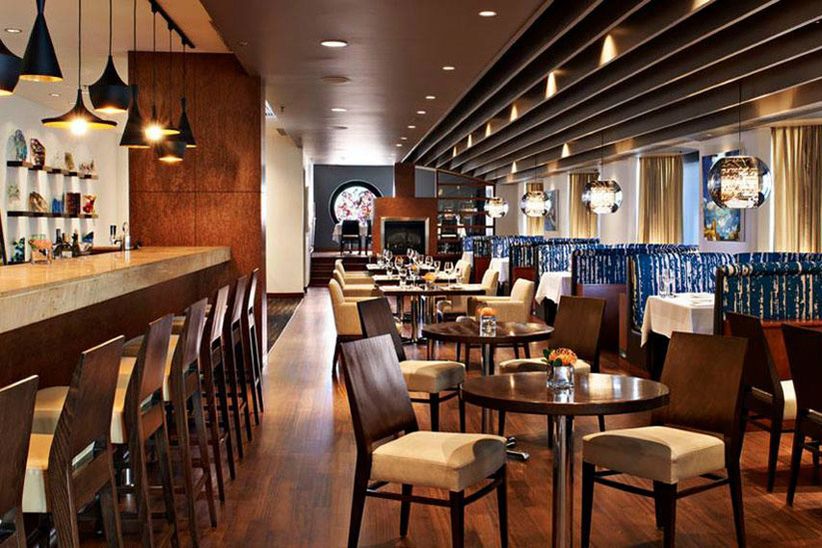 Pictured here: Gio restaurant located in The Prince George Hotel.
There's no doubt about it, Halifax is filled with a number top notch eateries and watering holes. However, not all of them are fit to host a rehearsal dinner. If you're looking for something a bit more intimate than a semi-private room or chef's table, we've got your back. These restaurants boast alcoves, mezzanines or rooms tucked away from the main dining areas, giving you and your wedding party a bit more room (and quiet) to mix and mingle.
Here are my picks for the top restaurants for a wedding rehearsal dinner in Halifax.
Gio (1725 Market Street)
If you're in the market for something swanky make a beeline for Gio. This stylish restaurant/lounge hybrid is the epitome of cool, outfitted with patterned booths, wood panelling and unique lighting fixtures. Its menu is stacked with everything from smoked fish croquettes to fettucine carbonara, so even the pickiest eater in your wedding party should find something they'll enjoy. It has both semi-private and private dining rooms for groups of 10 to 20.
The Five Fisherman (1740 Argyle Street)
Are you and your partner huge fans of seafood? The Five Fisherman will impress anyone who likes a good oyster, mussel or filet. Its private dining space is downright charming, with wooden floors, exposed brick walls, stained glass accents and a cozy little fireplace. It can fit up to 35 guests for a rehearsal dinner, making it perfect for larger wedding parties.
Chives (1537 Barrington Street)
Just north of where Barrington and Salter Street meet you'll find Chives, a contemporary, casual Canadian bistro. The menu, which changes seasonally, features an eclectic mix of dishes (right now tikka masala, paella and perogies are all present). Its private dining area, which echos the main space with its relaxed vibe, can seat up to 20 guests.
Stories (5184 Morris Street)
Between the city's south end and downtown, you'll find Stories, right near the corner of Morris and Barrington. This upscale casual restaurant has a menu filled with East Coast favourites, with dishes like roast deer loin and crab cakes populating the menu. It has a few private dining rooms that can fit groups of up to 20.
Café Chianti (1241 Barrington Street)
Take a walk down the street from Chives and you'll find another awesome private dining spot by the name of Café Chianti. Its an Italian eatery that serves up homestyle dishes like calamari and bolognese (and pretty much everything in between). The restaurant has three menus to choose from for events, so you've got options. The Portofino Room - its private dining room - can fit up to 15 people, so it's best to keep your guest list on the shorter side.
Da Maurizio (1496 Lower Water Street)
A short walk from the waters of the Atlantic sits Da Maurizio on Lower Water Street. This upscale eatery specializes in Italian fare and has plenty of customized event menus to choose from for your rehearsal dinner (don't worry, they all involve pasta). Its private dining rooms have kept things classic, with wood accents, exposed brick walls and plenty of artwork to scope out while you eat. The smaller private room can fit 20 and the larger of the two can seat 35.
Agricola Street Brasserie (2540 Agricola Street)
Agricola Street Brasserie is an industrial-chic restaurant with a bit more warmth than your average city loft. Flaunting light wood accents, red brick walls and a few modern lighting fixtures, this place has got some serious style. The private room, which can seat up to 25 guests, isn't as private as most of the other options on this list - it's located in the mezzanine, overlooking the kitchen (so you can still see some of the action). It's menu features French-inspired dishes and a ton of drool-worthy seafood options.
Lot Six (1685 Argyle Street)
Lot Six (pictured above) is a well-loved, contemporary restaurant located in the heart of downtown Halifax. It's got some of the best decor in the city, defined by its massive skylit ceiling, exposed stone walls, hanging lights and a healthy dose of greenery. On the menu you'll find oysters, charcuterie boards, steak and more. For events you can take over The Study, a private space tucked away from the hustle and bustle of its massive dining atrium with equally chic style. It can seat 24 to 26 guests.
The Carleton (1685 Argyle Street)
You don't have to stray too far from Lot Six to find The Carleton - it calls the same Argyle Street building home. Its vibe, however, is much different from it's trendy fellow tenant. It's got exposed stone walls, wood accents and a few modern flourishes. The menu is filled with upscale pub fare, boasting dishes like fish and chips and burgers. Head past the live musical acts and bar area and you'll find the cozy private room, which has enough room to seat 20 of your friends and family members.
Bistro Le Coq (1584 Argyle Street)
Want to give your rehearsal dinner a touch of French charm? Head down the block from Lot Six and The Carleton and hit up Bistro Le Coq. This cozy Parisian outpost puts the focus on food, serving up traditional favourites like escargot, steak tartare and duck confit salad. Le Salon, its private dining area, can seat up to 40 guests, so feel free to add a few extra names to your guest list.
Find more Halifax wedding venues and vendors on WeddingWire »