10 Whistler Bachelor Party Ideas For Every Type of Groom
If you're hosting a bachelor party in Whistler in the upcoming months, these spots definitely need to be on your radar.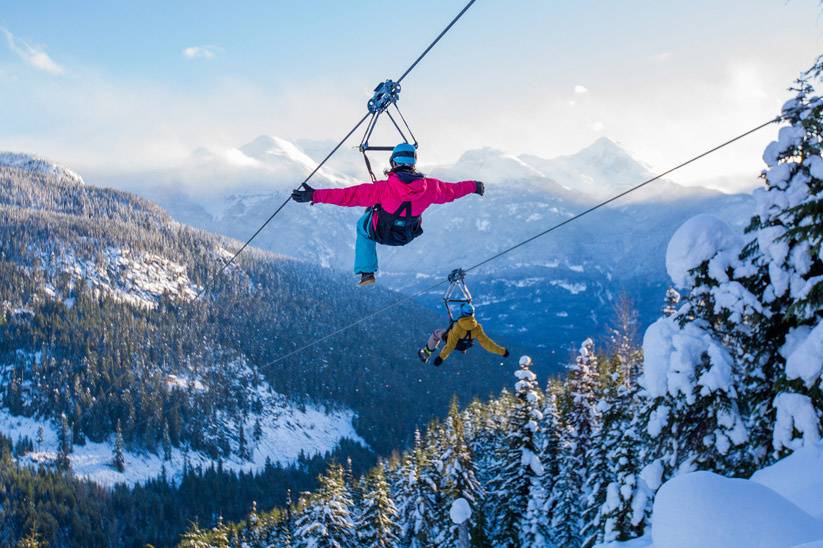 Planning a bachelor party is super fun, and the first step is choosing exactly where you want to go for this epic event. To help make your job a little bit easier, we've put together this list of our favourite Whistler bachelor party ideas for every type of groom. From zooming down the snow-covered peaks at Whistler Blackcomb to taking an oyster shucking class at Bearfoot Bistro, there's truly something for every kind of guy on this list. P.S. If you aren't sure what type of event he wants, go ahead and ask (it's not against the rules for the groom to be involved in the planning process).
Here are a few Whistler bachelor party ideas for every type of groom.
For the athlete: Skiing and snowboarding at Whistler Blackcomb (4545 Blackcomb Way)
You can't really talk about Whistler bachelor party ideas without talking about Whistler Blackcomb. It's one of the country's largest ski resorts and has two killer slopes that are just a gondola ride away from each other. Other than skiing and snowboarding, you and your groom gang can hike and bike its trails, zipline, golf, dogsled, or just take a good old-fashioned nature tour.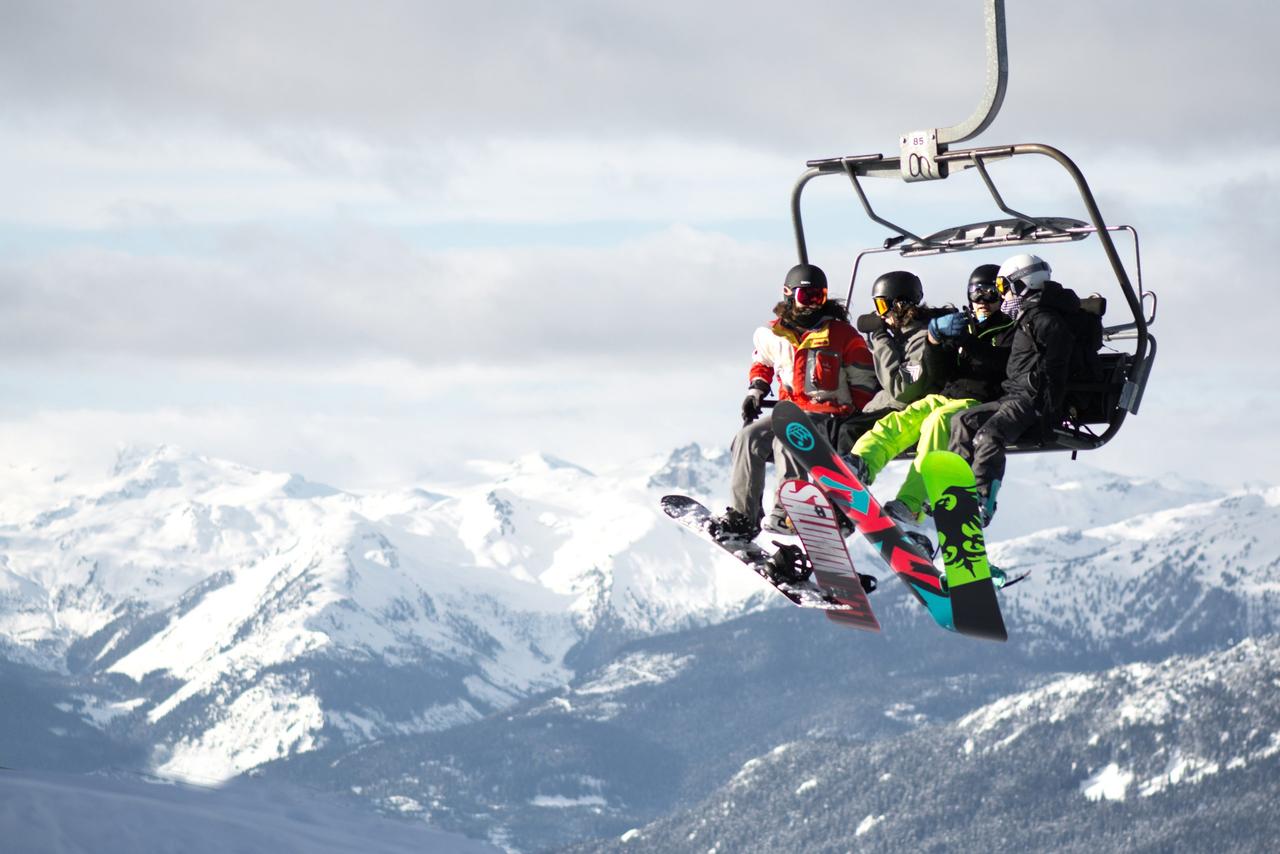 For the partier: Clubbing at Tommy's (4204 Village Square)
If the groom in your group has seen The Hangover one too many times and is obsessed with the idea of having a rager for their last hurrah, Tommy's is the place to go. It offers the classic club experience and is the ideal place to drink and dance the night away. Plus, the club is an iconic bachelorette and bachelor party spot in Whistler, so you're bound to run into one or two groups that are just as rowdy as yours. Pro tip: Splurge for the VIP table experience – it'll give you the opportunity to skip the line, and gives your squad cover and coat check, as well as your own private section and table service.
For the lumberjack: Throwing axes at Forged Axe Throwing (1208 Alpha Lake Road)
Want to conquer that pre-wedding stress through friendly competition? It sounds like it's time to grow your beards, don your finest plaid flannels, and transform into lumberjacks for one epic day of fun at Forged Axe Throwing. Of course, it offers basic training with a seasoned pro, so you have a better shot at nailing your target (and not hurting anyone around you). You'll leave with better hand-eye coordination and probably sweat off some of the food you probably indulged in pre-throw.
For the boulderer: Rock climbing with The Core (410 Whistler Way)
The Core is the perfect Whistler bachelor party idea for the groom who loves his fitness routine almost as much as he loves his partner. Instead of taking you to an indoor climbing facility, they'll bring you out into the wilderness to rock climb and rappel in the great outdoors. You won't be able to Free Solo after one expedition, but you're sure to have a great time.
For the zen bachelor: Relaxing at Scandinave Spa (8010 Mons Road)
If your clubbing days are long behind you and your groom squad could just use a bit of rest and relaxation, head to Scandinave Spa for a more peaceful last hurrah. Its service list includes almost every spa service you could dream of from massages to facials and will make your guest of honour forget all about the stress of wedding planning. P.S. you can take your bachelor party to the next level by adding on a lunch, yoga class or ski lift ticket for Whistler Blackcomb.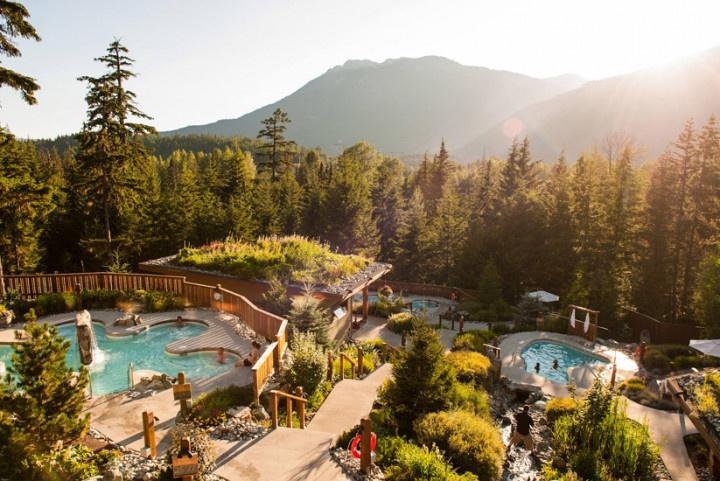 For the aspiring chef: Oyster shucking class at Bearfoot Bistro (4121 Village Green)
Of course, a dinner out is awesome, but if you want to try your hands at working in the kitchen and sharpening your culinary skills, book an oyster shucking class at Bearfoot Bistro. They'll get you in the kitchen with a chef to teach you all the right techniques and help you become seasoned seafood pros. Oh, and if oysters aren't your thing, the restaurant also offers wine seminars, cooking classes, and mixology classes.
For the adrenaline junkie: Ziplining at Superfly Ziplines (211-4293 Mountain Square)
So, thrills and adrenaline are your pal's favourite things? Take him to Superfly Ziplines for one seriously wild ride. You'll get to see Whistler from a whole new vantage point, and if you're looking to try some other fun stuff, you can book a treetop trek, too. One thing's for sure: if he's outdoorsy, he's bound to love this Whistler bachelor party idea.
For the foodie: Eat tapas dishes at Bar Oso (150-4222 Village Square)
I know, I know, pizza and beer is a great, well-balanced meal, but if you want to give your guest of honour a real culinary treat for their bachelor party, take them to Bar Oso for tapas. The restaurant specializes in contemporary Spanish small plates and will get you drooling just by reading the menu. P.S. It has a massive bar, so you can get a bit tipsy here, too.
For the off-roader: Taking an ATV tour with Whistler ATV (104-4050 Whistler Way)
Another awesome outdoor adventure you can partake in with all your pals is a Whistler ATV Tour in the backcountry. You'll get to see some awesome sights you can't get to on foot and really explore everything Whistler has to offer. Tours are available rain or shine, so you don't have to stress about the forecast ruining your party.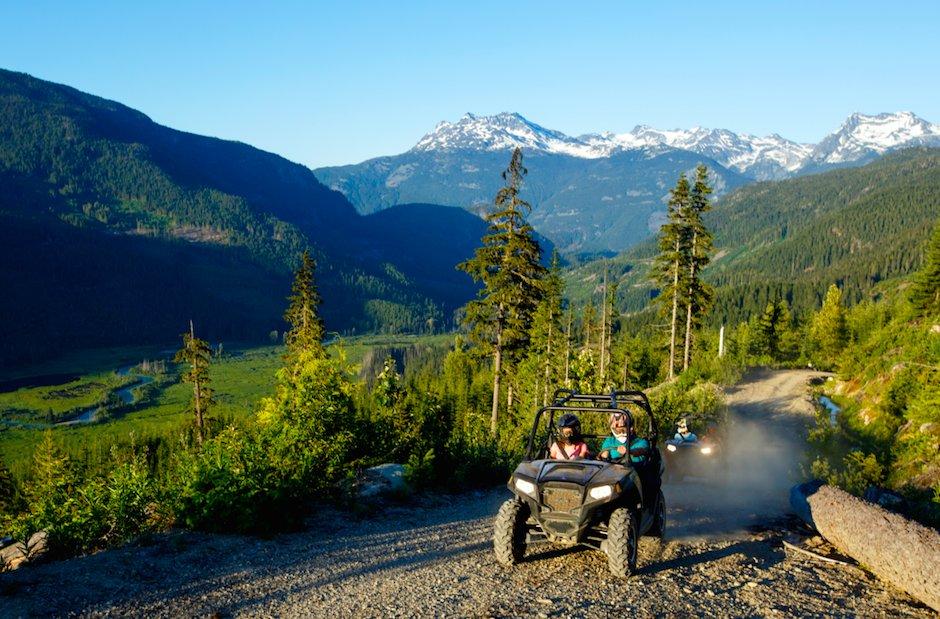 For the survivalist: Bust out of an escape room at Escape! Whistler (4293 Mountain Square)
Want to partake in some fun and games? Head to Escape! Whistler to conquer one or two escape room challenges. It has four amazing adventures on offer (ranging from beginner to advanced) so no matter what your skill levels are, you're sure to have a fun time.
Create a Whistler bachelor party hashtag with our Bach Party Hashtag Generator »