The 5 Best Bachelor Party Destinations in Canada for Skiers and Snowboarders
If the groom-to-be in your friend group loves nothing more than a trip to the mountains, these are the best bachelor party destinations in Canada to look into.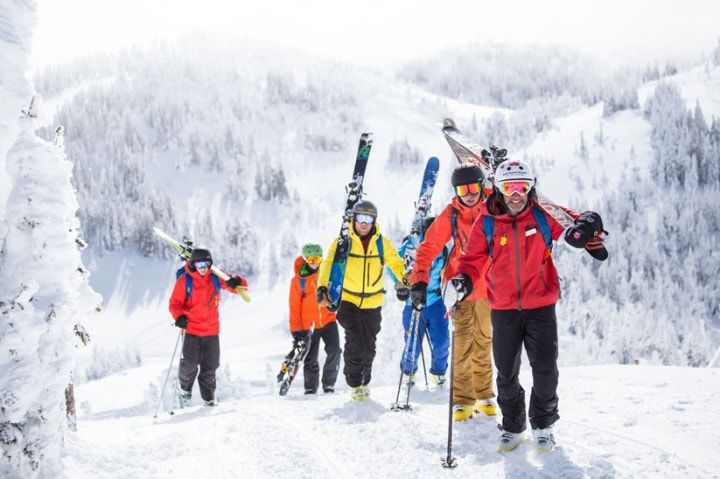 A Vegas-style destination bachelor party isn't the only way to celebrate your last night(s) of freedom. If you're more into snow sports and apres-skis, you may want to consider the best bachelor party destinations in Canada for renting a chalet and spending your party on the slopes. Canada has dozens of mountain resorts to choose from, but we've rounded up our favourites to make planning a little easier.
Here are the best bachelor party destinations in Canada for skiers and snowboarders.
Whistler, British Columbia
Naturally, we need to kick off this list of best bachelor party destinations in Canada with the most popular winter sports destination, Whistler. It's side-by-side mountains, Whistler Blackcomb, have a whopping 8,171 acres of ski terrain, 16 alpine bowls and 3 glaciers. The Whistler Village is also one of the best apres-ski destinations in the country, boasting bars, pubs and clubs galore, so you can unleash your inner party animals when you're done on the slopes.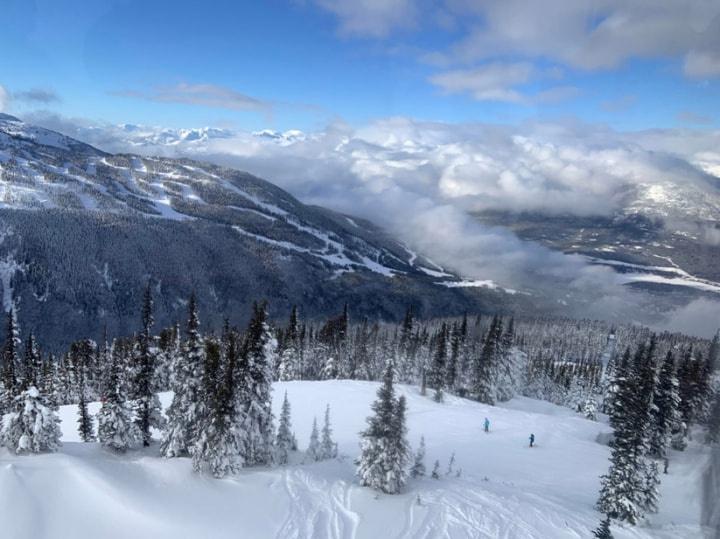 Kamloops, British Columbia
Head to Kamloops and you'll find the second largest ski area in Canada, Sun Peaks Resort. It has nearly 4,300 acres of skiable terrain and 137 trails to choose from. Your visit doesn't need to be purely about hitting the slopes, though - the resort offers dog sledding, a bungee trampoline, ice fishing and snowmobiling, too. There are also 20+ spots for dining and apres-ski, giving you the opportunity to try something new everyday.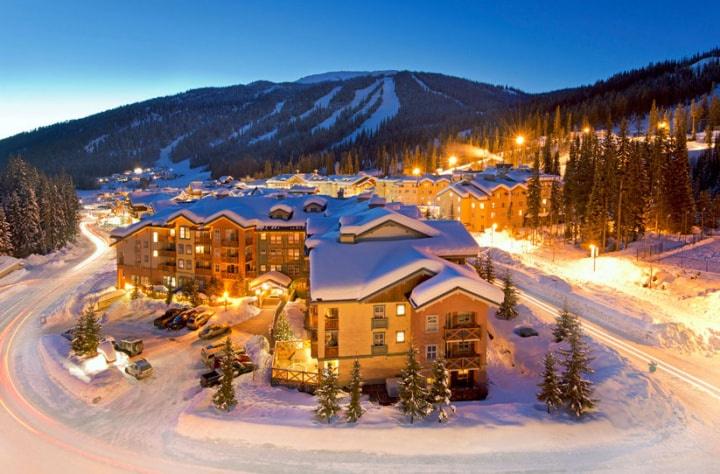 Banff and Lake Louise, Alberta
Banff and Lake Louise are situated in the heart of the Rockies, so it should come as no surprise they have some of the best best bachelor party destinations in Canada for skiers and snowboarders. Their three most popular resorts are Mount Norquay, The Lake Louise Ski Resort and Sunshine Village, which together flaunt 8,000 acres of ski terrain. Not sold just yet? The resorts also offer skating, dog sledding, hot springs, spas, sightseeing and tons of apres-ski spots, where you can kick back with boozy beverages, so you'll never be bored.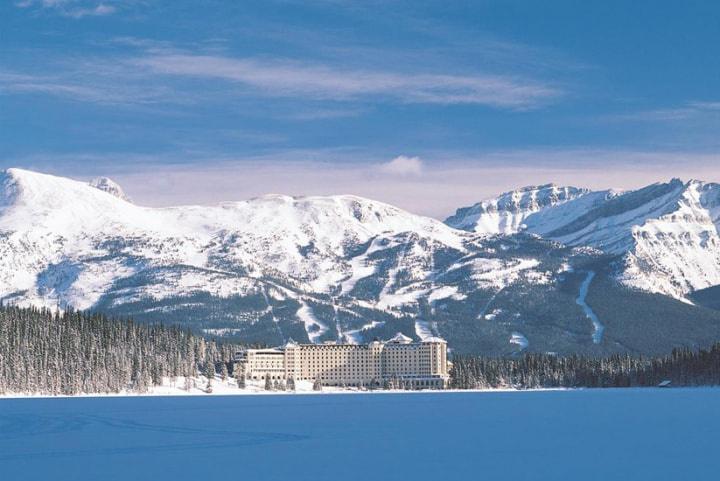 Collingwood, Ontario
If you're an Ontarian who wants to work a little skiing and snowboarding into your bachelor weekend close to home, Collingwood is the best bachelor party destination in Canada for you. It's home to Blue Mountain, which boasts 42 trails, including 30 lit night trails (for those who aren't exactly early risers). So far as accommodations are concerned, you'll want to book your stay at the Blue Mountain Resort, which has full houses and small hotel-style spaces available (perfect for parties of all sizes). It's also got dozens of options for your apres-ski, so you can try something new after every trip down the mountain.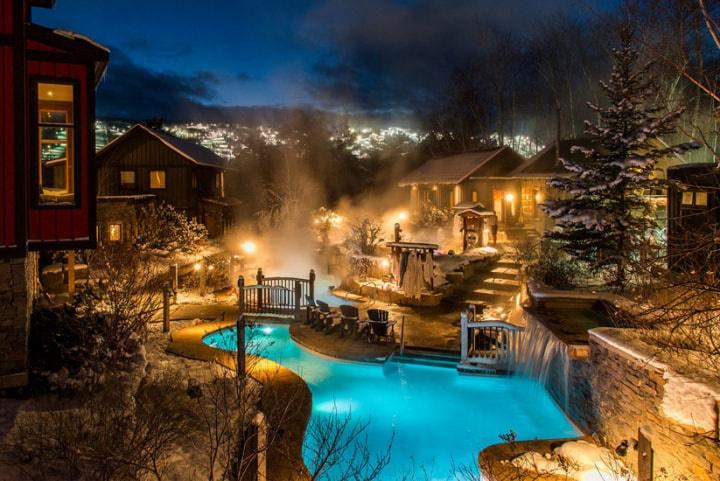 Tremblant, Quebec
Mont Tremblant is Quebec's premier winter sports destination. It has 102 ski trails based on four slopes, giving you plenty of terrain to cover on your trip. There is also dogsledding, spa treatments and Scandinavian baths nearby, so if you want to add a few extra items to your itinerary, you've got options. P.S. It's less than two hours away from Montreal, so if you're looking to squeeze a bit more partying into a bachelor weekend, we recommend doubling down and heading to the city before or after you've gotten your skiing/snowboarding fix.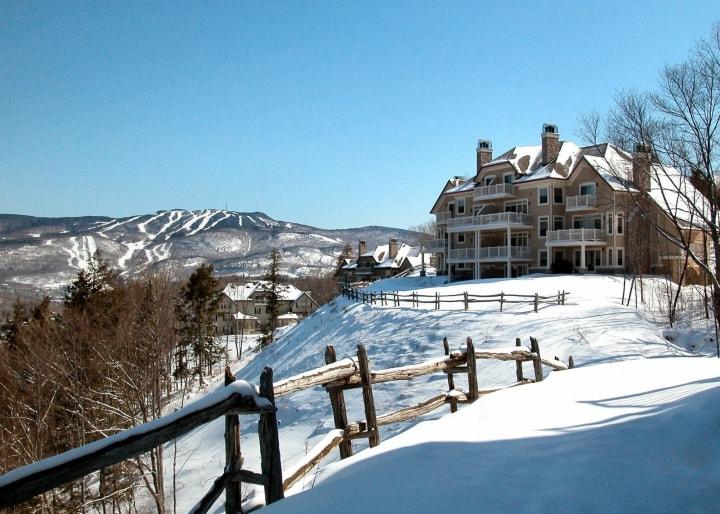 Create a bachelor party hashtag with our Bach Party Hashtag Generator »