The Girl's Guide to Proposing
Ladies can pop the question, too! Here's everything you need to know before getting down on one knee.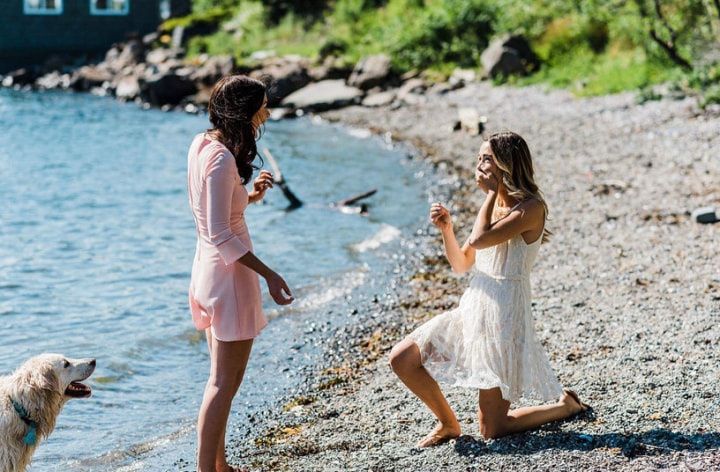 Ladies, we need to talk. It's 2018, so there's no reason for you not to get down on one knee and propose to your S.O. Whether you're in a same-sex relationship or looking for ideas for a woman to propose to a man, there are a few things you'll want to know about marriage proposals. From picking out the perfect engagement ring to documenting the occasion, here's what you need to know.
This is the girl's guide to proposing.
The ring
Looking at shiny things is never a let down, but finding the perfect engagement ring can be tough. If you don't think your partner would wear a glitzy band everyday, you can always go with something different - there are plenty of stellar alternatives out there. A nice watch, a bracelet, a pair of cufflinks or even a non-jewellery item or wedding ring tattoos will do the trick.
Planning makes perfect
Now it's time to get creative and infuse your marriage proposal with a bit of personality. You'll want to come up with something that suits you and your S.O., so take the time to draft some plans and find the perfect place to propose. You could cook up some elaborate scheme involving a hot air balloon ride at sunset or something super simple, perhaps when you're out for your morning jog or spending a cozy night in.
Timing matters
The next thing you'll need to figure out is timing. As with any good surprise, a proposal needs to happen at exactly the right moment, and there is an art to this. Is your partner typically super hangry and stressed out after a long day at the office? You may not get your desired reaction if you pop the question right when they step in the door. Take schedules into consideration and pinpoint the perfect moment to pull out that ring.
Don't forget to document it
Your proposal is a memory you'll definitely want to revisit over and over again, so make sure you have a camera crew ready to capture the big moment. Yes, professional photographers and videographers are awesome, but you don't necessarily need to shell out the big bucks to get some great clips and snapshots (especially since you'll now be saving up for your wedding!). If the funds just aren't there, enlist one of your photo-savvy friends to hide out and get all the sweet and sentimental moments on film.
Capture the big moment! Find professional photographers on WeddingWire. »