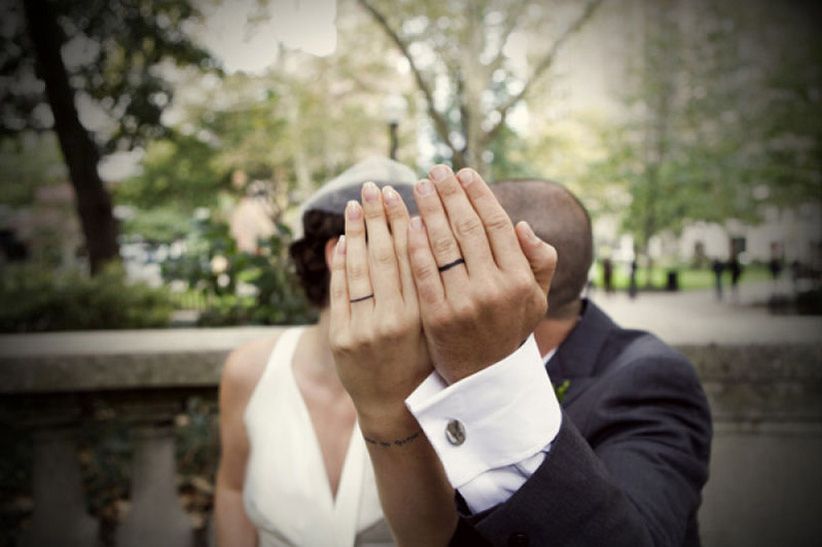 Want to show the world how permanent your love is? Well, why not follow the lead of Beyoncé and Jay-Z and get some matching wedding ring tattoos to commemorate your wedding day? You don't have to go the old and faithful roman numeral wedding date route, from pint-sized hearts to tiny arrows, pretty much any design can be turned into a wedding band tattoo with the help of a skilled tattoo artist. Yes, a couple tattoo is a big commitment, but, hey, so is getting married.
Here are a few wedding ring tattoo designs that'll make you want to get inked with your S.O.
Hearts
Let's kick things off with something simple: a heart, the universal symbol of love. These itty bitty, line drawn ones are downright adorable and will show the world how head over heels you are for each other.
Symbol
Have a sweet little inside joke with your partner? Turn it into a couple or wedding ring tattoo! It'll remind you to not take life too seriously and enjoy the ride. This happy couple chose a doodle, but, honestly, the options are endless. Note: remember that tattoos are for life, so maybe skip x-rated images and expletives for this one.
Arrows
This simple little arrow doodle is the perfect replacement for a wedding band. Not only does it look adorable, but it's packed with meaning, too. The symbol is known to represent protection, direction, and love (among other things).
Mountains
Are you and your S.O. total adventure junkies? Well, these pint-sized mountains may be perfect wedding ring tattoos for you. They'll remind you of your wanderlust and your love all at once.
Compass
Another directionally-themed favourite for wedding ring tattoos is the compass. Historically, this instrument was used to help sailors navigate the seas, pointing them in the right direction through the best and worst conditions. Pretty symbolic of marriage, huh? (no email available)
Words
The English translation of "hoy"? That would be "today", AKA the most amazing day of your entire life. Feel free to go with another term or a saying for your own wedding ring tattoo design - fan favourites include "mrs./mr.", "I do" and "love". Just keep in mind that if it's going to sit on your ring finger, you haven't got a ton of space to work with, so keep it short and sweet.
Arm piece
Not every wedding tattoo has to stand in for a ring. If you're willing to let your new ink occupy a bit more real estate, take your cues from this couple and go for something a little bigger and bolder, like an arm piece. We love how they've broken apart a quote to make their tats the same but different. For a unique design, you could use an excerpt from your wedding vows.
Roman numerals
For some couples, simple things are the most effective. This roman numeral wedding date design acts as an amazing stand-in for traditional wedding bands.
Complementary tattoos
Don't love the idea of being super matchy-matchy? Go with complementary tattoos instead of identical ones. This cute combo will show that you and your new spouse, like a bow and an arrow, are perfect partners.
Geometric
Geometric tattoos are all the rage right now, so why not get a matching one with your S.O.? Triangles can take on many meanings, from resilience to the holy trinity to the connection of mind, body and spirit. We suggest hunkering down and doing a little research to help decide on the right one for you.
Join the wedding ring tattoo discussion in our community forums »