How to Nail Your I Spy Wedding Game
Add an element of fun and friendly competition to your big day by asking everyone to participate in an I Spy wedding game. Here's how to put it all together.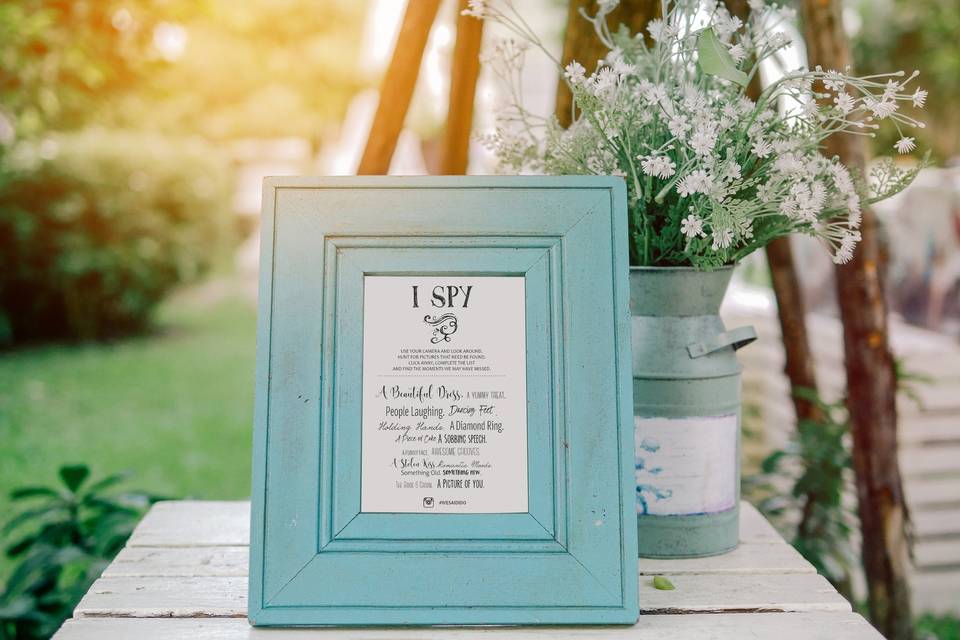 The aim of the game at your wedding reception is to make sure everyone in the room is having fun. Sure you'll have music, drinks, dinner, and guests to mingle with, but if you want to go the extra mile, why not add some games to the mix to entertain your guests? The I Spy wedding game doesn't take a lot of work, but it'll probably be a major hit with your guests (especially the little ones). All you'll need is some stationery, pens, and your guests' phones, so it's a super cheap and cheerful addition to any celebration. It'll also help you get some candid wedding photos and hike up the fun factor of your big day, so it's really a win-win situation.
Here's how to nail your I Spy Wedding Game.
How do you play the I Spy wedding game
An I Spy wedding game is a simple little activity that'll keep your guests on their toes throughout your reception. How does it work, you ask? Just like a classic game of I Spy, but instead of looking for objects in pictures, your guests will be keeping their eyes peeled for specific events and items at your wedding and trying to capture them with their phones or cameras. You may want to provide disposable cameras if you have the budget to ensure the photos get back to you. Pro tip: If you're having a phone-free wedding, you can create checklists that your guests can tick off as they find items, but you'll need to have faith that nobody will cheat or fudge their answers, or you won't have any real winners.
Create your I Spy wedding game cards
First thing's first: creating your I Spy cards. Simply write out a list of events you anticipate will happen at your wedding and some items or decor pieces that your guests should look out for. You don't want to have so many items on your list that your guests forget what they're trying to capture, but it should be more than one or two things (anywhere between 10 to 20 is ideal). We suggest putting boxes beside each item on the list so that your friends and family can tick them off as they go (they may forget what they're missing after a few of your signature cocktails). Pro tip: if you have room in your budget, you can ask your stationer to create your I Spy cards, but if you're trying to be more thrifty, you can easily print them out yourselves.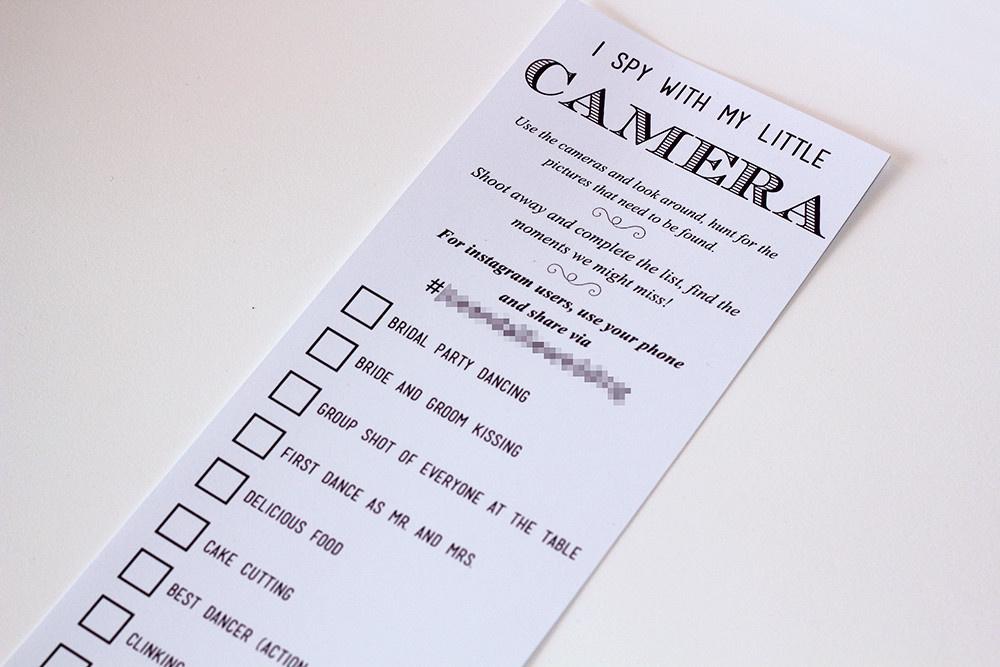 Where to display them
You want to display your I Spy cards where everyone can see them so that nobody misses out on all the fun you have planned. You can leave a basket of cards at your reception venue entryway or place one on each of your guest's dinner plates, so they need to pick them up before they hit the buffet. Don't forget to include a pen or pencil along with each card so that your guests can keep track of their progress as they knock off items.
What to put on your I Spy wedding game cards
Your I Spy wedding game can include any item or event at your wedding. From kisses to specific types of wedding decorations, pretty much anything goes. Remember, you don't want your other guests to feel awkward or uncomfortable at your wedding, so you may want to leave off negative stuff like, "most embarrassing dancer" or "worst dressed guest". We've rounded up a few options to help you put together your own list. Feel free to add and omit as you see fit!
Someone taking a shot
Someone drinking one of your signature cocktails
First dance
The happy couple kissing
Something blue
A group shot of you and your tablemates
A selfie
Someone shedding a happy tear
A toast
Your favourite decoration
The most original outfit (excluding the happy couple and wedding party)
The cake before it's been cut
Someone falling asleep
The bouquet toss
A silly face
Bridesmaid busting a move
After the wedding
Ask your guests to upload their pics to Instagram using your wedding hashtag or send them to you via our Wedshoots app, DropBox or email. That way you'll be able to hold onto those precious memories and maybe even add a few more photos to your wedding photo album. If you opt for disposable cameras, you can skip this step — just make sure everyone leaves their disposable with you, so you don't miss out.
Set up your FREE wedding website on WeddingWire and use our Wedshoots app to collect photos from your guests »