So, you've spent months putting together the perfect guest list, and, to your amazement it includes waaaay more people than you expected. Well, you don't want to lose the intimate vibe of your wedding just because you needed to add your college pals and cousins to the roster. If you're struggling to make your big day feel, well, not so big, there are a few tips and tricks you can make use of.
Here's how to make a big wedding feel intimate.
Be mindful about tables
Crafting the perfect seating plan is deceivingly tricky - there's a real art to it all. If you're dealing with hundreds of guests, you'll want to give yours that extra bit of TLC. Make sure to put people with similar interests or friend circles together and don't forget about the kids. Word to the wise, you'll definitely want to assign tables when dealing with a big group. Letting them choose their own spots is just asking for chaos.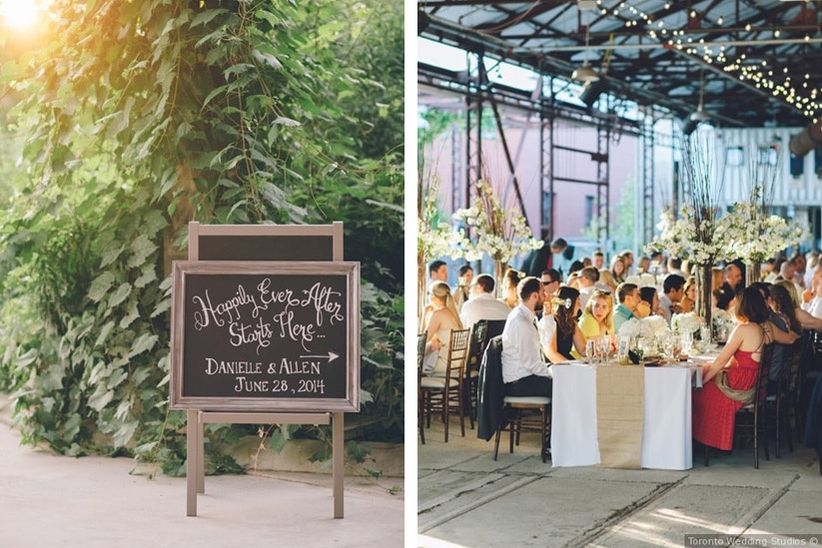 Opt for family-style catering
With all the catering styles to choose from, it can be tricky to figure out what's right for your big day. Plated dinners are the traditional pick and buffets give your guests options, but if you're looking to facilitate conversations, go with family-style. Passing around dishes encourages your guests to communicate, so they won't have to deal with any awkward icebreakers to get the conversation flowings.
Create the perfect ambiance
Weddings are all about the mood, so create a warm and comfortable atmosphere for your guests by tweaking the lighting. Try using a generous number of candles and dimming the lights to set the tone for the evening. Not only will this give your photos a soft glow, but it'll make your venue feel a little bit more intimate.
Infuse your decor with personality
Yes, rose-filled centrepieces are stunning. And, sure, that bunting you ordered off that cute Etsy shop can't be beat. But why not add a bit of personality into your decor to bring your friends and family members into your love story. Create a few displays - possibly near your welcome table or guestbook table - that show off your romance. Include old pictures, love letters, mixtapes - the more items the merrier!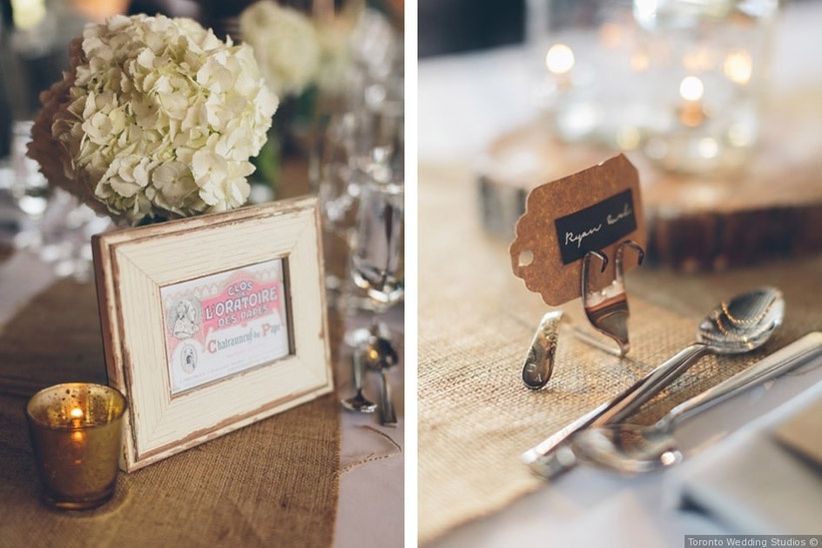 Add a few heirlooms
Since you've got so many guests to meet and greet, your wedding's VIPs may start to feel a bit less special than they should. Adding a few photos of your parents' and grandparents' weddings around your venue or sporting a piece of their jewellery will make them feel connected to you and appreciated while you make your rounds. Bonus: it'll let your other guests in on a bit of family history, making them feel part of the bigger picture, too!
Create a lounge
Between the dance floor and the tables, you've probably used most of your reception space. Unfortunately, this means your guests will be confined to talking amongst their table groups and shuffling around on the dance floor. If you can work it into your budget, ask your venue if there is a second space you can rent out as a lounge. This will facilitate a little mixing and mingling among guests and will be much appreciated by the older crowd who isn't so interested in hearing Ariana Grande or Kings of Leon.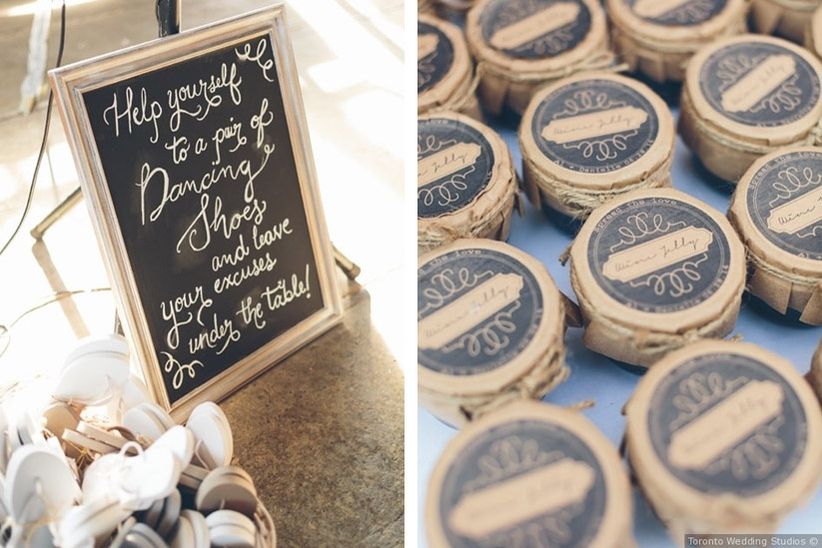 Get personal with your favours
If you've got hundreds of guests to handshake and high five over the course of the night, you may not get a ton of face time with each and every one. In fact, you may only be able to see a few of your guests in passing. If you don't have the time to individually thank each of your guests - spoiler alert, you won't - tack on a personalized thank you note to each favour. Yes, this is a bit of a laborious process, but, trust me, the sentiment is worth it.
Pictured here: Danielle and Alan's wedding at Evergreen Brick Works in Toronto; photography by Toronto Wedding Studios.
Create a seating plan with WeddingWire's FREE Table Planner tool »