10 Ways to Make Your Parents Feel Special on Your Wedding Day
Show your parents a bit of love by including a few special moments just for them in your wedding day.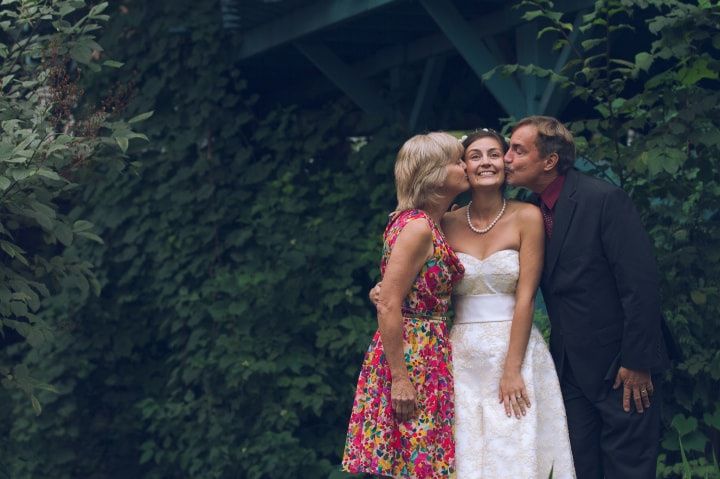 Your wedding day will be one of the happiest days of your parents' lives. You, their pride and joy, are tying the knot, fleeing the nest and starting a family of your own, so this is a big milestone for them, too. If you want to make them feel even more special on your big day there are a couple of things you can do, from giving them a special gift to sharing a private moment at the end of your reception.
Here are a few ways to make your parents feel special on your wedding day.
Get to gifting
Yes, your parents will be taking home wedding favours like all your other guests, but they deserve a little something extra, don't you think? This present doesn't have to be super expensive to pack a punch, a handwritten note or DIY gift will probably tug on their heartstrings more than anything you could buy at Birks.
Do a first look
First looks are typically reserved for the happy couple before they get hitched, but there's no rule that says you can't do one with your dear old mom and dad, too! Instead of inviting your mom to your dressing room to help you get ready, ask her to wait outside with your dad. This is an awesome photo-op, so remember to bring along your photographer.
Schedule a photo session
There are hundreds of photos you'll want taken on your big day, from candids of you and your wedding party getting primped and prepped to your first kiss as a married couple. In the hustle and bustle of it all you may forget to pose with your parents. So you don't miss out on some amazing pics, block out a specific time to snap some photos with them - don't forget to include your siblings and grandparents.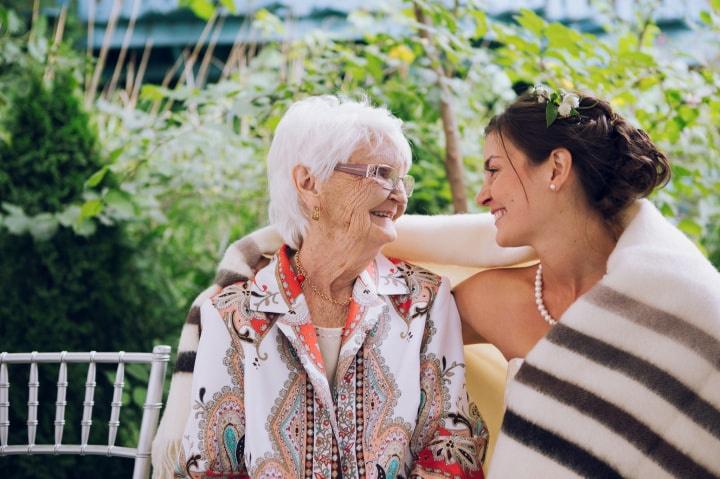 Wear something of theirs
If you're following tradition, the bride is going to need to sport "something borrowed" for her trip down the aisle. We suggest going with a family heirloom to keep your nearest and dearest even closer to your heart on the big day. No, you don't have to recreate your mom's wedding ensemble from back in the day, but stealing an accessory like a veil is an awesome idea. Grooms can get involved, too, by rocking their dad's tie or cufflinks.
Include them in your ceremony
Now, this is pretty standard stuff, but consider having your mom and/or dad join you for your walk to the altar. If you'd rather have the spotlight all to yourself, that's perfectly fine. Just don't forget to give them a hug and kiss before taking your place.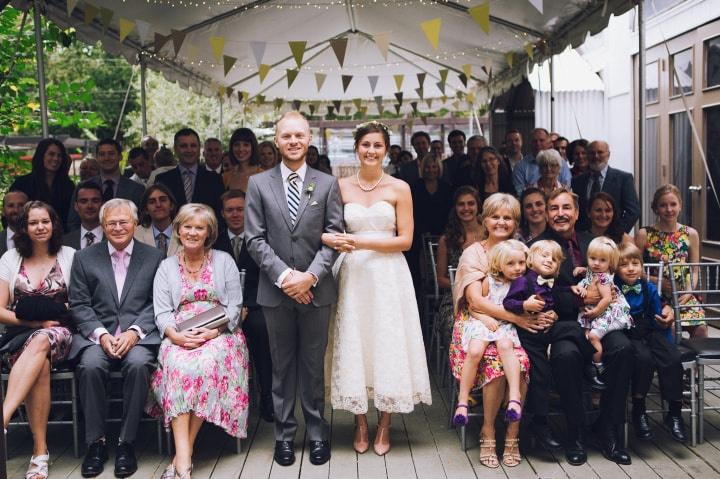 Give them a shout out
Give credit where credit is due. Your parents raised you, had a huge hand in making you who you are today and (probably) helped you plan and pay for your wedding, so they deserve a little extra love. Give them props by adding a little note about them in your ceremony program and thanking them in your wedding toast.
Play a song just for them
You're going to need a pretty stacked playlist to keep the music going from the beginning of your reception to the end of the night, so why not throw in a couple of curveballs to surprise your parents? Think about sprinkling in the song they used for their first dance and a few of their all-time favourites. These are sure to get them out of their seats and onto the dance floor.
Dance with them
Some people just don't like dancing, and if you're 'rents fit into this category that's totally fine. However, you should urge them to join you on the floor for the mother-son and father-daughter dances. They don't have to do any flashy moves or learn to waltz, just keep things simple, fun and fuss-free. Hint: you don't have to pick a slow song! You can get down to ABBA or the Bee Gees if you want to.
Serve one of their signature dishes
Your caterer probably doesn't need any pointers in the kitchen - they already know how to sauté and flambé with the best of 'em - but, if you want to make your menu even more special, why not add one of your family's signature dishes? Ask for your mom's amazing fried chicken recipe or how to make your dad's killer lasagne. Seeing one of their specialties at your big day is sure to make them feel loved.
Share a private moment
It's hard to get face time with all of your guests between all the drinking, dancing, dining and revelry, but you do need to carve out a few minutes to chat with your mom and dad. Thank them for all their help, love and support - they'll appreciate it more than you'll ever know.