How to Choose Your Bridesmaid Shoes
Trying to decide what type of shoes your bridesmaids will rock on your big day? Here are a few things to consider before setting anything in stone.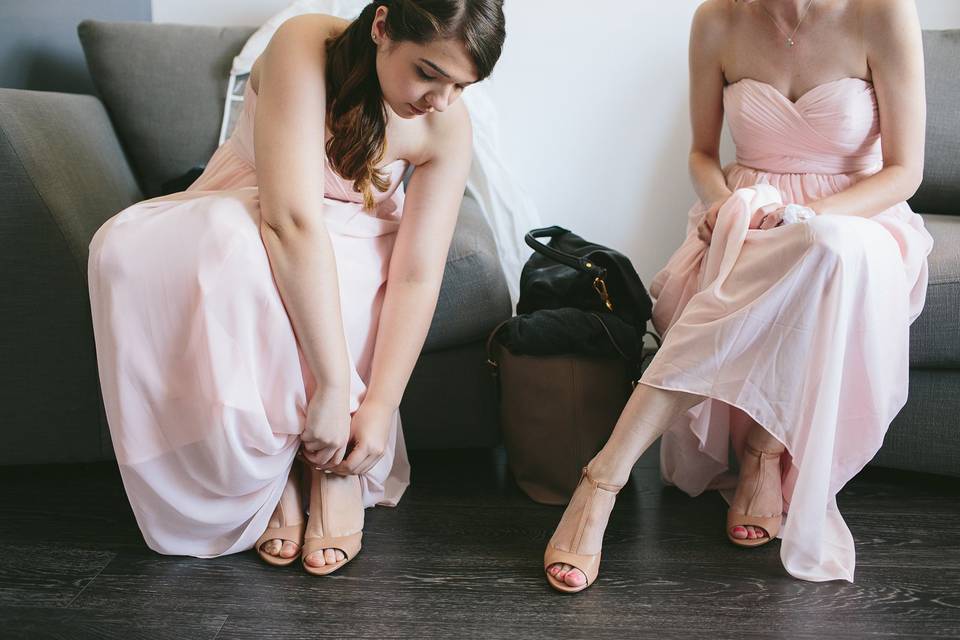 Once you've purchased your wedding dress and topped your bridal ensemble off with some drop-dead gorgeous accessories, it's time to start working on your bridesmaid looks. Of course, finding their dresses should be your first order of business, but you definitely don't want to forget about the other bits and bobs that'll make their looks pop, like their shoes. We've created this guide to help you hunt down the perfect bridesmaid shoes for you're girl squad so that everyone looks awesome from head to toe.
Here's how to choose your bridesmaid shoes.
Be kind when it comes to money
Unless you're being super generous, your bridesmaids will be the ones purchasing their footwear. Now, they've probably already invested a fair amount in their looks, so you don't want to push them into debt with their bridesmaid shoes. We suggest asking them how much they're comfortable with spending and then start looking into options in that price bracket. You could also try a mix and match look and have them wear a pair they already own.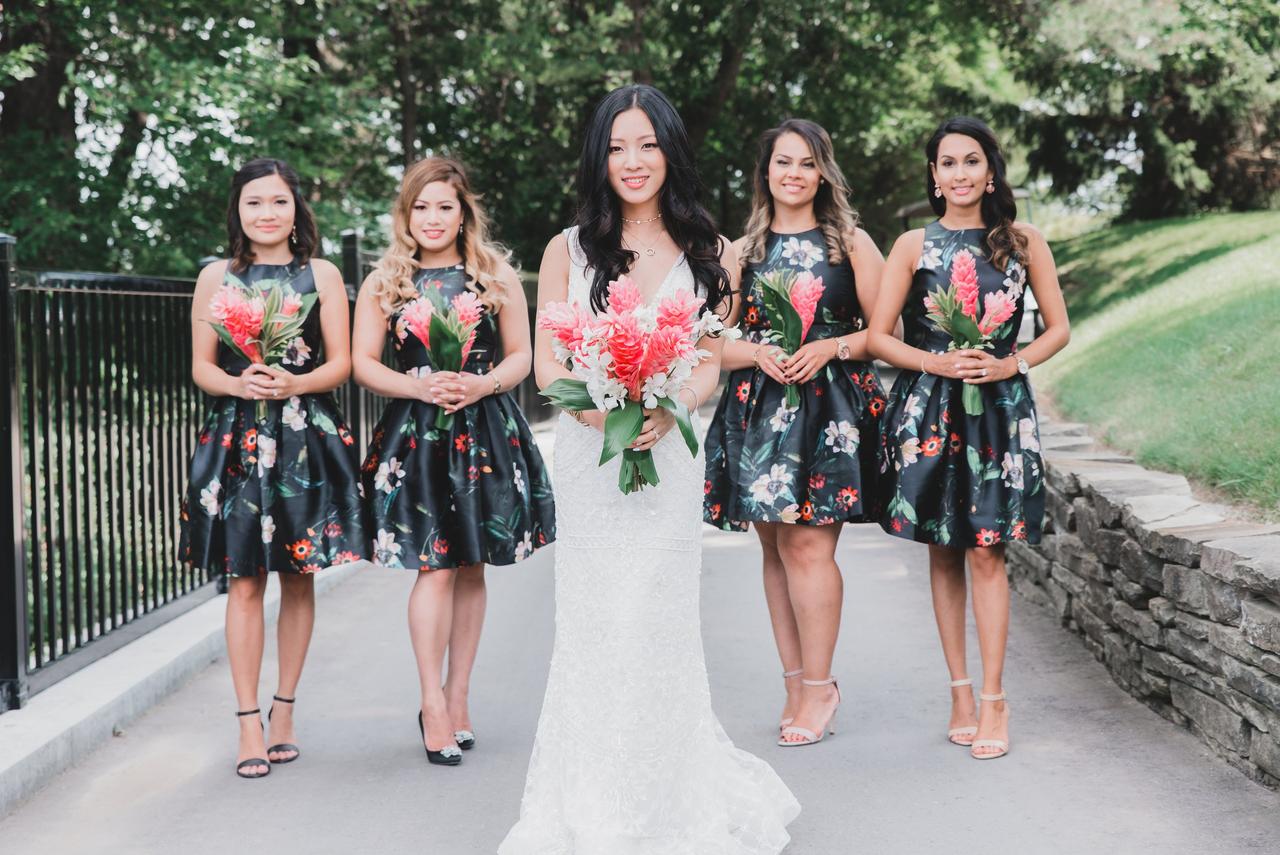 Think about visibility
If you've asked your bridesmaids to rock floor-length gowns, they probably don't need to invest a ton of money into their shoes. Why? Because there's a good chance that nobody will catch a glimpse of them. Now, this doesn't mean they should wear ratty trainers under their dresses, but you can get away with something a bit more casual and more comfortable (like neutral ballet flats, sandals or sneakers).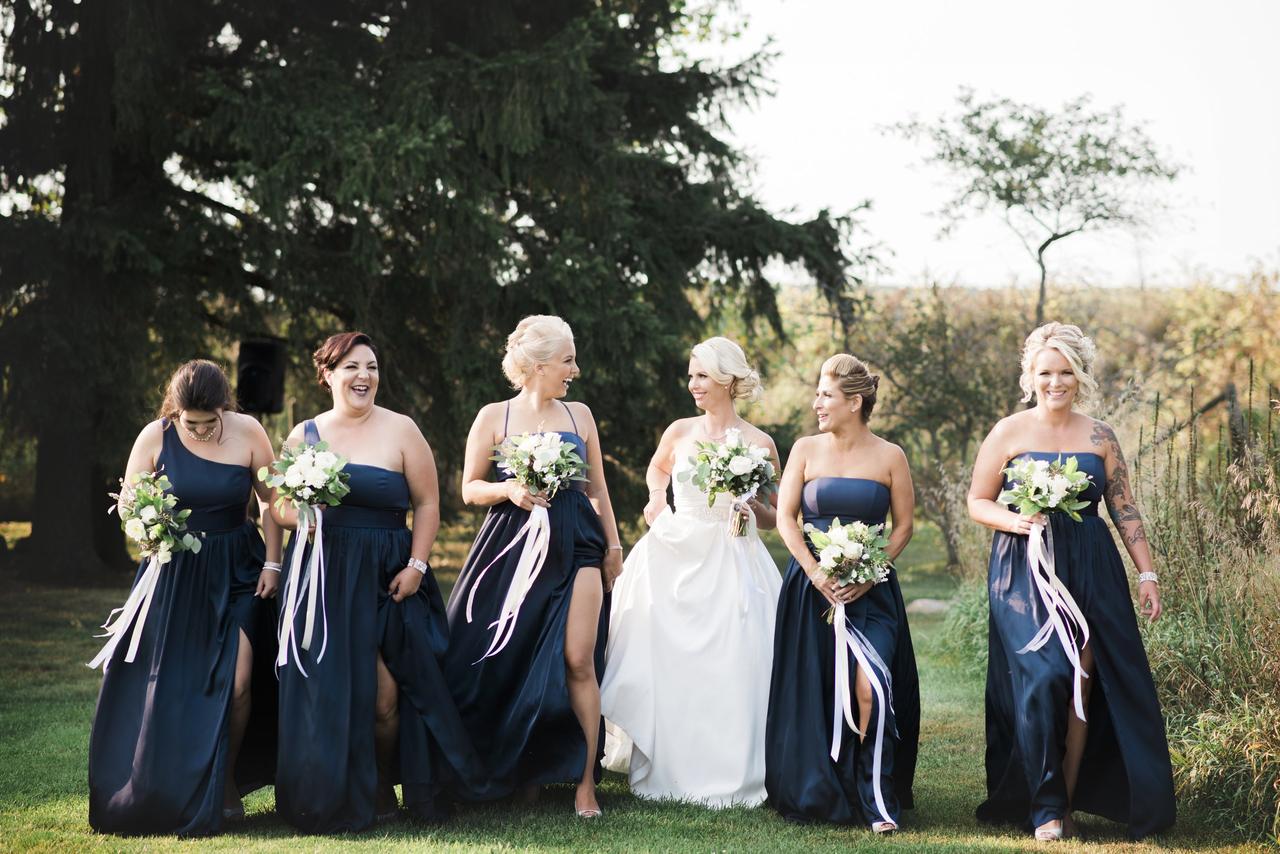 Make sure everyone is comfortable
You don't want anyone tripping down the aisle, so make sure your bridesmaids are comfortable with your choice of bridesmaid shoes. If they've never worn heels a day in their life, have a flat option available. It's totally fine to mix and match, so long as nobody's look clashes or stands out too much.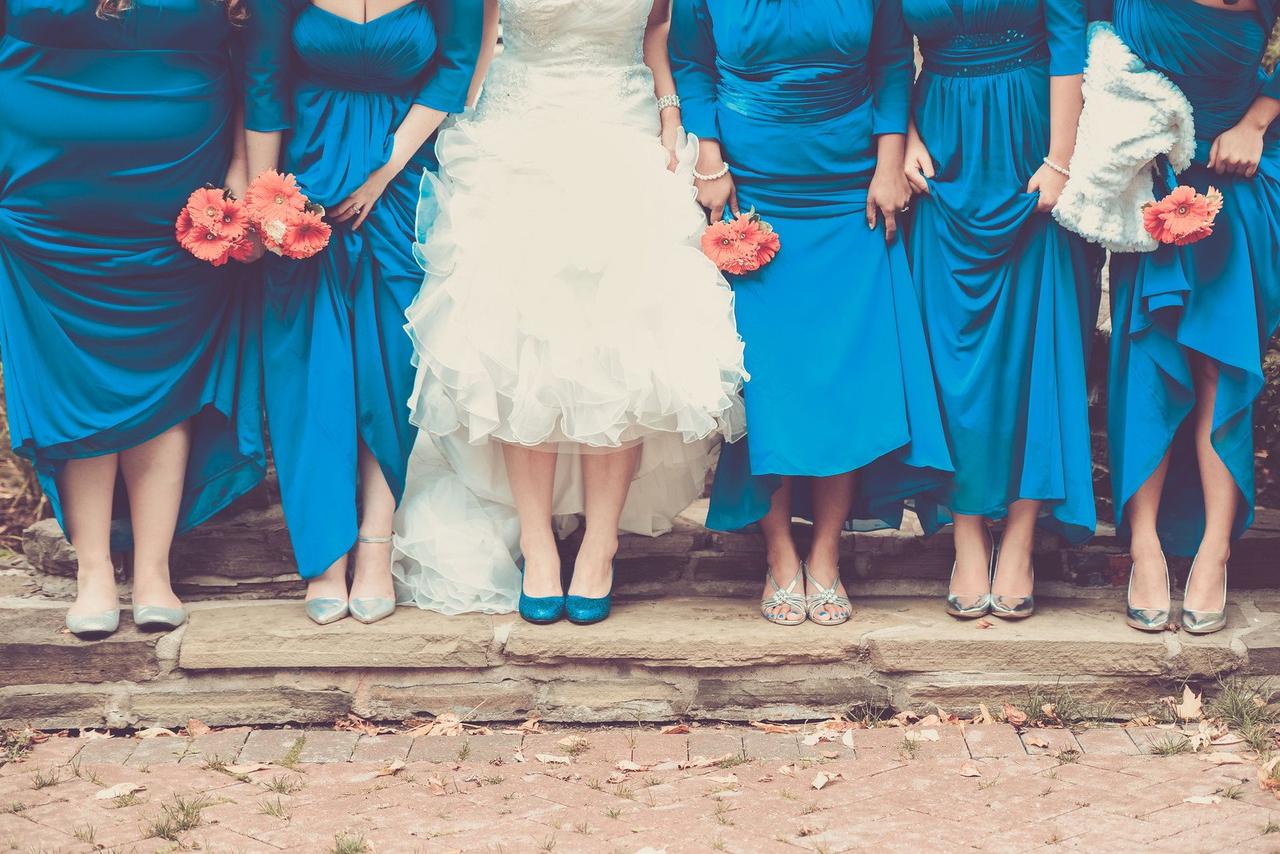 Pay attention to your venue and wedding date
Make sure your bridesmaid shoes work with your wedding venue. Stilettos aren't great for beaches or grassy marquees, but they're A-OK in a ballroom setting. Sandals and strappy shoes are a little too chilly in the winter months, so you may want to go for a closed-toe option if you're getting married between November and March. Let your location and wedding date inform your choices so that everyone stays comfortable (and upright).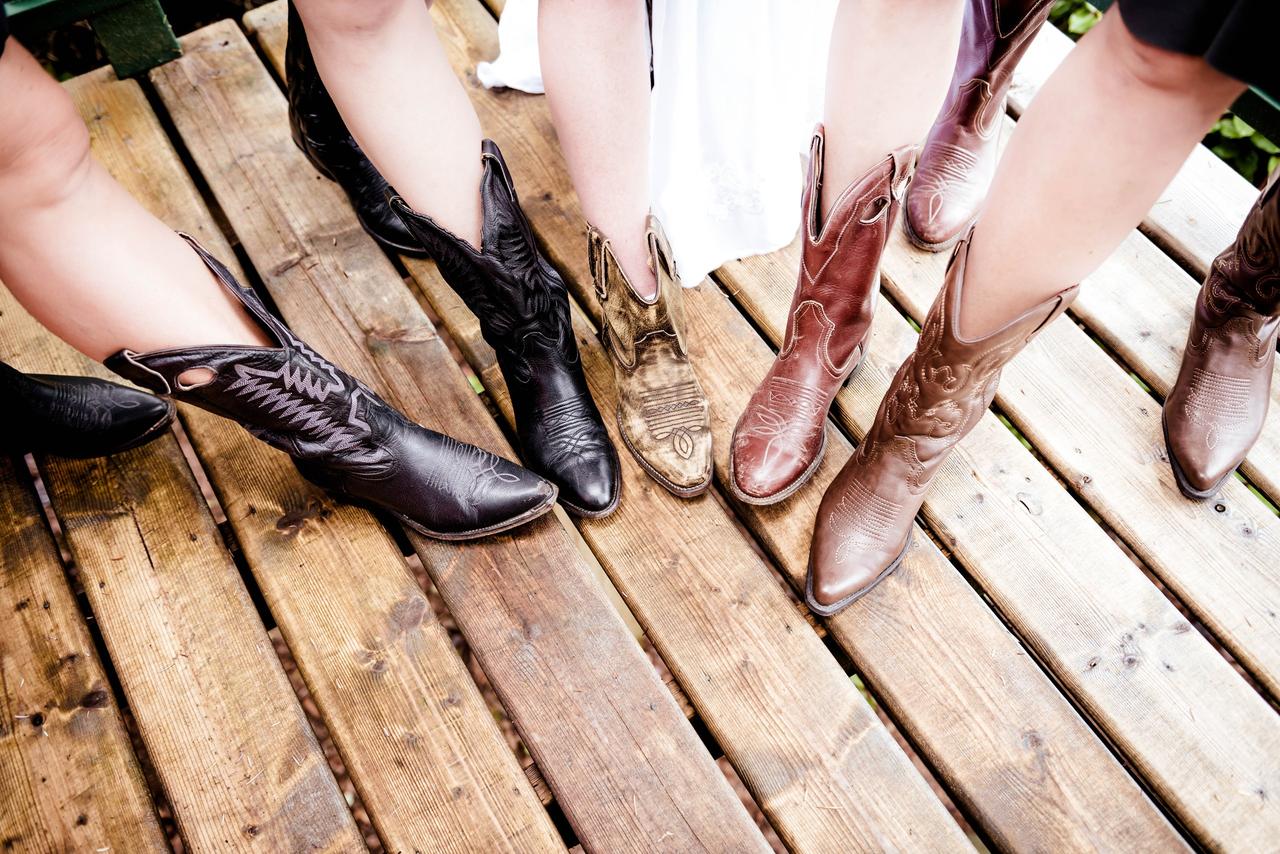 Model them after your own shoes
A fun way to complement your own bridal look is by choosing a similar style to your own wedding shoes. For example, if you're rocking glittering white Converse, you may want to give your bridesmaids matching Chuck Taylor's in the same hue as your wedding colour. We love the same but different look and it looks awesome in photos.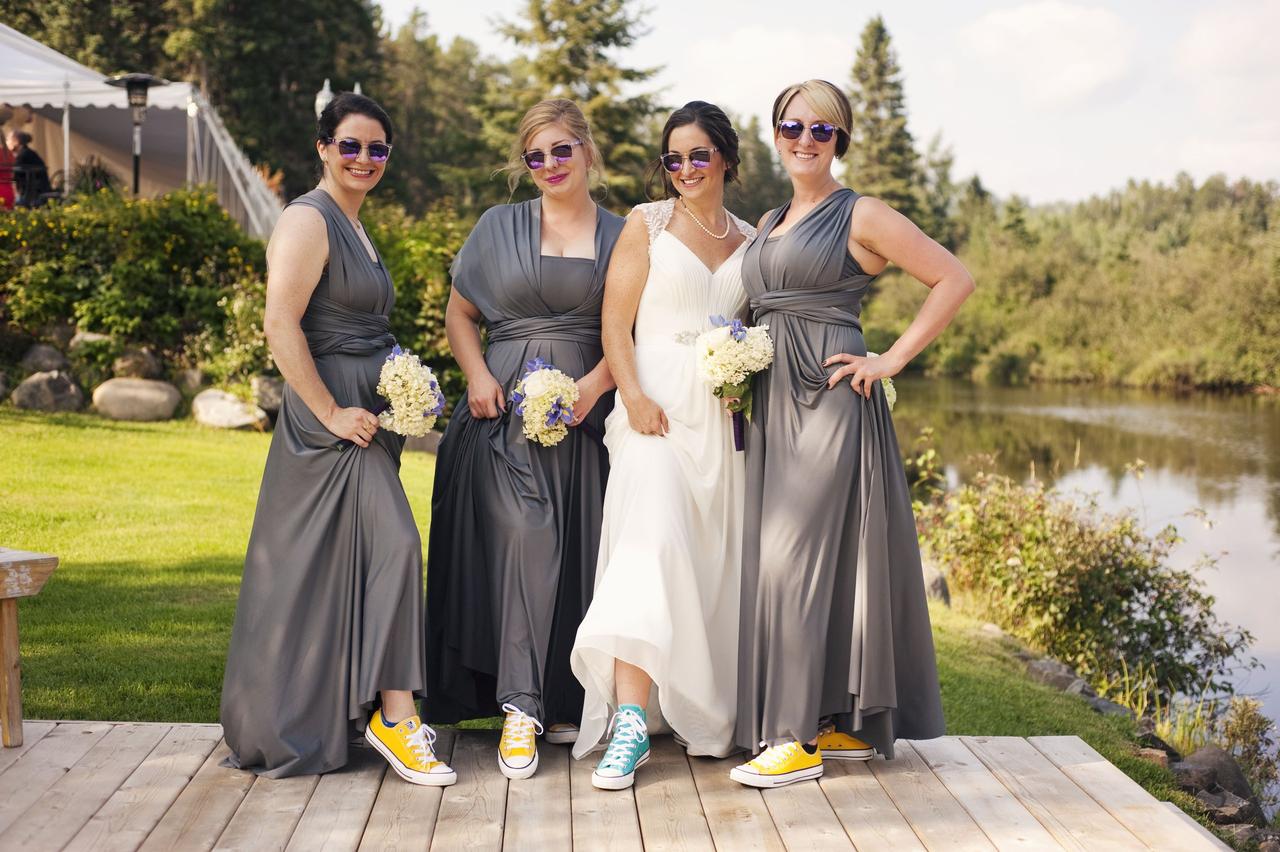 Browse our Real Wedding galleries for more bridesmaid shoe ideas »