6 Major Wedding Makeup Don'ts
Avoid all these wedding makeup missteps and you're sure to look your absolute best on your big day.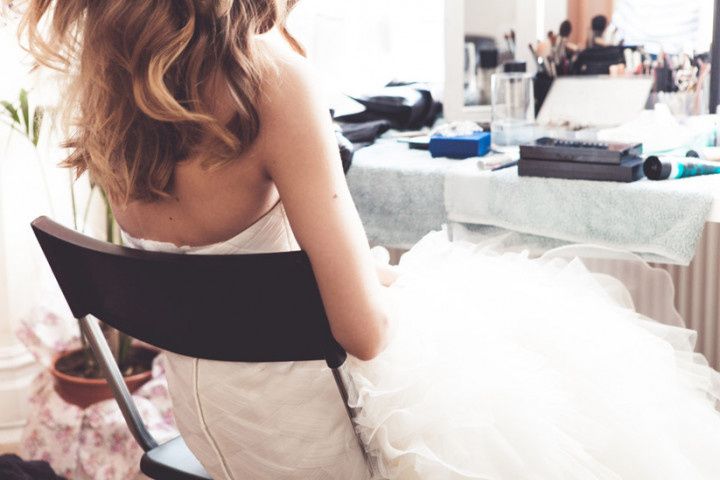 Deciding on your wedding makeup look is no easy feat. What you wear on your big day shouldn't resemble your lazy grocery shopping face or your full-blown club glam - it should be in its very own realm of perfection. While there are a lot of things you should do when plotting out your bridal beauty look - like thoroughly questioning your makeup artist - there are also a lot of things you shouldn't.
Here's a few wedding makeup don'ts to keep in mind.
Don't blindly hire a wedding makeup artist
Just because your friend loved her makeup artist doesn't mean you will. Do your research and hunt down a wedding makeup artist who styles her brides the way you want to look. Do a deep dive into their portfolio so that you're familiar with their work and then, only then, schedule an appointment with them. You haven't got time to waste, so be thorough.
Don't forget to prep
You want to be working with a nice clean canvas on your wedding day, so don't forget to prep your face. Splurge on that detoxifying facial, moisturize like your life depends on it, get the lash extensions you've always wanted and make sure you're looking at two brows, not one. This will make application smoother and your wedding makeup last longer on your big day.
Don't jump on any bandwagons
Now's not the time to try the craziest trend at the moment. In fact, I can say with almost complete certainty that you'll regret sporting one of Kylie's more experimental lip kit colours (yes, I'm talking about the blues and greens) on your wedding day. Forget about following today's hottest trends and stick to your tried and true tones, you wear them on a regular basis for a reason - you look good in them.
Don't overdo it
Just to be clear, the word "overdo" is subjective. If you're used to wearing a lot of makeup, go forth and shellac your face with foundation, contour powder and a killer cat eye. However, if you're a bare faced kind of lady, don't feel pressured to turn into a beauty junkie overnight. If all you want for your wedding makeup is a light dusting of powder, a few swipes of mascara and a glossy pout, nobody should be stopping you.
Don't say no to a trial
You don't want to find out what you're going to look like on your wedding day on your actual wedding day. The trial appointment is important for more than just that, though. It's where your artist will learn your product preferences, foundation shade and desired colour palette. It'll get them acquainted with your skin type and tone and ultimately help them do a better job for you. Pro tip: if you can book it back to back with your wedding hair trial, do it. That way you can see your wedding look as one cohesive picture.
Don't do it yourself
Unless you are a certified MUA – no, being a beauty school dropout doesn't count – you should be hiring a professional. You'll be the centre of attention, the focal point of most of your wedding photos and probably the only thing your S.O. will be looking at on your big day, so, needless to say, you want to look good. Even if you know how to highlight and contour like Kim K, now's not the time to test your skills. Skip trying to follow one of Jaclyn Hill's tutorials and get a seasoned wedding makeup artist on the job – you won't regret it.
Find your wedding makeup artist on WeddingWire »