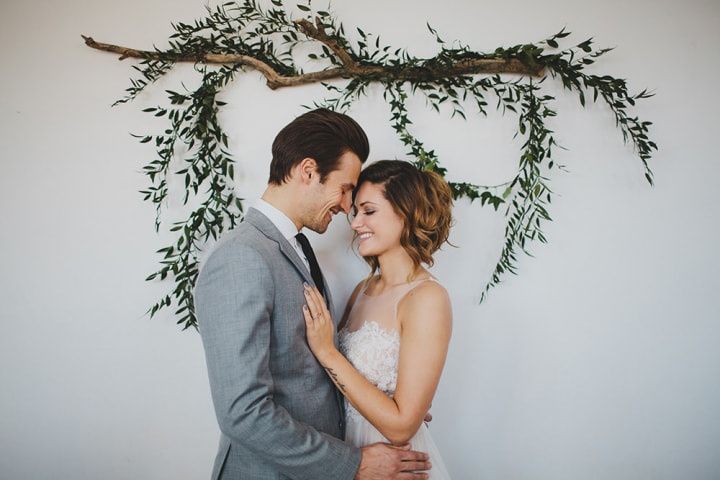 Looking to kick your wedding website up a few notches? You've probably already plotted out your page's necessities - like an FAQ page and your wedding registry info - but you'll also want to infuse it with a bit of your personality. These little things will take yours from bland and boring to amazing and interactive, so take notes!
Here are a few ways to take your wedding website to the next level.
Tailor it to your wedding
Your wedding website should really reflect the two of you. Kick things off by creating your own custom domain name, using a site design that suits your wedding's theme and finding a font that matches all the stunning stationery you will send out. WeddingWire has a handy dandy website tool that'll help you take care of all of this, so you don't need to spend hours trying to figure it out on Google.
Share your love story
Ok, this may sound a little daunting, especially if you aren't great with words, but this is an awesome way to fill your guests in on your relationship. It doesn't need to be pages and pages long, just pen a short and sweet version of your love story (we're talking a few paragraphs max). Pro tip: if you really want to avoid writing, you can create a YouTube video and post it on your page, instead.
Create your own quiz
You probably had a ton of fun at your bachelorette bash, bachelor party or bridal shower playing all the cheesy relationship-oriented games. Unfortunately, not all of your guests could take part in those shenanigans, but, good news, you can let them in on the action by adding a pop quiz about you and your partner to your website. Add in a mix of questions about your relationship and each individual partner to find out who really knows you best. If you want to keep competitive spirits high you could even crown the winner at your reception.
Get some advice
If you're having trouble hashing out your wedding's fine details, turn to your friends and family for help. Maybe you don't know what your hashtag should be? Add a poll to your page! Perhaps you want a little bit of advice on your menu? Ask your guests to chime in using a comment box. Their answers may be just what you need to make a decision.
Post some childhood pics
Were you and your partner adorable (or adorably ugly) babies? Include some throwback photos on your website to give your guests some lols. Sure, your mom probably already has these framed in her living room but your college besties and coworkers haven't been blessed with them yet!
Set up your FREE wedding website on WeddingWire. Upgrade to Premium Design Plus for a custom domain name and to download your website as a keepsake. »