5 Ways to Cut Wedding Dress Costs
Wedding dresses can cost a lot of money. If you want to save a few bucks on bridalwear, follow these tips.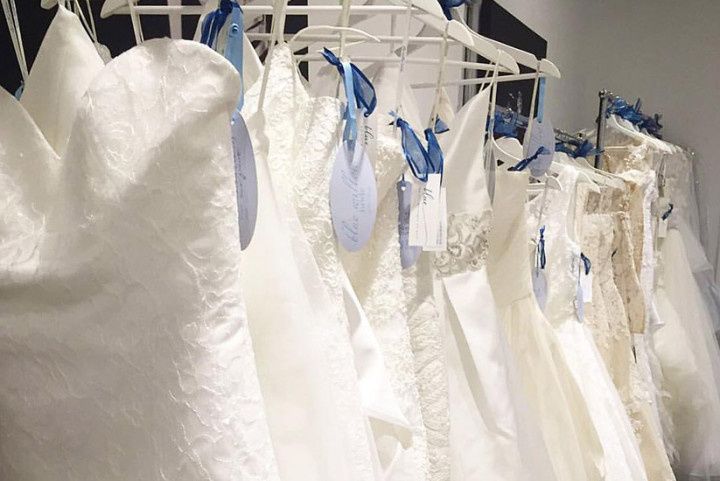 Listen up, my bargain hunting brides! Wedding dresses are expensive and can eat up a pretty sizeable chunk of a your wedding budget (usually around 5%), so you'll probably be looking to save where you can. While you won't be able to whittle it down to the price of an H&M dress, you may be able to make the investment a little easier on your wallet.
Here are a few ways to cut wedding dress costs.
Hunt for sales
If you want to get a ball gown for a bargain you're going to have to put in some work. Start by checking out the exclusive discount offers in our bridal salon directory. The next step is to follow your favourite bridalwear brands and boutiques on social media so that you know when they'll be having sales and offering discounts (they'll definitely post about it, so keep your eyes peeled). You can also subscribe to their mailing list if you're not the greatest at checking in on Twitter, FB and Insta. If you've got the time, you should also consider hitting up trunk shows and wedding expos. Many designers will offer discounted rates if you place an order with them right then and there.
Skip the custom creation
Custom frocks are always more expensive than ready-to-wear styles. Yes, you'll probably have to put in a bit more work to find a gown that fits your vision, but the savings are totally worth it. If you need a jumping off point, check out our gown gallery. You can search by designer, neckline, silhouette, length and collection, so finding something that hits the mark shouldn't be too tough.
Go for something simple
The bigger the ball gown, the larger the price tag (at least usually). If a dress involves layers upon layers of tulle and taffeta or any fancy shmancy embellishments, you're most likely going to be left with a pretty impressive bill. If you can't pony up the cash for that kind of work, try sampling out a simpler silhouette or style - you may be surprised how chic you look in a silk sheath dress. Pro tip: some couture designers offer a more affordable collection like White by Vera Wang and Bliss by Monique Lhuillier.
Say yes to a sample dress
Boutiques typically sell their floor samples for significantly discounted prices because they're not in tip top condition. If you try on a gown that'll only need a few alterations to make perfect, skip ordering a brand new dress and go with that one. Be sure to do a thorough check for any other imperfections - you don't want to find out there's a gaping hole in its train mere days before your wedding.
Don't double up
Find a gown that looks stunning and is comfortable enough to wear from dawn 'til dusk so that you won't need to do to an outfit change between your ceremony and reception. Make sure you test out dancing, walking and sitting in it while you're at the bridal boutique for good measure (you don't want to make any assumptions!). Can't do your best Beyoncé impression or cross your legs without almost ripping the hem? It probably isn't the one.