5 Things You Shouldn't Do After You've Said Yes to the Dress
There are a few things you should steer clear of once you've said yes to the dress - here they are.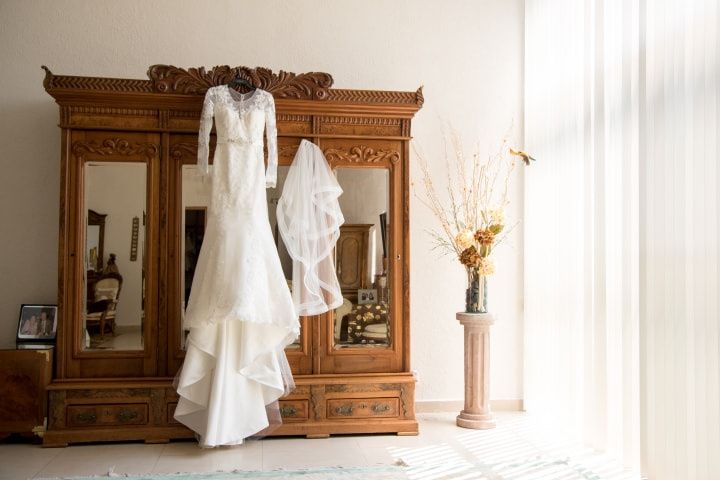 Finding your perfect wedding dress is fun, but it can also be emotionally, mentally and physically exhausting. Once you've said yes to the dress, a pretty big weight will be lifted off your shoulders, but you're not in the clear just yet! There are a few gown-related things you still need to do (and not do), so brush up before hitting any boutiques or fittings post-purchasing.
Here are a few things you shouldn't do after you've said yes to the dress.
Keep browsing
I know, I know, it's super tempting to keep looking at the new stock boutiques are putting out even after you've said yes to the dress, but we caution against it. Checking out other gowns will only have you questioning your decision and you definitely don't want to do that. Remember, you said yes to that dress because you love it, don't doubt yourself!
Slack on finding your accessories
Just because you've said yes to the dress doesn't mean your bridal ensemble is complete. You've still got to find a killer pair of wedding shoes, the right bridal lingerie, some sparkly bridal accessories and, if you're going for the traditional bridal look, a wedding veil to top things off. Start making your wishlist and then hit the stores to find the perfect goodies to pair with that fresh new frock, ASAP. You'll want to have all of them with you when you do your fittings so that you can see how everything looks together.
Show everyone
You probably look fierce AF in your wedding gown, so, naturally, you want to show it off once you've said yes to the dress. Before you go posting photos all over social media, consider how much of a surprise you want to give your guests when you make your grand entrance. Chances are you want jaws to drop to the floor, so you should save the look for your wedding day.
Forget about bridesmaid dresses
Your dress shopping adventures aren't over just yet! You've still got to find bridesmaid dresses for your squad, and that can take just as much work as finding your own frock. From making your girls happy to choosing the perfect shade and silhouette, you've got a lot to think about. Pro tip: you'll want to order these five or six months in advance of your wedding day (they can take a while to arrive), so definitely don't put it off too long.
Radically change your diet and fitness routine
I get it, you want to look like you stepped out of a magazine on your wedding day, but now's not the time to join an intense crossfit class and crash diet. Yes, you still have fittings to look forward to, but you don't want to lose four dress sizes before your big day (that may lead you to buy a new gown out of necessity). Besides, you'll look awesome no matter what shape or size you are on your big day, there's no need to change.
Find wedding dress shops on WeddingWire »