What to Do if You Have Doubts About Your Wedding Dress
You want to look and feel like a million bucks on your wedding day. Here's how to squash any last minute doubts about your dress.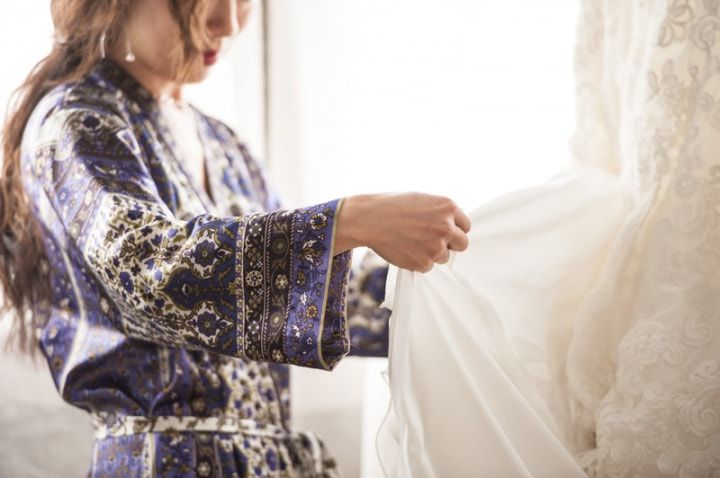 Most brides purchase their wedding dress months in advance of their big day, leaving plenty of time to tailor their gown to perfection. Unfortunately, this also leaves months for pesky little doubts to arise. Before you start freaking out over unnoticeable details or regretting your choice of style, take a step back and gain some perspective.
Here's what to do if you have doubts about your wedding dress.
Don't let indecisiveness get you down
Unfortunately, you can't wear a ball gown, mermaid cut dress and column frock all at once. Make sure you're not just being indecisive before you start heading back to bridal salons looking for a new gown. Trust your instincts and know that you said yes to your dress for a reason.
Don't overthink it
Instead of spending hours zooming in on all the little details of your dress and nitpicking at possible problems, focus on the big picture. Do you look stunning? Yes! You've probably had a ton of friends and relatives confirm how awesome you look, so focus on that instead of deciding that two or three beads might be out of place on your bodice.
Go to your fittings
You want your wedding gown to fit like a glove, so tailoring it to fit your form is an absolute must. Make sure that the bodice, straps, sleeves and skirt length are perfect - you didn't invest hundreds of dollars in your frock for nothing, so make sure you're getting the best bang for your buck with those alterations. Having something that fits makes a world of difference when it comes to feeling confident.
Accessories can work wonders
If you're second guessing your gown, why not try adding a splash of sparkle or silk? Amp up your look with a beaded belt, silk sash or - if you're feeling daring - a blinged-out body chain. A veil, floral crown or killer pair of heels can also help transform your bridal look.
Switch up the lighting
As any seasoned shopper knows, fluorescent lighting is a fickle friend. It can make even the most amazing frock look less-than-fantastic, so don't let it play mind games with you. Try your dress on in natural light and you'll probably be pleasantly surprised with the results.
The more the merrier
If you start regretting choosing a ball gown over a mini dress, you don't have to head back to square one to make things work. Find yourself an equally stunning second gown to sport at your reception. This will allow you to take advantage of the best of both worlds.
Focus on the big picture
In this wise words of country crooner, Kacey Musgraves, "if you wanna see the forest, you're gonna have to look past the trees". Don't get so caught up in the details of your dress that you forget why you're wearing it in the first place. You're soon-to-be spouse is going to think you look beautiful no matter what you're wearing, so focus on that!