Reviews for Portrait Ceremonies
Awards
13 User photos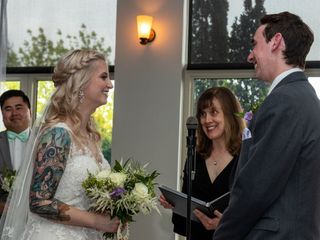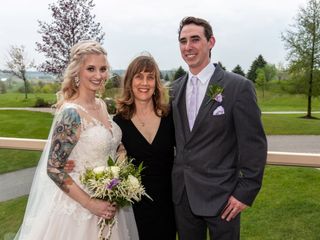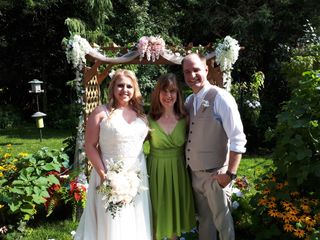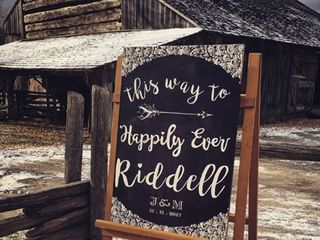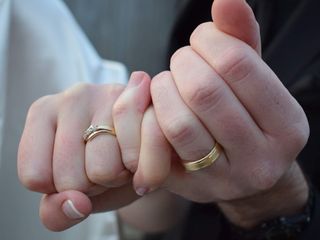 Dana Lian · Married on 26 of October of 2019

Laura was AMAZING and our ceremony was perfect!!

Laura officiated our wedding this past weekend. She was such a pleasure to work with during the entire ceremony decision making/crafting process. She was recommended to us by our photographer, who actually had Laura officiate her own wedding ceremony a few years prior!

Even through all my indecision (of which there was plenty), Laura was there to help guide us along. We ended up having a fully custom ceremony written by her, with input from us based on some questionnaires we answered. Laura created an initial draft for us, and we had the ability to make edits as we saw fit.

She has a wonderful personality and her writing is phenomenal. Laura really captured the essence of us and our relationship. She even did her own research into some of our interests (video game related) and incorporated them into our ceremony in a subtle way that we could enjoy without it be too overt!

Her delivery of the ceremony was also perfect. You can totally see and feel her kindness and sincerity in everything she does. Any communication we had with her was met with incredibly timely responses that were very thoughtful and helpful. She also helped us with some of the logistics, e.g. connecting with our vendors as necessary.

We would not hesitate to wholeheartedly recommend Laura to anyone who wants a personal, custom ceremony for their wedding. Thank you so much Laura - we're so grateful for your work!

Sent on 29/10/2019

Portrait Ceremonies's reply:

Dear Dana,

Your words mean so much to me. I'm so glad you had such a positive experience! I loved working with you to create the ceremony (and incorporating the video game references in a subtle way was so much fun)! It has been my pleasure to be in touch with you in the months leading up to the wedding, to share ideas as the ceremony plan and script took shape. The way it all unfolded on the wedding day was just beautiful and seeing the love you share with each other and your family and friends in that intimate and lovely setting was so meaningful. Thanks Dana for choosing me as your Celebrant! Warm wishes to you both.

Angela Lachowski · Married on 21 of September of 2019

Best decision we made!

My husband and I got married about a month ago, and without a doubt, Laura's ceremony was the highlight of our wedding. At least 15 people came up to us immediately after and told us it was the most beautiful and personal ceremony they had ever seen, and more have said the same since. Working with Laura was wonderful from the start - she is exceptionally organized, prepared with helpful guides and templates, and walked us through every step. Using information she gleaned from us, she curated a beautiful, personal, meaningful, just-for-us ceremony that we will remember for the rest of our lives. I can't stress it enough - she is truly wonderful at what she does, and she was the best decision we made in our wedding planning process! If you are looking for a "cheap" officiant, remember that you get what you pay for - Laura's service is truly unbeatable and worth every penny.

Sent on 20/10/2019

Portrait Ceremonies's reply:

Angela, Thank you so much for this wonderful review. It means a lot to me that you saw such value for the investment you made. I put heart into every ceremony, and that heart came from you and Ben - inspired by all the beautiful things you shared with me about each other. I'm so glad that it was meaningful for you and for your family and friends. That means so much to me. It was a pleasure working with you!

Matt Johnny · Married on 07 of September of 2019

Amazing experience

Laura was awesome. She is so organized and knows the exact process to get the right stuff out of you. She was so professional and caring, a dynamic combo.

Sent on 25/10/2019

Portrait Ceremonies's reply:

Thank you Matt! That means a lot to me. :) It was a pleasure being your Celebrant. Warm wishes for a beautiful future!

Rebecca Fazio · Married on 30 of August of 2019

Laura is fantastic!

Laura was so organized, helpful and kind. She crafted beautiful words for our wedding day and was on top of everything. She is a true perfectionist and we really appreciated how much she truly cares for her clients.
I will continue to recommend Laura to family and friends with upcoming weddings.

Sent on 20/09/2019

Portrait Ceremonies's reply:

Thanks so much for your kind words Rebecca. I loved working with you and Marlon and so appreciated how organized and responsive you were! You are such a warm and kind couple and it was wonderful to see that love you share and express it through the ceremony. I wish you both a beautiful future together.

Tara Hillyer · Married on 05 of August of 2019

Perfect Ceremony

Laura was so fantastic! We met a few times prior to the wedding and communicated often to make sure everything was perfect (as perfect as it could be). Her words were so beautiful and heartfelt throughout the ceremony. We couldn't imagine a more perfect ceremony than the one Laura gave us. All our guest came up to us and commented on how genuine and personal the ceremony was. We highly recommend Laura Higgins. She is so well organized, professional, a beautiful writer and eloquent speaker.

Sent on 06/08/2019

Portrait Ceremonies's reply:

Thank you so much, Tara Mae, for inviting me to create your ceremony with you. I loved incorporating all your memories and words of love about each other into the ceremony as well as the tree imagery that connected with your shared time in nature. And with your shared sense of humour, the ceremony was both meaningful and a whole lot of fun. Watching you sing a song to surprise your groom at the start of the ceremony – and seeing the love in his face as he listened, was so beautiful. I'm so grateful to have been a part of your day.

Andrew Bark · Married on 05 of August of 2019

Best ceremony ever

Laura performed the perfect ceremony for us. She is professional, fun and so accommodating. Many of our guests commented on how personal and touching the ceremony was. She is terrific.

Sent on 06/08/2019

Portrait Ceremonies's reply:

Thanks for your kind words, Andrew. It was a wonderful and fun experience creating this ceremony with you, and for you and your beloved. I don't think I've ever laughed so much at a rehearsal before! And I was so moved by what you both shared that we included in the ceremony script. It has been a joy. Thanks for asking me to be your Celebrant.

Melissa Page · Married on 11 of May of 2019

Our ceremony was perfect

I could go on and on about how amazing Laura is at at what she does. From the day we met her, to the day of our wedding, it was obvious that she was working tirelessly to create the most perfect ceremony for Ryan and I.

It was really important to us to have a ceremony different than most weddings. We had several family members to involve, a detailed love story we wanted to share with our guests, and we wanted to laugh and enjoy every moment of our wedding - seemingly a lot of boxes to check for an officiant! However, Laura fulfilled all of what we wanted in a ceremony, and crafted every part of it by truly listening to us and getting to know us.

I don't have the words to explain how grateful I am to you, Laura. You absolutely made our ceremony the most special moment of our lives. Your professionalism, organization, creativity, and tips on how not to bawl my eyes our (and it worked!) are just a few reasons that you are so amazing at what you do.

We had so many guests come up to us and say that it was the best ceremony they have ever been to, and some of our guests have been around a long, long time and have seen many weddings. We also had other vendors come up to us and say how impressed they were by you.

Choosing you to meet with that day a long time ago now was the best choice we could ever have made.

We are so grateful to you.

Love Ryan and Melissa



Sent on 09/06/2019

Portrait Ceremonies's reply:

Dear Ryan and Melissa,

Thank you so much for this beautiful review. Your words mean so much to me. From the beginning I knew you had a deep and profound bond and was excited to create an incredible ceremony with you that would reflect your unique love. Thank you for sharing so much with me about your relationship and what you love about one another – something that I wanted to shine through in the ceremony. Writing and officiating your wedding was a wonderful and memorable experience for me. You are dearly loved by your friends and family and that love was all around you that day. I am so grateful to have had this opportunity to work with you and I wish you every happiness. Love, Laura

Vanesa Vidakovic · Married on 06 of October of 2018

Incredible officiant

We had the pleasure of having Laura as our officiant last month for our wedding. She was absolutely incredible and made our whole experience such a positive one! Everything she did for us she put so much thought and effort into, and we are so thankful for all her advice and suggestions. She is very considerate and made sure that we were happy with absolutely  everything. We are so glad we chose her to be there on our special day, our wedding definitely wouldn't be the same without her. Thank you Laura for making our wedding so memorable!

Sent on 11/11/2018

Portrait Ceremonies's reply:

Thank you so much Vanesa for your kind words. I absolutely loved creating your ceremony and including not only your special story and the wonderful things you love about one another – but also some thematic imagery connected to something you both love that has deep meaning for you. Nothing gave me as much pleasure as seeing you together, and feeling how much you love one another. I loved your bohemian themed wedding and the lovely ways that you included your parents and your dear friends in the ceremony. Thank you for the opportunity to be a part of your special ceremony. I wish you a beautiful life together.

Jennifer Boyce · Married on 12 of August of 2018

We loved having Laura as part of our experience and were truly honoured.

My husband and I are so happy that Laura was our officiant for our wedding. We loved having her as part of our experience and were truly honoured.

There's definitely a large group of officiants in the area but we chose Laura because she has such passion for what she does - it really shows. From the moment we first emailed to the first meeting, and then our wedding, she has shown us how kind, caring, and professional she is. We saw her attention to detail and was extremely pleased on how well her wedding service was executed. We are so grateful to know her and to have her perform our ceremony for us. She is a kind soul that really connects to the person she is helping. We had a few minor family and dog issues during the ceremony and she kept everything going very nicely. We didn't feel the stress at all. We did sense one thing with Laura during that ceremony and that was how sincere and happy she was for us. When we did our vows and the ring exchange she looked so happy and moved by our words to one another that it made me feel like we were in front of a friend. Laura has a real connection to her clients, their families, and those unique moments. I highly recommend Laura and hope she continues to touch lives around her.

Sent on 06/09/2018

Portrait Ceremonies's reply:

Jennifer, your words mean so much to me. I'm so very touched. Thank you. To be able to get to know and to help wonderful people like you and Chris in this way is what brings me so much joy as a Celebrant. Your vows were beautiful and moving – there is so much love. Connecting with you and your families was a pleasure and honour. Wishing you all the best now and always.

Monika Widjaja · Married on 15 of July of 2018

Very Personal Ceremony

We are so happy that we went with Laura as out officiant. We didn't want a cookie-cutter ceremony and that's one of the main reasons we chose Laura. So many friends and family told us that they have never experienced such a personal ceremony, and that they loved our unity ceremony.

Laura was great to work with! She gave us everything that we needed including advice we didn't know that we needed. Her responses are very fast and if we needed anything she was more than willing to help us. It's so reassuring to know that your vendor has your back.

I would definitely recommend Laura to someone who wants a highly personal ceremony.

Sent on 08/08/2018

Portrait Ceremonies's reply:

Thank you so much Monika for your kind words and feedback. I'm so glad your friends and family enjoyed the ceremony so much and was happy to support you in any way I could! I really enjoyed getting to know you both, creating the ceremony with you and learning new things about your pastimes to understand and express the symbolism of your unity ritual. Thank you so much for choosing to work with me. It meant a lot to me. Wishing you all the best.