Wedding Guest Attire 101
Can't figure out the difference between white tie and black tie? We're here to help you choose the right outfit.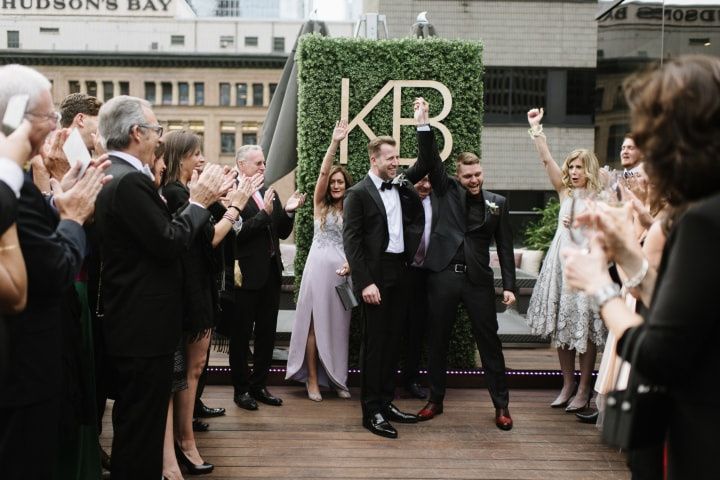 Scenario: you're hunting through your closet trying to figure out what to wear to your BFF's wedding and you keep coming up empty handed. You've read the invitation a thousand times, you've even checked the FAQ page of their wedding website for pointers, but you just don't know what's appropriate. That's totally fine - labels like "White Tie" and "Resort Casual" leave many people scratching their heads. If you need a little bit of help deciphering the dress code, we've got your back.
Here's everything you need to know about wedding guest attire.
White Tie
White tie is definitely the swankiest dress code you'll be met with, so you'll have to sport the crème de la crème of clothing. Ladies should wear red carpet-worthy ball gowns and gents should dress in tuxedos (the jacket should have tails, a white pique vest should be worn and you should be sporting a bow tie, too - basically, the whole nine yards).
Black Tie
Think of this as the slightly - and I mean slightly - less sophisticated sister of white tie. Women should wear formal gowns while men should go with tuxedos (a little less formal than white tie, it should involve a black bow tie and cumberbund) or dinner suit in a darker hue.
Formal or Black Tie Optional
One step down from black tie is the formal or black tie optional dress code. It still errs on the fancier side, but you won't have to purchase an uber expensive gown or tuxedo to play your part. Women should wear a fancy dress (think one level higher than cocktail attire) and men should don a dark suit.
Cocktail Attire or Semi-Formal
This is probably the most popular option nowadays. It's pretty much the Goldilocks of dress codes - not too fancy, but not casual, either. It just means that women should opt for cocktail dresses (naturally) and men should sport a suit and tie (you can even get away with ditching the jacket).
Resort Casual or Beach Formal
If the dress code has the word "resort" or "beach" in it, it normally means you can err on the more casual side. Remember, you'll probably be sitting on (or close to) the beach, so you won't want to rock something super heavy. Summer dresses are the go-to option for ladies and slacks and collared shirts work best for men.
Garden Party Attire
This one may stump you, but don't worry, it's pretty easy. While the title may have you thinking you need to channel your inner British royal and purchase a fascinator and some white gloves, that's not the case (though I suppose you could if you wanted to). Women will typically wear summer dresses while the men will don a more casual suit (or a dress shirt and pants).
Casual
Seeing the word "casual" next to the dress code may have you breathing a sigh of relief, but before you throw on some Levi's and a tee and call it a day, do a little thinking. You definitely shouldn't be showing up in a Oscar de la Renta number or three-piece suit if this is the case, but you should look a little more put together than you would if you were heading to the dentist. For the ladies, we suggest going with a no fuss, no muss dress, and for the gents, we recommend a pair khakis or jeans (without any rips, frays or holes) paired with a button down.