8 Things Guests Should Never Wear to a Wedding
Don't want to risk a wedding fashion faux pas? Then skip wearing these types of things to your friends' big day.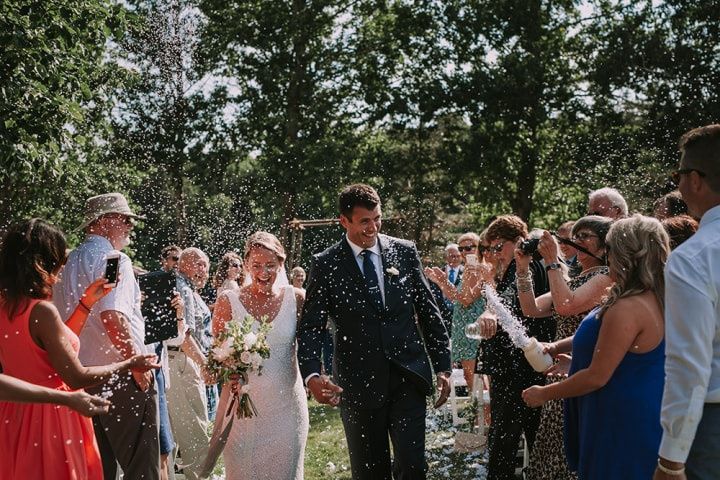 Getting dressed for a wedding shouldn't be tough, but if you haven't planned your outfit in advance you may be in some hot water (even if you do know the dress code). When rummaging through your wardrobe trying to find something appropriate to wear, keep these pitfalls in mind - you don't want the bride to be giving you side-eye all evening because of your outfit choices. Note: if the wedding's dress code asks you to wear one of these items, go ahead and ignore our rules (obvi).
Here are a few things guests should never wear to a wedding.
White
This one is a no-brainer, but still needs to be said. If you are not walking down the aisle, you should not be wearing white. Yes, if you're sporting a patterned cocktail dress or pocket square with a hint of white, that's fine, but people should not be mistaking you for the bride.
Neon
Now's not the time to try out your best glow stick impression. If you're thinking of wearing something that resembles a highlighter, please, think again. This is not a rave, it's your friend's wedding, so wear something that fits the bill. For those looking to infuse their wedding looks with a touch of colour, try jewel tones or a muted pastel.
Athleisure
I know, I know, athleisure is all the rage right now. Heck, your closet is probably filled with spandex-y gems from Lululemon and Alo Yoga, but today is not the day to sport your finest printed crop top/legging set (even if it did get a ton of likes on Instagram). Cocktail attire may not be as comfy, but it's definitely more appropriate.
Denim
Unless the happy couple has explicitly requested that you wear Canadian tuxedos, it's best to leave your Levi's at home (or at least save them for the after party). Denim is a member of the casual fabric family and has no place at a wedding.
Anything that shows your undergarments
Going to a bar? It's A-OK to have your bra straps exposed. Hitting the grocery store? Nobody will bat an eyelash if your boxers are out. Going to a wedding? Put all of that away, STAT. Nobody wants to know where you buy your undies at this event, so keep all of it under wraps.
A statement outfit
Now's not the time to try to get a laugh out of your friends with a kooky statement ensemble. The spotlight should be firmly planted on the newlyweds, so leave the bold prints, zany 80's fashions and costumes at home and go for something more subdued, like a muted cocktail dress or tailored suit.
Shorts
Unless you're attending a very laid back beach wedding, you'll want to save your shorts for another day. The happy couple has probably invested in fans or A/C if their wedding day is particularly hot, so you should have no trouble getting through the day in a pair of trousers.
Flip Flops
The only footwear that is almost always unwelcome at wedding is flip flops. They're the farthest thing from a formal shoe and should definitely be used for more casual outings, like taking your laundry to the dry cleaner.