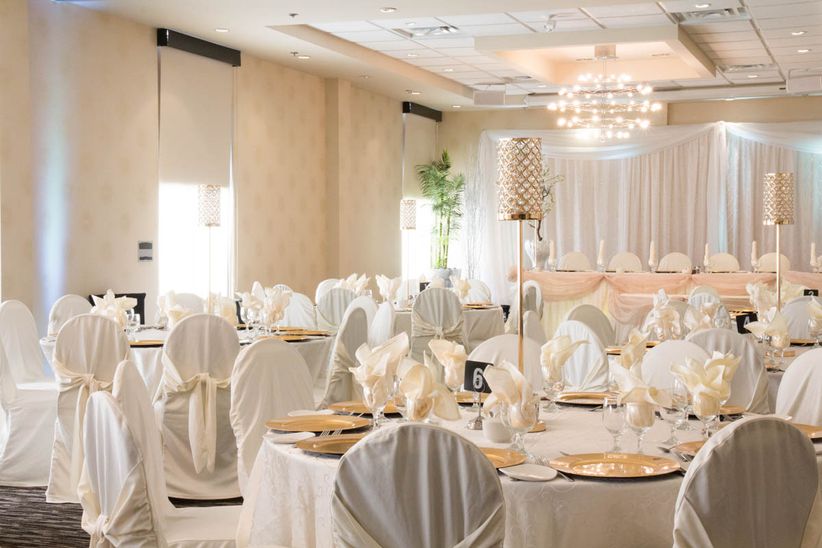 Let's start talking event spaces! Your wedding venue cost will undoubtedly be one of your biggest wedding expenses, so, naturally, you're looking to cut it down where you can. From choosing a location where you can host both your ceremony and reception to timing it right, there are some tried and true ways to keep spending to a minimum.
Here are a few ways to cut your wedding venue costs.
Have your ceremony and reception in the same space
You know what's more expensive than one wedding venue? Two wedding venues. Instead of hunting for separate locations for your ceremony and reception, find a place that can host both. You may have to rent out separate rooms for each event, but it will most likely be much less expensive than paying for two completely different venues (keep in mind that most spots will offer discounts if you're using multiple spaces). Plus, you won't have to book a ride between venues for you or any of your VIPs, which will also save you $$$.
Hunt for package deals
While this may not cut down the actual wedding venue cost, it'll lower your overall total - and who doesn't want that? All-inclusive wedding packages often include catering, decor, food, beverages, sound and lighting, DJs and more, meaning you don't have to spend hours searching for vendors and spending all your hard earned cash on hiring them.
Keep your guest list short
Yes, this one is pretty obvious, but it still needs to be said. The more people you host, the more space, food, drinks and seating you will need. All of these things cost money, so your bill is bound to skyrocket if your guest list reaches the hundreds. Keep things intimate and you're guaranteed to cut wedding venue costs.
Choose your wedding date wisely
Venues are typically cheaper during the off season (AKA not the summer), so consider a late fall or winter wedding date. So long as you weren't dreaming of an outdoor event in the country or a garden affair, you should still be able to stick to your original wedding vision. Also note that weekdays are usually less expensive than weekends, so you can save a few bucks there, too.
Time it right
Time matters, too! Most ceremonies and receptions start in the afternoon and go well into the evening. If you're looking to reduce wedding venue costs, think about saying no to the status quo and booking your venue for a morning and/or early afternoon. This doesn't mean you have to skip partying the night away, you just may need to plan an after party, too.
Find your wedding venue on WeddingWire »