If you hail from Midtown Toronto, St. Clair West may be your preferred retail therapy location (who wants to trek into the tourist trap that is downtown if you don't have to, right?). While you may be used to dipping into its cute cafes and boutiques, you probably haven't explored its wedding-oriented shops. If you don't know where to hunt down your local vendors, we're here to be your trusty guide.
Here's how to plan the ultimate St. Clair West wedding.
Venue: Artscape Wychwood Barns (601 Christie Street)
Take a trip slightly south of St. Clair on Christie and you'll find Artscape Wychwood Barns, one of the most beloved wedding venues in the city. It boasts sky-high ceilings, massive windows (giving you perfect natural lighting) and an industrial chic vibe. The Barns has five equally beautiful event spaces available and the largest has a capacity of 400 guests.
Flowers: May Flowers (1020 St. Clair Avenue West)
Dressing up your venue with florals is a must, and you'll need the right team to get the job done right. May Flowers is one of the best in the area, offering stunning bouquets, centerpieces and arrangements. The staff here have handled everything from chic multi-toned corsages to massive mixed bloom bouquets, proving that they're up to just about any task.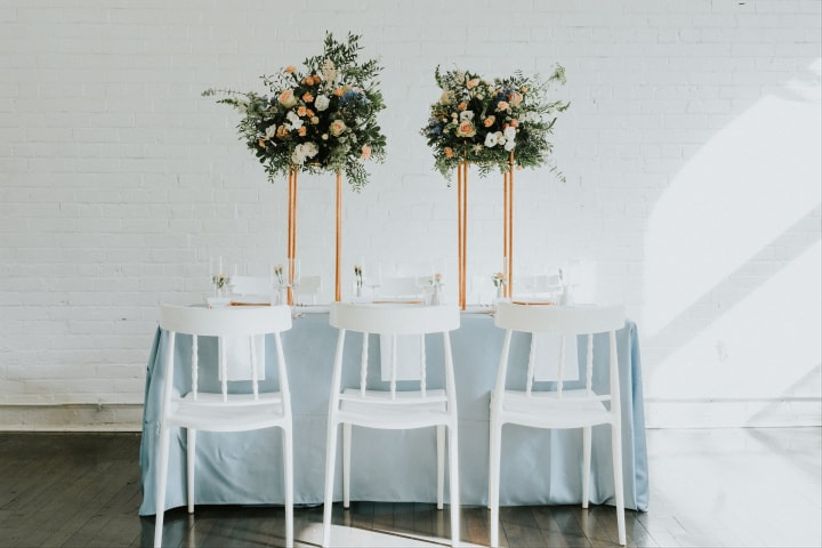 Dress: Papilio Boutique (1072 St. Clair Avenue West)
One of the most exciting wedding duties is picking out your gown, and you'll need to find a bridal boutique to make the job fun (not frustrating). Papilio is a European brand that has an amazing selection of dresses in just about every style under the sun - lacy mermaid cut frocks, dramatic ball gowns, ethereal colourful numbers and more. Alternatively, if you're willing to take a detour off the main drag, Catherine Langlois' studio is a stunning wedding dress haven, located a few blocks away on Northcliffe Boulevard (it's appointment only, so remember to book in advance).
Catering: Santo Pecado (1679 St. Clair Avenue West)
If you want to spice up your wedding menu, Santo Pecado is the place to go for catering. The company creates stunning Mexican meals that'll get your guests' mouths watering. Forget about boring old buffets, they'll build a taco bar right inside your reception venue and sling favourites like carnitas, tinga and barbacoa along with rice, beans and blue corn chips.
Cake: Cakes Cove (1074 St. Clair Avenue West)
Want to wow your guests with a truly one-of-a-kind wedding cake? Look no further than this St. Clair gem. Cakes Cove creates showstopping confections that look more like gallery installations than food. Scroll through its portfolio and you'll see geode cakes, Star Wars-inspired designs, gothic horror edible art and more. But don't worry, they don't slack on flavour, either. Caramel sea salt, double chocolate raspberry and dark spiced rum are just a few of the drool-worthy options available.
Rehearsal Dinner: Stazione Centrale (820 St. Clair Avenue West)
Perched on the corner of Atlas and St. Clair West sits Stazione Centrale, an Italian comfort food eatery offering all the favourites. On the menu you'll find tried and trues like gnocchi, risotto and eggplant parmesan (of course, they'll be able to craft a custom menu to suit your tastes). The restaurant's style is homey but trendy, with painted brick walls, unique lighting fixtures, quirky art installations and dark wooden furniture. Its capacity is 48, so feel free to invite a few extra friends to your rehearsal.