How to Be a Bride-ZEN-a Instead of a Bridezilla
Are you becoming a bit of a bridezilla when it comes to planning your wedding? Here's how find your inner zen.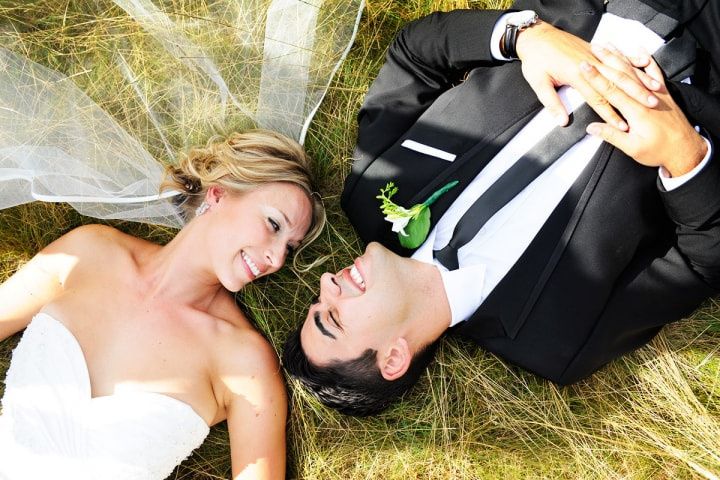 You're probably asking yourself, "what on earth is a bride-zen-a?". Well, let me break it down for you. A bride-zen-a is the much-preferred foil to a bridezilla. Instead of being a demanding diva when it comes to wedding planning, this laidback lady rolls with the punches. Yes, like all brides, she can get overwhelmed, overworked and overstressed, but at the end of the day she lets the chips fall where they may. If you want to embody her in mind and spirit, follow these rules.
Here's how to be a bride-zen-a.
Keep everything organized
Now's not the time to shove important papers and receipts into miscellaneous drawers around your house to gather dust. No, my friend, you are going to have to be on top of everything. If something important goes astray, the bridezilla beast that lurks within every soon-to-be bride will probably begin to stir. To keep it at bay, make sure you create a filing system for paper documents and keep a digital record of your budget, seating plan, to-do list, guest list and vendor info.
Designate specific times to wedding planning
If you don't give yourself boundaries, wedding planning can easily take over you life. Remember writing essays in school? You most certainly lost your mind if you spent too much time doing research in the library. To avoid unearthing those anxious feelings, pick a particular day (or few days) of the week to hash out the details of your wedding. Leave the rest of your time for your job, friends and hobbies. Don't cancel your gym sesh to work on your seating plan and don't skip brunch with your besties to work on your menu.
Understand that you can't control everything
This is a hard pill to swallow for type A brides, but here are some things in life you just can't control. Like, for example, the weather. If the forecast starts calling for rain a few days before your wedding, there's nothing you can do to stop it. Just take a few deep breaths and ask your planner to start prepping those tents. There's no use moaning and groaning.
Use your planner
If you've hired a planner, use them! They know the ins and outs of weddings and could probably plan the bulk of your big day with their eyes closed. Keep in touch with them regularly and let them know any of your woes, they'll probably be able to fix any issues quickly and efficiently, saving you from worrying.
Delegate
You can't plan an entire wedding by yourself and not burn out, so delegate a few tasks to your wedding party. Your friends and family are probably more than willing to lend a helping hand, so give them some of the smaller tasks, like wrapping up favours, stuffing envelopes or picking up rentals.
Be okay with "Plan B"
So, you've made a list of your dream venue, cake, dress and all the rest? Well, there's a good chance that won't able to tick a few of those boxes - and that is A-OK. Relax and be open to the other options out there. You may even find something better than your first choice.
Have some "me time"
Between the tastings, fittings and planning sessions give yourself some love. Treat yourself to a spa day, book in an extra yoga session at the gym or have a mini digital detox and spend a day in bed flipping through magazines and watching rom coms. Seriously, do everything you can to decompress before you start working on your next big project.
Stay organized with WeddingWire's FREE wedding planning tools »