5 Ways to Serve Crepes at Your Wedding
Crepes - AKA the classy sibling of pancakes - are an awesome addition to any wedding menu. Here are a few creative ways to serve them.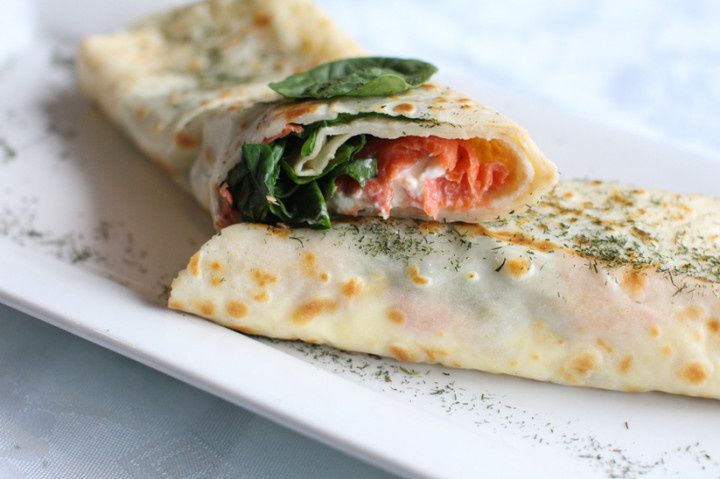 Ready to start choosing the dishes for your wedding menu? Make any of your courses breakfast-inspired by using crepes to craft everything from your hors d'oeuvres to your late night snacks. This French favourite is quite the chameleon and can be used as the base for both sweet and savoury dishes, so there's really no reason not to put it on your caterer's radar.
Here are a few ways to serve crepes at your wedding.
As an appetizer
Forget about crudites and mini quiches, serve a variety of pint-sized crepes at your cocktail hour instead. Have an array of different flavours on hand so that your guests can pick and choose their favourites. Pro tip: almost any appetizer that requires bread or a wrap can be made with a crepe, so be adventurous when it comes to creating your hors d'oeuvres.
As a main course
If you're going for a French-inspired menu, crepes are a must. Tried and true stuffing combos include ham, swiss cheese and asparagus, herb and goat cheese and ricotta, tomato and basil. Don't be afraid to think outside the box and try some fusion style versions, too (I mean, crepes and dosas are pretty much siblings, right?). Remember to ask your caterer to make a few veggie options so that your plant-based friends can enjoy them, too.
As your cake
Skip the traditional wedding cake and create your dessert out of layers of crepes and icing. They work perfectly for rustic affairs, as they tend to look similar to the ever-so-popular naked cakes. Just so you know, these confections are all the rage on Instagram right now, so don't be surprised if your pals whip out their phones as soon as they see your sweet table.
As a late night snack
Your guests are probably going to need a pick-me-up partway through your reception, so plan on serving some late night eats. Instead of having your caterer prep the crepes beforehand, create a food station where your guests can pick and choose their fillings. Stock it with nutella, cheeses, fruit, veggies, spinach and more so that your friends and relatives can create their perfect snack.
At your post-wedding brunch
Planning on hosting a brunch the day after your wedding? Well, you're going to need the promise of some killer breakfast foods to beckon your guests out of their beds. If you don't want to go the classic route, ask your caterer to create breakfast burritos, swapping out the tortillas for crepes. Your guests will love tasting all their favourite brunch foods in one bite.