5 Ways to Savour Every Moment on Your Wedding Day
You don't want your wedding to go by in the blink of an eye. Here are a few tips to help you make the most of it.
It's hard to believe after months of planning, but your wedding day can really fly by. Taking the time to savour every moment and enjoy your big day is important (seriously, you don't wanna miss a thing). Yes, you may not remember every dance or toast, but, hey, that's what photographers and videographers are for, right? If you're in need of a few tips for staying present the day of your "I dos" and the ones leading up to it, we've got you covered.
Here's how to savour every moment on your wedding day.
Enjoy the journey
Putting together all the details of your big day can be stressful, but try your best to make your journey to the altar a fun one (remember, you only get to plan one wedding, so make the most of it!). During your final week of planning and appointments, schedule some relaxing and enjoyable activities - like brunch with your bridesmaids, a date with your partner or a night of R&R at home. This will save you from a meltdown and keep you blissful all the way up to your grand reveal as a blushing bride (or groom).
Document it
Make sure you make those memories last! You shouldn't spend your wedding day with your eyes glued to social media, but you didn't create a wedding hashtag for nothin'. Ask your guests to include it in all their posts so you can scroll through their pics the next day. Also ask your photographer and videographer to be thorough - there's no such thing as too many wedding pictures. Seeing all your friends and family mixing, mingling and dancing the night away is sure to make you feel #blessed for years to come.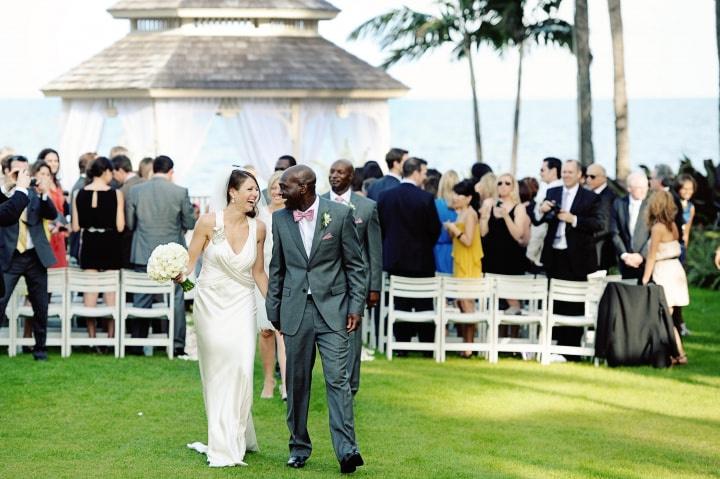 Take a breather
Every MVP needs a time out at some point in the game. Sneak away to a private room with your new spouse and take some time to recalibrate and bask in the joy of your big day. Your wedding day will be a busy one and you don't want to burn out before the party has even begun or let it fly by without noticing. Once you've had a bit of down time, slip back into your shoes and prepare yourself to celebrate all night long.
Be an extrovert
Your wedding day is no time to be an introvert. Let your inner social butterfly shine for the evening and embrace being the life of your party. Snap pics with your friends in the photobooth, steal the mic and do your best Mariah Carey impression at karaoke and hit the dance floor with Ciara-approved moves. Trust me, all your guests will love seeing you 1,2 step.
Don't focus on any fumbles
Even if you've planned your wedding day down to the second, you're bound to face a few fumbles. The key is to not let them get you down. Channel your inner bride-zen-a (or groom-zen-a) and just go with the flow. If a rainstorm kicks up in the middle of the day, let your venue staff put up those tents or dance it out in the rain. Enjoy all the good things that happen and you won't have time to worry about any pint-sized pitfalls.
Find your wedding photographer and videographer on WeddingWire »