5 Ways to Cut Wedding Flower Costs
Flowers typically eat up a lot of your wedding budget, here's how to save a few bucks when buying your blooms.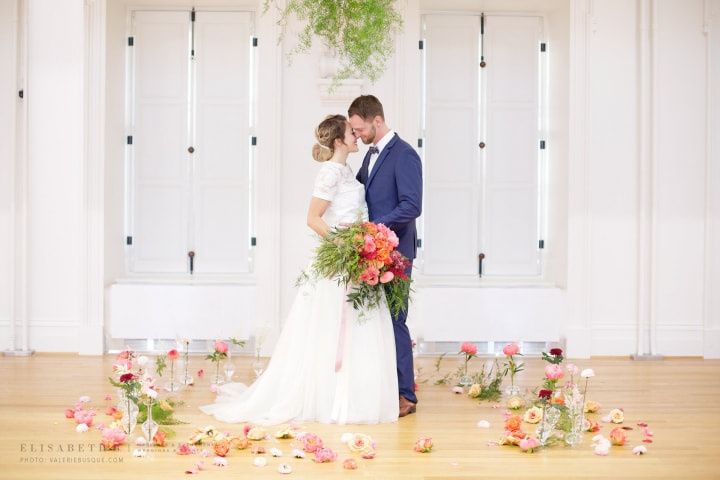 Weddings require a lot of flowers - and I mean a lot. You'll need them to decorate your ceremony venue, fancy up your reception area and accessorize your ensemble. While they're definitely worth the investment, purchasing them will make your wallet significantly lighter. If you're trying to keep your purse strings tight when buying blooms, follow these rules.
Here are a few ways to cut wedding flower costs.
Be a bargain shopper
You can't really be an extreme couponer for wedding flowers, but you can be a bargain shopper. If you've fallen head over heels for an expensive tropical bloom, ask your florist if there's something comparable with a smaller price tag. You may not be able to find an exact dupe, but a skilled expert will be able to help you get the vibe you want with different blooms.
Aim for uniformity
You've probably swiped through celeb wedding photos and seen beautiful bouquets with, like, twenty different types of blooms in them. While there's no denying how stunning these arrangements are, it's a pretty pricey route to go. Why? Flowers are typically sold in bunches, so it's less costly to buy large volumes of the same variety rather than singles of several different kinds. If you limit yourself to one or two types, you'll keep your flower bill down.
Buy what's in season
This rule doesn't only apply to buying produce for your fridge! When you're looking for flowers, think seasonally. Hosting a winter wedding? Poinsettias may be the perfect blooms for you. Plan on soaking up the sun on your June wedding day? Think about incorporating tulips or snapdragons into your bouquet. If you don't have a clue what's in season, consult your florist, they'll be able to steer you in the right direction.
Reuse and recycle
Using your ceremony arrangements to decorate your reception venue is a surefire way to keep flower costs to a minimum. While your guests are enjoying hors d'oeuvres at your cocktail hour, ask your vendor squad to sneak your altar arrangements, aisle markers and other goodies into your dining area. You can use them to spice up your welcome table, make your stage pop or give your sweetheart seats that extra somethin' somethin.
Get creative
Centerpieces, bouquets and boutonnieres are usually crafted from fresh blooms, but they definitely don't have to be. Swap out florals for alternatives like feathers, paper, greenery and/or felt. Not only will you end up with adorable one-of-a-kind arrangements but you'll also save a couple bucks along the way.