6 Herbs to Add to Your Wedding Bouquet
Does your wedding bouquet need a bit of flavour? Add some fragrant herbs to give it that extra oomph.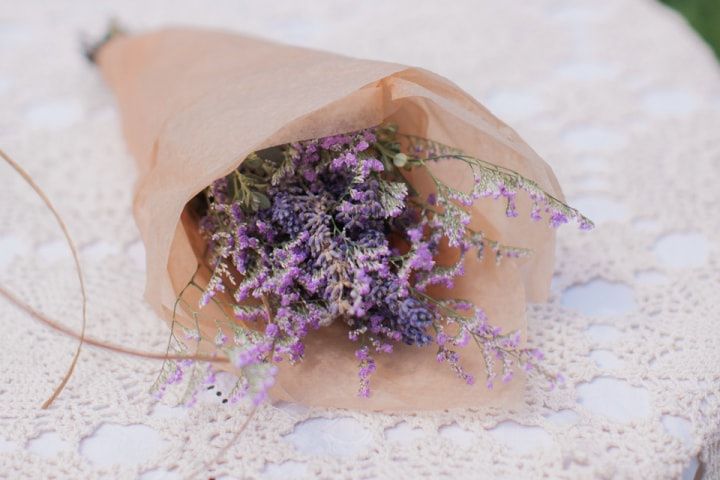 Fresh herbs in a wedding bouquet—or any of your big day's floral arrangements—are a great way to spruce them with a bit of greenery that's fragrant, too. Not only will herbs make your bouquet pop, but they also have some pretty wedding-appropriate meanings. And, as an added bonus, you can sneak some onto your plate during dinner if your meal needs an extra dash of flavour.
Here are a few herbs to put in your wedding bouquet.
Thyme
Weddings can be pretty nerve-racking, especially for brides who aren't a big fan of being in the spotlight. If you need a bit of help in the courage department, throw some thyme into your bouquet. It signifies bravery and strength - making it a great companion for your walk down the aisle. Bonus: it's pretty small and unassuming, so it won't steal the spotlight from your gorgeous blooms.
Rosemary
Going with a more rustic theme for your bouquet? Add a few sprigs of rosemary into the mix. This beautiful woody herb looks great when paired with wildflowers and is infused with tons of meaning. It symbolizes remembrance, love, loyalty and fidelity, making it more than worthy of its spot in your bouquet.
Sage
Sage is all the rage when it comes to including herbs in wedding bouquets right now. Its grayish-green tone looks great in the company of eucalyptus and ferns, making it an awesome option if you're going with a leafier bouquet. So, what does it represent? Wisdom, a long life, and esteem. Who doesn't want that?!
Dill
Dill is the herb of preservation and good spirits - two things that just about everyone wants for their marriage. It looks at home in wildflower bouquets, but thanks to its size and texture, it can be snuck into just about any arrangement.
Parsley
Parsley is the ultimate party herb (no not that kind of party), signifying merriment and joy (AKA what weddings are all about). Some sources also link it to love, protection and purification, making it a pretty appropriate addition to your bouquet. It pairs well with blooms like daisies and baby's breath but can complement just about any type of flower in small doses.
Basil
Dreaming of a life of love, health and protection? Basil symbolizes just that. This herb pretty much encapsulates your vows, so you really can't go wrong by adding a sprig or two. Its bright hue and leafy texture make it a bit bolder than something like thyme, but you can make it work in just about any bouquet style.
Lavender
Lavender is both an herb and a flower, and probably the prettiest of the bunch. Its purple hue will make it stand out in your arrangement, so make sure to pair it with complementary blooms. It stands for devotion, love, protection, happiness, and peace (everything you want out of your wedding day).
Find your wedding florist on WeddingWire »