5 Ways to Cut Wedding Catering Costs
Wedding catering is usually a couple's biggest wedding expense, so you'll want to scrimp and save where you can.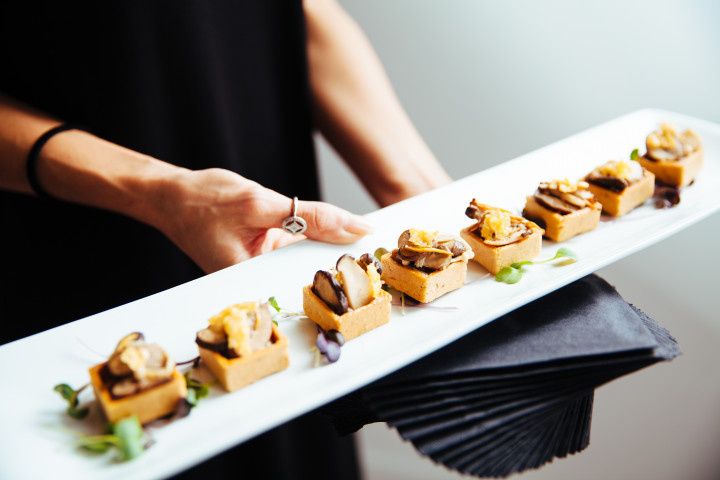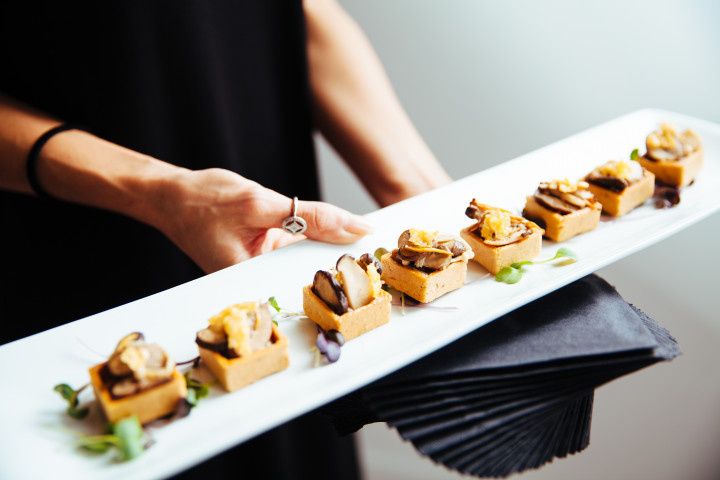 Let's talk catering! If you've ever footed the bill for dinner on a night out, you know that buying meals for all of your friends and family won't be cheap. In fact, it'll be pretty darn expensive (sorry to be the bearer of bad news). Catering is usually a couple's biggest wedding expense, eating up roughly 38% of a couple's entire budget, which is huge. If you want to scale that back, try putting one or two of these tips to use.
Here are a few ways to cut wedding catering costs.
Don't do a plated meal
Plated dinners are the most expensive style of catering, so consider going a different route for your big day. Whether you want to serve your guests buffet-style or stick strictly to hors d'oeuvres is your call - either way, you'll be saving money. Pro tip: also check out the exclusive discount offers in our wedding catering directory.
Don't serve super fancy food
I know, I know, you really want to impress your friends and family with your wedding menu, but serving high-brow eats like caviar and filet mignon may not be the best move (especially if your wallet is feeling lighter than usual). Scour Pinterest and Instagram for budget-friendly bites that'll bring your wedding theme to life.
Don't forget to look at what's in season
When a fruit or vegetable is in season it costs a fraction of the price of produce that needs to be shipped in from afar (sorry, avocado fans). So, swing by your local farmer's market to get a bit of inspiration before sitting down with your caterer to plan your menu. Don't be afraid to ask the vendors what crops are most bountiful different times of the year, they'll definitely be more helpful than Google.
Don't be afraid to make some substitutions
If you really love a dish, but one of its main ingredients is pretty costly, ask your caterer if they can swap it for something else. For example, premium cuts of beef, like flank steak and ribeye roast can be replaced by shoulder steak or sirloin. If you want to be really thrifty, and don't mind kissing meat goodbye for the evening, serving vegetarian versions of your favourite eats will save you even more. You'd be surprised how awesome vegan carbonara and plant-based crab cakes can taste.
Don't give your guests a ton of options
This is one place where "the more, the merrier" does not apply. Offering several different dishes will leave you with a heftier bill, so pick one or two and roll with those. If any of your guests have food allergies or dietary restrictions and can't eat the dishes you've selected, you can make substitutions for them, but don't publicize the option.