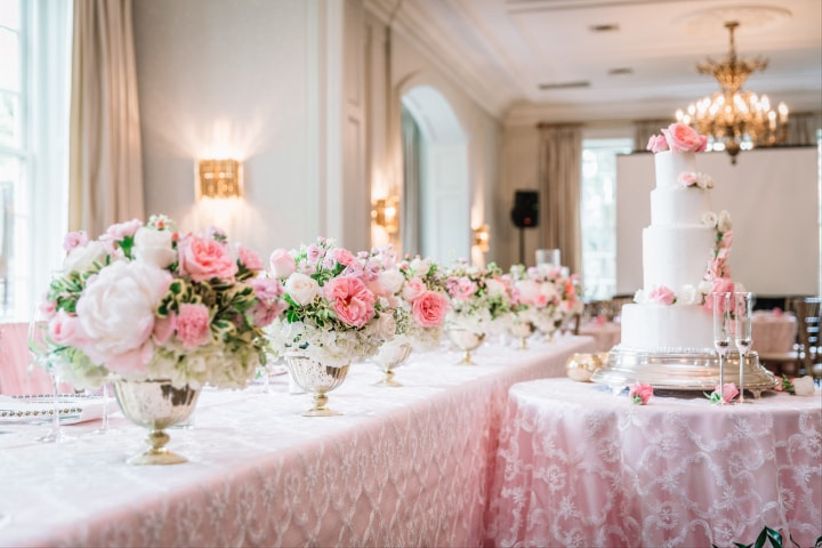 Scrolling through Pinterest is a great way to start gathering wedding inspo, but you're going to need to leave your screen behind at some point - that's where Ontario wedding shows in Fall 2018 come into play. There are a few major exhibitions on tap that'll help get your creative juices flowing and let you meet wedding vendors face-to-face in one fell swoop.
Here are the Ontario wedding shows in fall 2018 you don't want to miss.
Canada's Bridal Show (September 7 - 9)
Kicking off the season of Ontario wedding shows in Fall 2018 is Canada's Bridal Show, which takes place at the Metro Toronto Convention Centre. The bi-annual show has been running for over 30 years and is the biggest in the region - so you'll have plenty to check out over its three-day run. There will also be contests and giveaways, giving you the chance to win big for your wedding day. A ticket will run you $20.
The Ring's Fall Wedding Expo (Various Dates)
The Ring has put together ten unique Ontario wedding shows in Fall 2018 in cities not far from Toronto. Each event will showcase local vendors and give couples the opportunity to meet with them IRL to discuss their wedding dreams. You can also look forward to big prizes (including a $1000 online shopping spree). Admission is free if you register online or $5 at the door.
Niagara Autumn Wedding Show (September 16)
Take a trip to St. Catherines on September 16th and you'll find the Niagara Autumn Wedding Show in full swing. The event is happening at the Holiday Inn Hotel & Suites and you'll be able to chat with bakers, bridalwear specialists, DJs and more who work in the Niagara region. There will also be fashion shows happening throughout the day that are sure to give you a bit of wedding dress inspo. Tickets are $12 each.
National Bridal Show (September 21 - 23)
On the third weekend of September the National Bridal Show will transform Mississauga's International Centre into a wedding mecca. The event will bring out the top specialists in the GTA and will give you a chance to chat with caterers, photographers, event planners and more one-on-one. If you're feeling lucky, you can even enter to win sweet prizes from some of the vendors (like a free photoshoot with the Toronto Photo Booth Company). One ticket will cost you $18.
London Bridal Expo (September 29 - 30)
Head to London's Metroland Media Agriplex on the weekend of the 29th and you'll see a bevy of bridal (and wedding) goodies on display. Attendees will spend their day(s) checking out dreamy dresses, chatting with local photographers, scoping out caterers and winning prizes (sounds pretty great, huh?). Tickets go for $10 apiece.
Must Be Kismet (September 30)
On September 30th Vaughan's Universal Eventspace will be turned into a matrimonial mecca. The event will showcase everything (and everyone) you'll need to throw one killer South Asian wedding. Makeup artists, audio-visual pros, decor specialists and more will be on the scene to show off their stuff from 12-6. Tickets cost $10 for general admission or $15 if you want to see a fashion show, too.
Hamilton-Halton Fall Wedding Show (September 23)
This is the biggest wedding show in the Hamilton-Halton region, so if you're in the area, it's definitely worth stopping by. It takes place at the Hamilton Convention Centre by Carmen's and will get you in touch with all the pros you'll need on your team to turn all your wedding dreams into reality. There will also be two fashion shows, offering drop dead gorgeous options for both men and women. Tickets go for $12.
Modern Bride Wedding Show (October 14)
Plan on passing through Thornhill on October 14th? Make your way to the Woodbine Racetrack to meet with the best in the wedding business (40 exhibitors will be in attendance). But that's not all! There'll also be fashion show featuring styles for both brides and grooms as well as a few killer giveaways. Tickets go for $10 online or $15 at the door.
Toronto Destination Wedding & Honeymoon Expo (October 18)
Thinking of opting for a destination wedding? Ready to get down to business planning your honeymoon? Well, you can kill both those birds with one stone at the Toronto Destination Wedding & Honeymoon Expo. It will be happening at the Grand Victorian Convention Centre and will offer free consultations, a food and trade show, a presentation and plenty of prizes. Admission is free, so you really can't go wrong.
The Wedding Show (October 21)
At The Wedding Show, which takes place on October 21 in the Hyatt Regency Toronto, couples will get the chance to stroll through seven rooms filled with decor inspiration, ceremony ideas, top industry professionals and more. There will also be seminars happening throughout the day, if you want to take your wedding knowledge to the next level. Attending the wedding workshop costs $10, but general admission is free.
Ottawa Wedding Show (October 27 - 28)
If you call Ottawa home (or plan on getting hitched there), hitting this show is a must. The event takes over the EY Centre, transforming it into a wedding paradise for two full days. It'll host a ton of fantastic vendors, from photography pros to top notch stationers. Other things to look forward too? A bevy of contests and draws, pop-up bridal boutiques, a social media lounge and plenty of tastings and samples. Tickets go for $15 at the door.
Vaughan Wedding Expo (October 28)
Closing out the schedule of Ontario wedding shows in Fall 2018 is the Vaughan Wedding Expo at the Riviera Events & Convention Centre. Full details have yet to be released, but you can expect over 70 vendors, live performances, prizes and more. Tickets are free.
Find Ontario vendors and read reviews on WeddingWire »