30 Can't Miss Ontario Wedding Shows in 2020
Forget about flipping through wedding magazines and watching Rich Bride, Poor Bride reruns - get your inspo IRL at Ontario wedding shows in winter-spring 2020.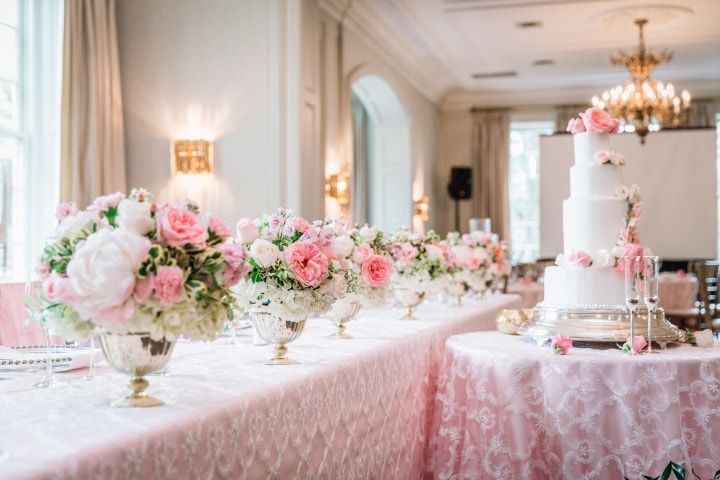 Scrolling through Pinterest is a great way to start gathering wedding inspo, but you're going to need to leave your screen behind at some point — that's where Ontario wedding shows in 2020 winter-spring come into play. There are a few major exhibitions on tap that'll help get your creative juices flowing and let you meet wedding vendors face-to-face in one fell swoop.
Here are the Ontario wedding shows in 2020 winter-spring you don't want to miss.
The Ring's Wedding Expo (Various Dates)
The Ring's Wedding Expo has put together 13 unique Ontario wedding shows in early 2020 in Southwestern Ontario and cities not far from Toronto. Each event will showcase local vendors and give couples the opportunity to meet with them IRL to discuss their wedding dreams. You can also look forward to big prizes (including a $1,000 online shopping spree). Admission is free if you register online or $5 - $10 at the door.
Canada's Bridal Show (January 10-12, 2020)
Canada's Bridal Show will kick off the 2020 Ontario wedding show season. Founded in 1984, this convention has been showcasing the wedding pros of Canada's bridal industry for over 30 years and is one of the most renowned wedding exhibitions in the country. The event will bring hundreds of expert wedding vendors and planners to the Metro Toronto Convention Centre for a three-day stint. This year's list of exhibitors includes Elite Beauty, Heavenly Creation Florist and Kleinfeld Hudson's Bay (just to name a few). Tickets cost a mere $20.
London Bridal Expo (January 11-12, 2020)
Head to London's Metroland Media Agriplex on the weekend of the 12th and you'll see a bevy of bridal (and wedding) goodies on display at London Bridal Expo. Attendees will spend their day(s) checking out dreamy dresses, chatting with local photographers, scoping out caterers and winning prizes (sounds pretty great, huh?). Tickets go for $12 a piece.
Niagara Spring Wedding Show (January 11-12, 2020)
Take a trip to St. Catherines on the weekend of the 11th and you'll find the Niagara Spring Wedding Show in full swing. The event is happening at the Holiday Inn Parkway Hotel and you'll be able to chat with bakers, bridalwear specialists, DJs and more who work in the Niagara region. There will also be fashion shows at 1:30 and 3:30 that are sure to give you a bit of wedding dress inspo. Tickets are $12 each.
Must Be Kismet (January 12, 2020)
Missed the fall Must Be Kismet show way back in September? NBD, another one is right around the corner! The event will take over Mississauga's International Centre and give you the chance to see the work of the GTA's top South Asian wedding vendors. There will be fashion shows, panels and displays that may give you some inspo for your wedding theme, colour scheme and more. Tickets cost $10 for general admission or $15 if you want to see a fashion show, too.
Northumberland Bridal Show (January 12, 2020)
Call Cobourg home? Head to the Cobourg Lions Community Centre from 12 to 4 to meet with local vendors for all your wedding needs at the Northumberland Bridal Show. Enjoy food and wine tasting and enter for the chance to win lots of door prizes. Brides are free when you pre-register and guests are $5 at the door.
Kingston Wedding Show (January 12, 2020)
Another Eastern Ontario wedding show will take place on the 13th in Kingston at St Lawerence College from 11 to 3:30. At the Kingston Wedding Show, not only will you get a chance to meet local wedding vendors, but you'll have a chance at over $16,000 in giveaways. Admission is free and you'll get free swag bags and tasty mocktails, too.
The WedLuxe Wedding Show (January 19, 2020)
Make your way to The Carlu in downtown Toronto on January 19th and you'll be immersed in a real wedding wonderland at The WedLuxe Wedding Show. Over 100 elite florists, cake designers, stationers and other wedding pros will be showing their stuff, so you're bound to stumble upon something you love. Keep in mind that this show is more like a party than an exhibition so you'll have more time to mix and mingle with the best in the biz. Tickets cost $60 if you purchase before January 15, and $75 from then onward. 
Hamilton Spring Wedding Show (January 25-26, 2020)
This is the biggest wedding show in the Hamilton-Halton region, so if you're in the area, it's definitely worth stopping by the Hamilton Spring Wedding Show. It takes place at the Hamilton Convention Centre and will get you in touch with all the pros you'll need on your team to turn all your wedding dreams into reality. There will also be two fashion shows (at 1:30 and 3:30), offering drop dead gorgeous options for both men and women. Tickets go for $12.
Modern Bride Wedding Show (January 25-26, 2020)
If you're free the weekend of the 25th, mark the Modern Bride Wedding Show on your calendar. As with years past, it'll take place at the International Centre in Mississauga and bring out the best in the business. But wait, there's more! You'll also be treated to tastings, live entertainment, fashion shows, hair and makeup trials, photo booth sessions, mini consultations and gift bags (giving you plenty of bang for your buck). Admission only costs $10 online or $15 when you pay at the door.
The Wedding Show (February 2, 2020)
On the first Sunday of the month, The Wedding Show will be transforming the Hyatt Regency's ballroom into a wedding mecca. Along with the opportunity to meet with wedding pros, you'll get live entertainment, hair and makeup trials, tastings, consultations, contests, swag bags and more. There are also a few workshops - like Wedding Planning 101 and Decor & Floral Trends - that you and your partner can take part in if you're feeling a little lost on your wedding journey. Tickets are free, but you'll have to pony up $10 if you want to attend a workshop.
The True Mate Bridal Show (February 9, 2020)
New to the bridal show lineup in 2020, The True Mate Bridal Show's goal is to have you walk away feeling more inspired, informed and confident! To be held at FF North in Woodbridge, you can expect a qualified selection of vendors, two fashion shows, interactive workshops, wine and cupcake tasting, a question and answer segment, bouquet toss, award-winning food samples and more. Tickets cost $10 online for general admission ($15 at the door). VIP tickets are $20 online and include champagne upon entry, a wine and cupcake tasting ticket and one workshop ($25 at the door).
Sass Spring Wedding and Event Show (February 16, 2020)
If you're hosting your wedding in Bowmanville, then you can network with the region's event experts at the Sass Spring Wedding and Event Show to be held at Garnet B. Rickard Recreation Complex from 11 to 3. Plus, there will be refreshments, discounts, live music, a fashion show, grand prize draw and swag bags for the first 100 guests. Tickets are free in advance at participating vendors or $15 at the door.
The Wedding Co. Market (February 23, 2020)
In its 18th year, Toronto's The Wedding Co. will be filling Artscape Wychwood Barns with bridal wear, bouquets and beautiful decor this February. If rustic chic goodies and artisan creations are going to be staples in your upcoming celebration, attending this market is an absolute must. Last year's show boasted new age boho decor, metallic cakes and more all crafted by Toronto's bridal industry members. Early bird tickets cost $15 and will be available until January 1st, after that they'll be $20.
Ultimate Destination Wedding Show (February 23, 2020)
Thinking of opting for a destination wedding? Toronto's Ultimate Destination Wedding Show needs to be on your radar. It will be happening at C Cafe & Banquets in Mississauga on the last Sunday in February. What can you expect? Free consultations with travel and wedding pros, snacks and a one-hour presentation all about planning your dream destination wedding. Admission is free for engaged couples (reserve your spot online) and $10 online or $15 at the door for friends and family.
The Lavish Wedding Market (March 8, 2020)
The Lavish Wedding Market is a South Asian-geared event at the Mississauga Convention Centre. Unlike a traditional bridal show, the market is a wedding shopping experience for couples, families and friends. The event will bring in a bevy of wedding professionals, from cake designers to videographers, making it a one-stop-shop for your big day. Tickets are free and you can register online. 
Ottawa Wedding Show (March 14-15, 2020)
If you call Ottawa home (or plan on getting hitched there), hitting the Ottawa Wedding Show is a must. The event takes over the EY Centre, transforming it into a wedding paradise for two full days. It'll host a ton of fantastic vendors, from photography pros to top-notch stationers. Other things to look forward too? A bevy of contests and draws, pop-up bridal boutiques, a social media lounge and plenty of tastings and samples. Tickets go for $15 at the door.
The Ultimate Bridal Show (April 25, 2020)
Closing out the schedule of Ontario wedding shows in Winter-Spring 2020, the Living Arts Centre in Mississauga will be packed with brides-to-be and wedding pros for The Ultimate Bridal Show. The exhibition will host a bevy of top-notch vendors, including Fairytales Creations and Catering, Magic Moments and New Age Sound & Lighting. There will also be a fashion show and tons of giveaways and contests happening throughout the day. You'll need to register online, but entry is 100% free for brides and grooms.
Find Ontario wedding vendors and read reviews on WeddingWire »
Feature image courtesy of L'Amour Weddings.