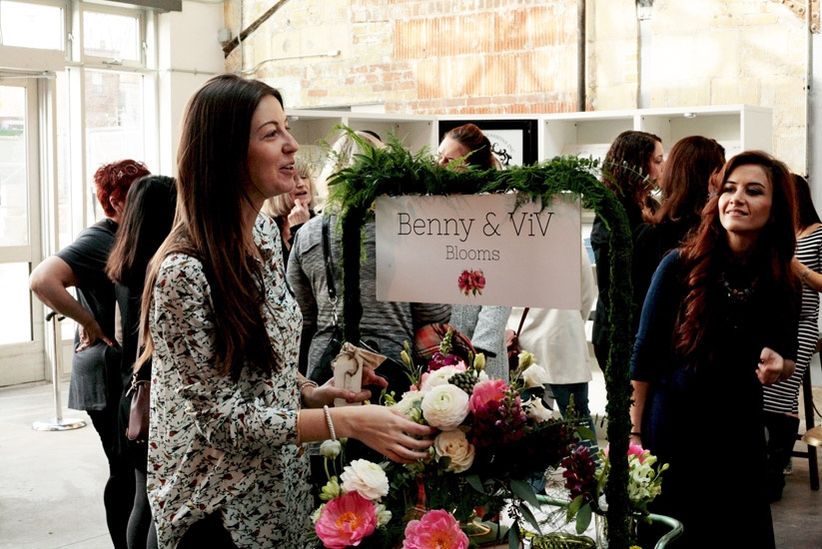 Pictured here: Benny & Viv Blooms at The Wedding Co. Market; photo by Emma Timusk.
You've been looking at real weddings and scrolling through pages of vendor reviews and portfolios to assemble your dream team. Now why not check out what vendors have to offer IRL. Wedding and bridal shows bring out the best of the best in Toronto's wedding industry, so they're definitely worth attending with your SO or your bridal party for some wedding inspo.
Here are the bridal shows you don't want to miss this season.
Canada's Bridal Show (January 6-8)
Kicking off the wedding show run of 2017 is the much-loved Canada's Bridal Show. Founded in 1984, this convention has been showcasing the wedding pros of Canada's bridal industry for over 30 years and is one of the most renowned wedding exhibitions in the country. As per usual, the event will bring hundreds of expert wedding vendors and planners to the Metro Toronto Convention Centre for a three-day stint. Tickets cost a mere $20.
The WedLuxe Wedding Show (January 15)
Make your way to The Carlu on the 15th of January and you'll be immersed in a wedding wonderland. Unlike most exhibitions, this show is more like an event where you can mix and mingle with the best in the biz. More than 100 elite florists, cake designers, stationers and other wedding pros will be in attendance. This year's theme is "Wanderlust", so expect to see a healthy dose of destination wedding inspo. Tickets cost $60 if you purchase before January 8, and $75 from then onward.
The Perfect Wedding Show (January 22)
Gas up your car and head to the Mississauga Convention Centre for The Perfect Wedding Show at the end of January. As the name implies, the convention will feature everything you need to make your big day, well, perfect. There will be over 60 wedding pros there to offer tips, tricks and their own services. Tickets are free, just remember to reserve them online.
The Bridal Affair (January 29)
Closing out the month of January is The Bridal Affair, the city's only luxury South Asian wedding show. It will host over 100 wedding professionals, from cake designers to videographers, making it a one stop shop for your big day. The exhibition will be at the Mississauga Convention Centre, so be prepared for a bit of a drive. Tickets are $25 until December 31 and $35 after the sale ends.
National Bridal Show (February 3-5)
The National Bridal Show will take over the Enercare Centre on the first weekend of February. Its list of exhibitors is yet to be released, but you can expect to see photographers, entertainers, planners and everything in between. As with years past, there will also be a massive bridal gown sale with frocks from designers like Sophia Tolli, Ronald Joyce and Kenneth Winston for up to 70% off. Brides-to-be get free entry while other guests will have to pony up $18 at the door (or $12, if they pre-order them before January 4th).
The Wedding Co. Market (February 26)
The Wedding Co. will be filling Artscape Wychwood Barns with bridal wear and bouquets for its third year in a row this February. If you're in the market for rustic chic finds and artisan creations, hitting this market is an absolute must. Last year's show boasted elaborate floral crowns, copper-toned cakes and ethereal gowns, all crafted by Toronto's bridal industry members. Early bird tickets cost $18 and will be available until January 1st, after that they'll be $20.
The Ultimate Bridal Show (April 1)
On the first day of April the Living Arts Centre in Mississauga will be transformed into a wedding mecca. The exhibition will host a bevy of top notch vendors, including Fairytales Creations and Catering, Redwood Studio and That's My Dress! Bridals. There will also be a fashion show, tons of giveaways and contests happening throughout the day. You'll need to register online, but entry is 100% free.
Canada's African & Caribbean Wedding Show (April 1)
Head to Daniels Spectrum on April 1 and you'll find Canada's African & Caribbean Wedding Show. The pros at this event are versed in blending Western traditions with traditional heritage, so they'll be able to help craft the ceremony of your dreams. Aside from 50 stellar vendors there will be two runway shows, a tropical music lounge and door prizes. Tickets cost $20 until March 11th or $35 if you don't catch the early bird sale.
Toronto's Bridal Show (April 7-9)
On the second weekend in April Toronto's Bridal Show will hit the Enercare Centre. Following the same formula as years past, the expo will feature wedding pros, contests, prizes and multiple fashion shows. A massive wedding gown sale will also be going down, so this is the perfect chance for you budget-savvy brides to find the dresses of your dreams. Tickets cost $20.
Pair: The Wedding Show (Spring 2017; date to be announced)
Pair: The Wedding Show is a brand new expo for 2017 geared toward same-sex couples. The show will bring 20 vendors in The Richmond, a trendy loft space - which could also be your wedding venue! - in the city's fashion district. Details on the event are pretty scarce ATM, so I suggest keeping an eye on its social media for details.
Search for Toronto vendors and read reviews on WeddingWire »