6 Stunning Library Wedding Venues in Toronto for Bookworms
Want to give your wedding a bit of a literary twist? Check out these stunning library wedding venues in Toronto for bookworms.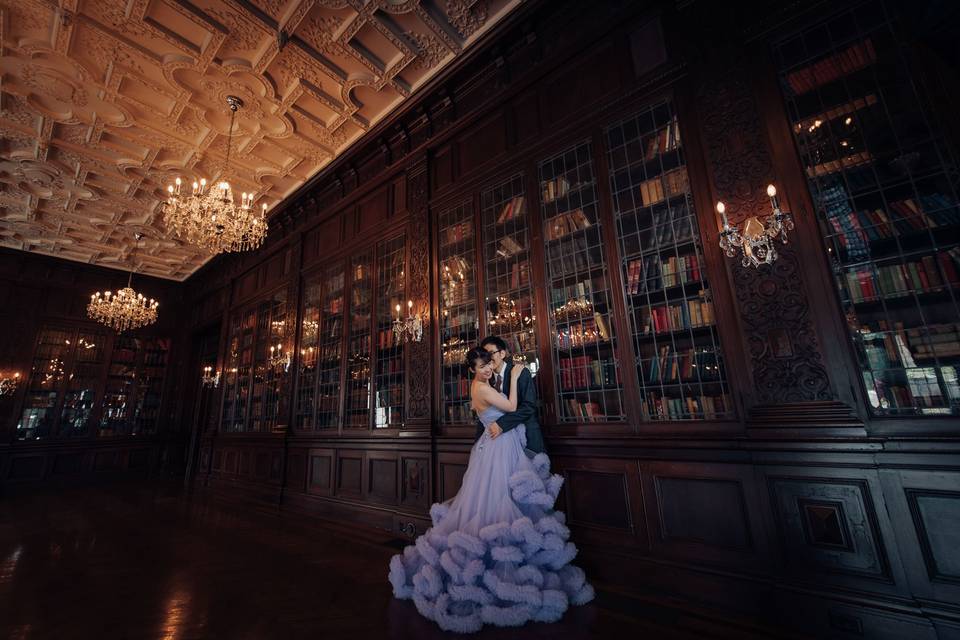 If you love reading almost as much as you love your partner, you may want to consider tying the knot in a library. Lucky for you, there are a few library wedding venues in Toronto that bookworms will absolutely love. Whether you want to say your wedding vows in the stacks or tie the knot in a luxurious castle library, there's something on this list for you.
Here are a few stunning library wedding venues in Toronto for bookworms.
Casa Loma
Want to feel like royalty on your big day? Casa Loma is obviously the Toronto wedding venue for you. It boasts gorgeous gardens, a conservatory, a glass pavilion, a grand ballroom and – you guessed it – a library (all of which you can put to use on your big day). Its reading room is probably the best choice on this list for an elegant wedding thanks to its crystal chandeliers, oak finishes and a real Beauty and the Beast feel.
Capacity: 220 Guests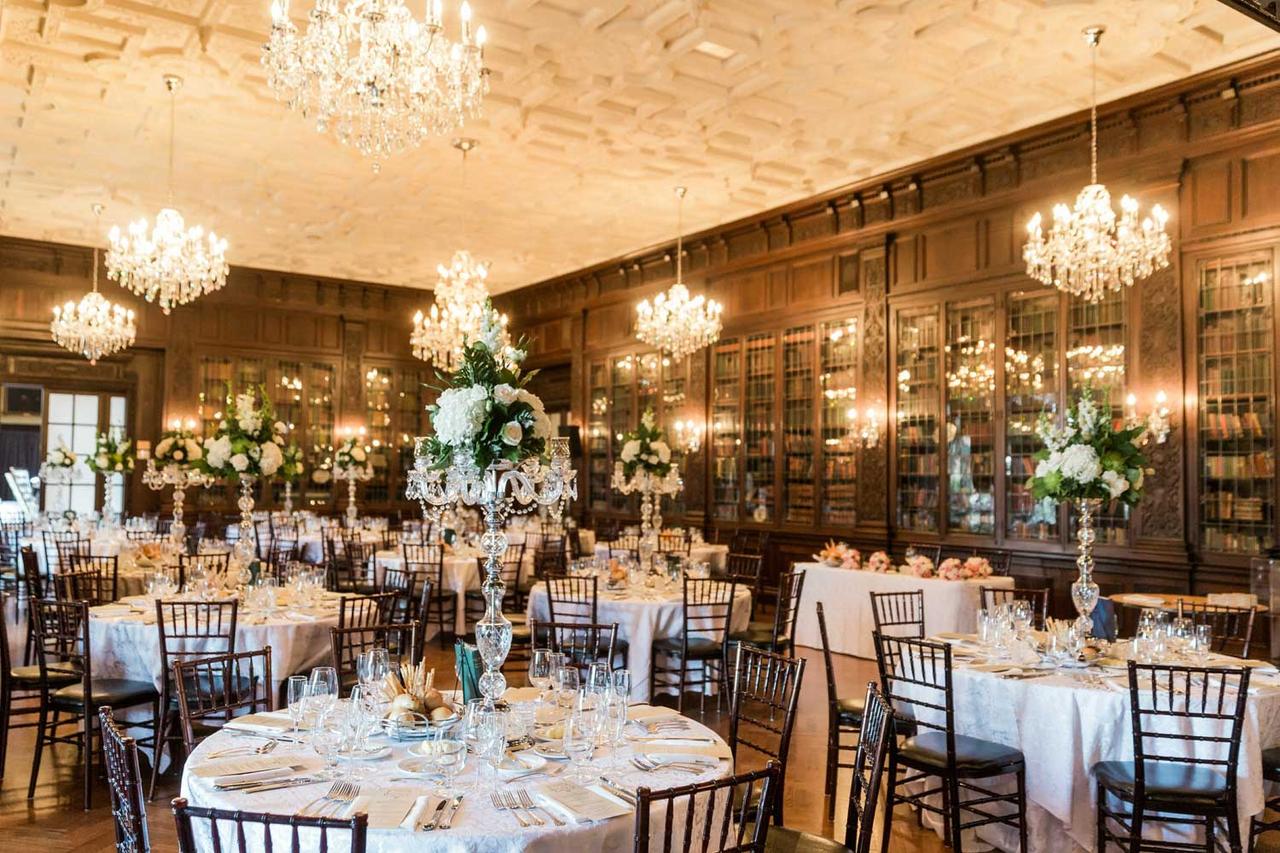 University Club of Toronto
This private members club will open its doors to you and your nearest and dearest on your big day. Inside the University Club of Toronto, you'll find a handful of elegant function rooms, including a library. Aside from its collection of books, you'll find Georgian architecture, golden chandeliers, ornate moulding and a gorgeous fireplace. If you're on the hunt for a vintage Toronto wedding venue with some literary flair, this might just be the spot for you.
Capacity: 85 Guests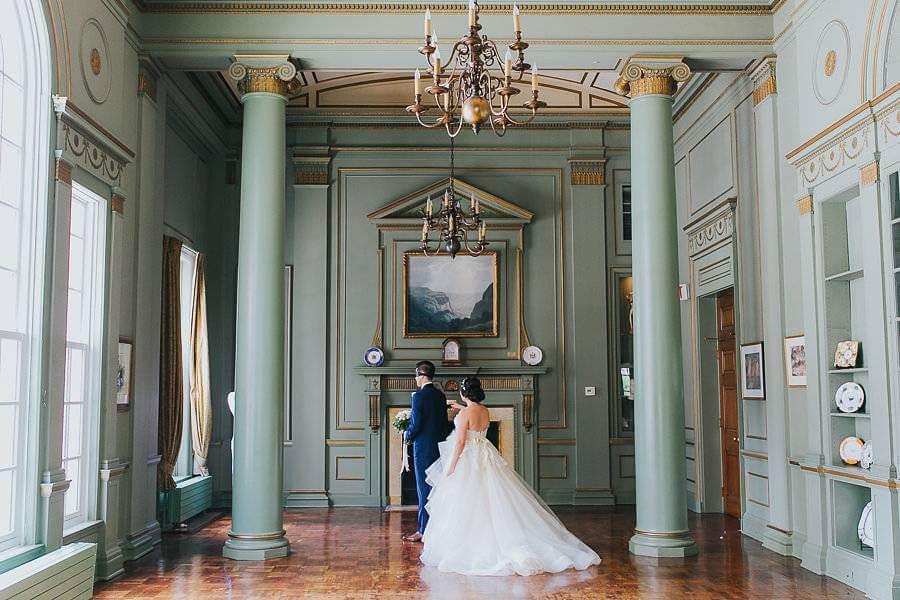 Toronto Reference Library
The Toronto Reference Library is the largest of its kind in Canada, making it a great option for couples who are in the market for a big library wedding venue in Toronto that makes a statement. As for spaces, you're pretty spoiled for choice here. The Bram & Bluma Appel Salon is a good choice if you want a modern space tucked away from the books, but you can also get married on the stacks surrounded by your favourite pieces of literature.
Capacity: 750 Guests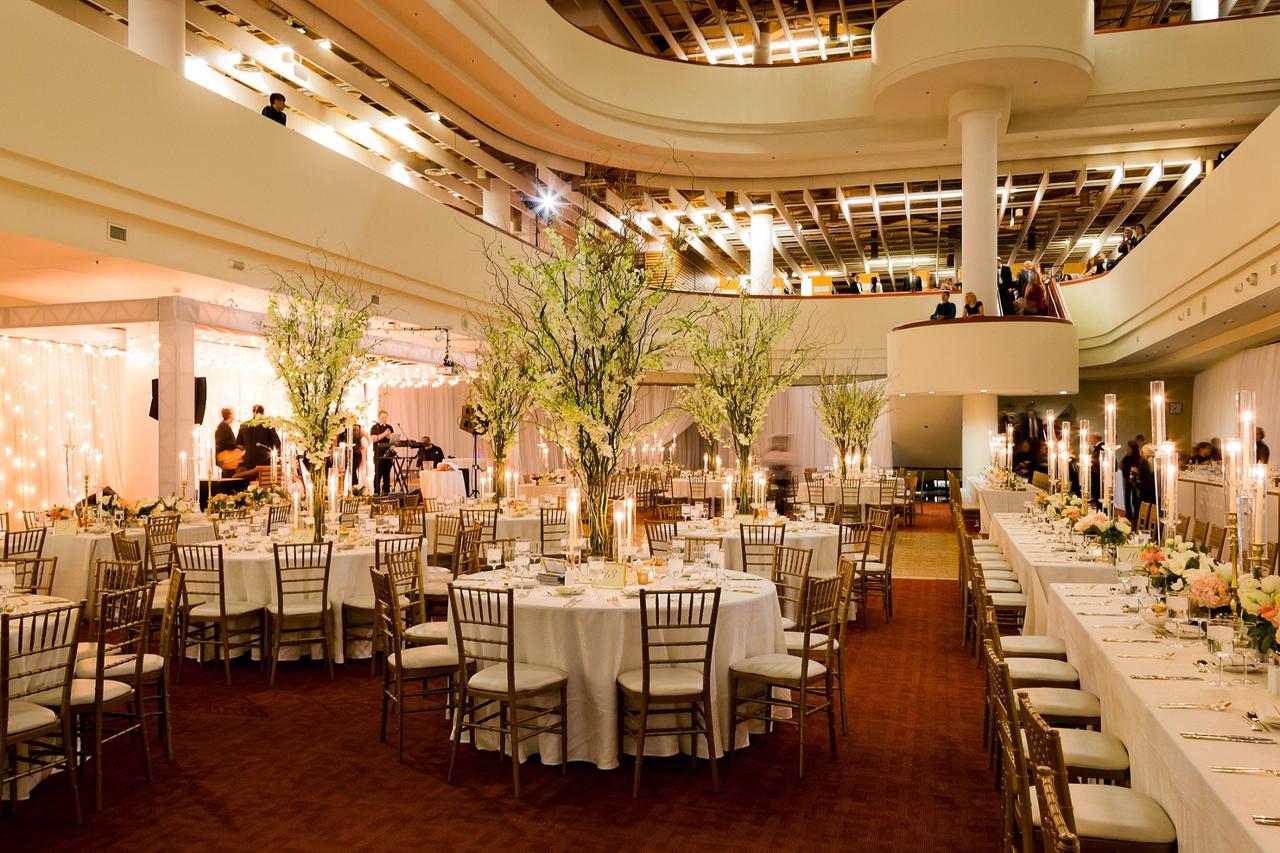 Bloor/Gladstone Library
The Bloor/Gladstone Library is one of Toronto's oldest libraries, so you'll get some serious historical brownie points if you host your wedding here. The designated heritage building still has much of its original charm but has been updated with modern amenities, making it the perfect blend of old and new. Aside from YA novels, literary classics and non-fiction reads, you'll find two gas fireplaces, Art Deco-style windows and plenty of space to dance, mix and mingle.
Capacity: 400 Guests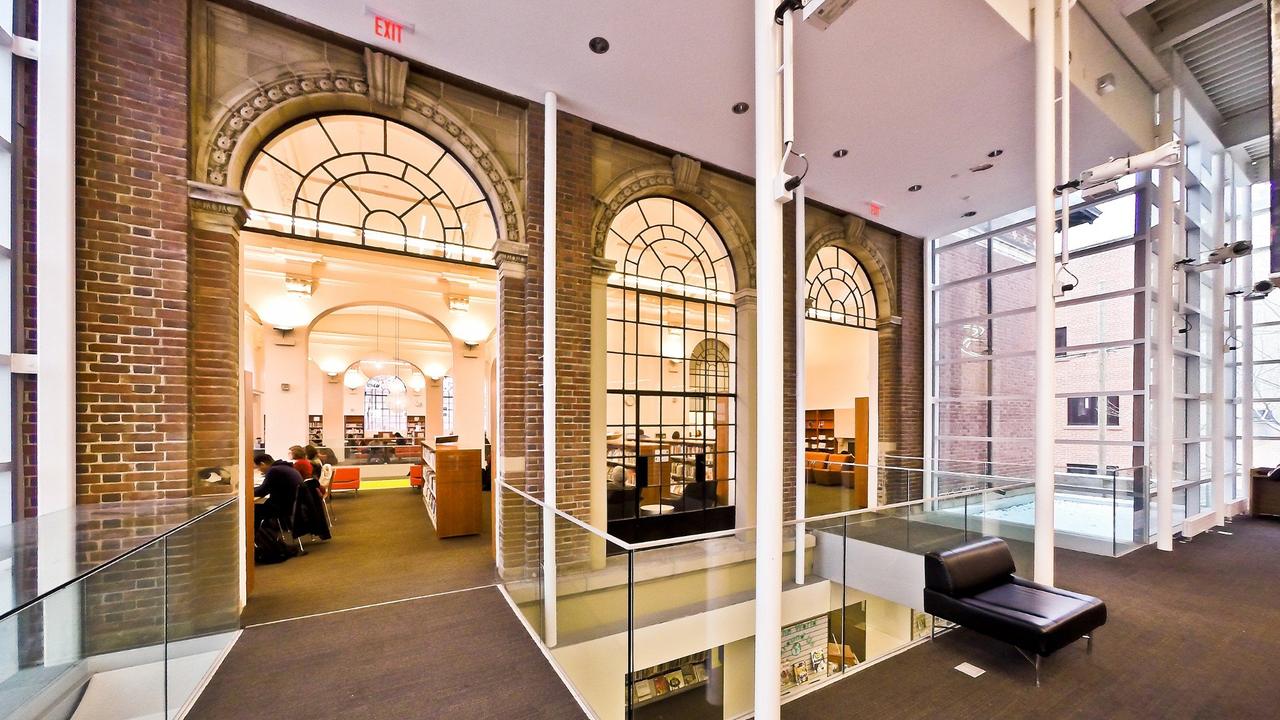 Fort York Library
The Fort York Library is another solid Toronto wedding venue option from the TPL catalogue. It's super modern and has an award-winning, glass-heavy design, offering views of Fort York, the city and the lake. It even has a built-in lounge, so you won't have to figure out where to fit your cocktail bar (score!). If you're in the market for something on the contemporary side, it's worth looking into.
Capacity: 300 Guests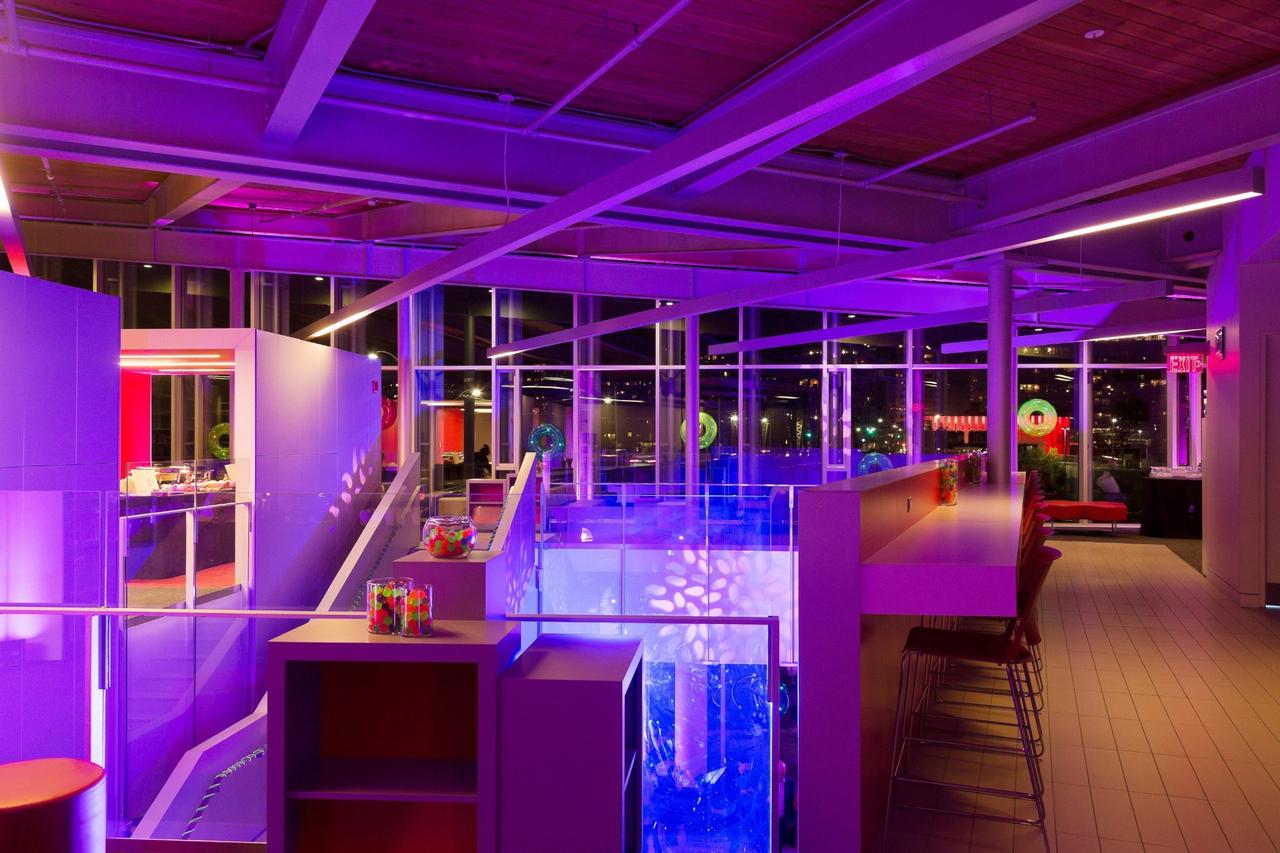 The Royal Canadian Military Institute
The Library at The Royal Canadian Military Institute with floor to ceiling bookshelves is a book lover's dream library wedding venue in Toronto. Located downtown on University Avenue at Dundas, this full-service venue has a number of lavish event spaces decorated with grand chandeliers, ornate wood finishes and custom-designed furniture. After a cocktail reception in The Library, move onto the Main Dining Room, it's their largest function room which can seat 120 guests for dinner, or you could stay put and sit down to an intimate dinner for 20 completely surrounded by books.
Capacity: 20 Guests (or 100 for a standing reception)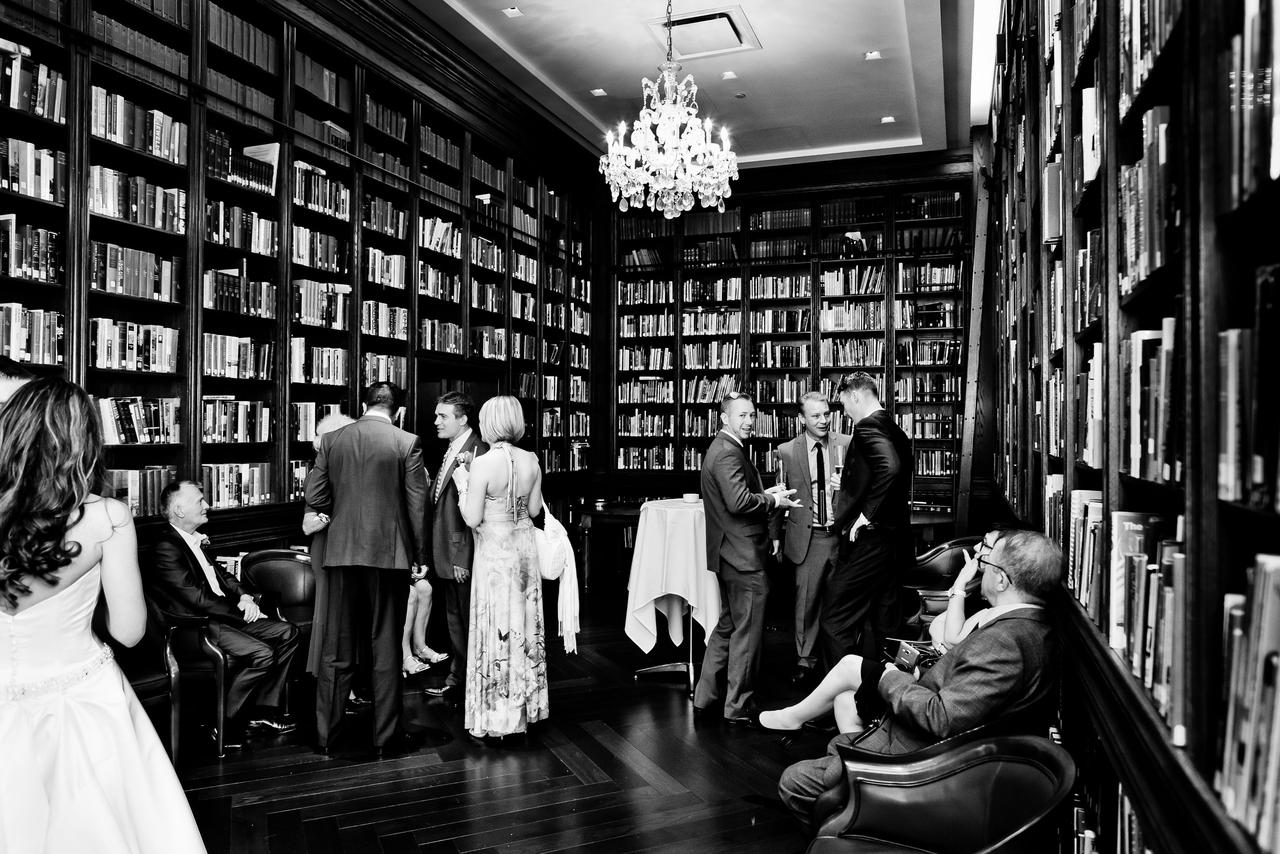 Find more stunning wedding venues in Toronto on WeddingWire »