13 Interesting Wedding Readings to Add a Personal Touch to Your Ceremony
Looking for wedding ceremony readings you may not have heard before? We've gathered up some interesting wedding readings to add a personal touch to your special day!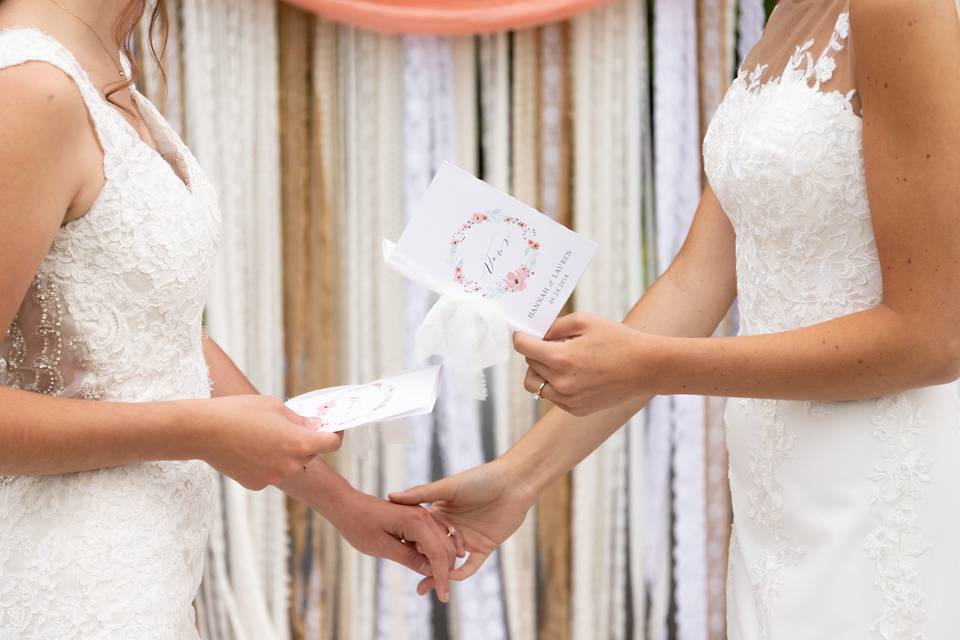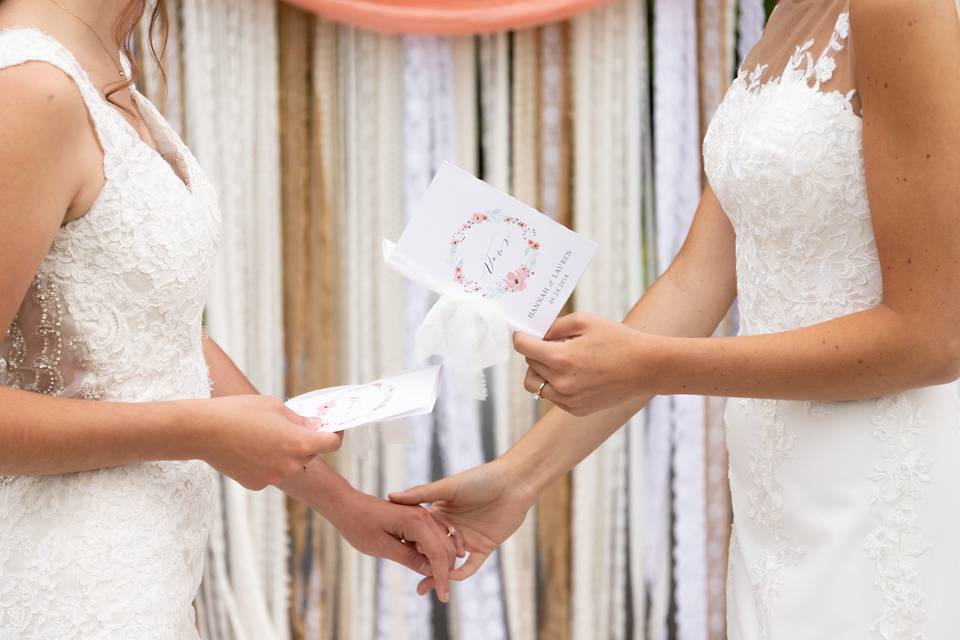 So you're looking for an interesting wedding reading to include in your ceremony to make it even more personal and memorable. While you're probably familiar with romantic classics, we've gathered up some non-religious readings including love song lyrics, poems, movie quotes and book extracts for couples looking for something a little different.
Check out these interesting wedding readings.
Extract from Us by David Nicholls
'I had always been led to believe that ageing was a slow and gradual process, the creep of a glacier. Now I realise that it happens in a rush, like snow falling off a roof. By contrast, my wife at fifty-two years old seems to me just as attractive as the day I first met her. If I were to say this out loud, she would say, "Douglas, that's just a line. No one prefers wrinkles, no one prefers grey" To which I'd reply, "But none of this is a surprise. I've been expecting to watch you grow older ever since we met. Why should it trouble me? It's the face itself that I love, not that face at twenty-eight or thirty-four or fourty-three. It's THAT face."'
"A Chinese wedding poem" – Unknown
I want to be your friend
For ever and ever without break or decay.
When the hills are all flat
And the rivers are all dry,
When it lightens and thunders in winter,
When it rains and snows in summer,
When heaven and earth mingle
Not 'til then will I part from you.
Extract from Captain Corelli's Mandolin by Louis de Bernières
"Love is a temporary madness. It erupts like an earthquake and then subsides. And when it subsides you have to make a decision. You have to work out whether your roots have become so entwined together that it is inconceivable that you should ever part. Because this is what love is. Love is not breathlessness, it is not excitement, it is not the promulgation of promises of eternal passion. That is just being "in love" which any of us can convince ourselves we are. Love itself is what is left over when being in love has burned away, and this is both an art and a fortunate accident. Your mother and I had it, we had roots that grew towards each other underground, and when all the pretty blossoms had fallen from our branches we found that we were one tree and not two. Love is important and you should love each other the most."
"Ahead By A Century" by The Tragically Hip
First thing we'd climb a tree
And maybe then we'd talk
Or sit silently
And listen to our thoughts
With illusions of someday
Cast in a golden light
No dress rehearsal
This is our life
Stare in the morning shroud
And then the day began
I tilted your cloud
You tilted my hand
Rain falls in real time
And rain fell through the night
No dress rehearsal, this is our life
Extract from Admonitions to a Special Person by Anne Sexton
Love? Be it man. Be it woman.
It must be a wave you want to glide in on,
give your body to it, give your laugh to it,
give, when the gravelly sand takes you,
your tears to the land. To love another is something
like prayer and can't be planned, you just fall
into its arms because your belief undoes your disbelief.
Love Is Friendship Set On Fire by Laura Hendricks
"Love is friendship caught fire; it is quiet, mutual confidence, sharing and forgiving. It is loyalty through good and bad times. It settles for less than perfection, and makes allowances for human weaknesses. Love is content with the present, hopes for the future, and does not brood over the past. It is the day-in and day-out chronicles of irritations, problems, compromises, small disappointments, big victories, and working toward common goals. If you have love in your life, it can make up for a great many things you lack. If you do not have it, no matter what else there is, it is not enough."
Albert Einstein on relativity
"Gravitation cannot be held responsible for people falling in love. How on earth can you explain in terms of chemistry and physics so important a biological phenomenon as first love? Put your hand on a stove for a minute and it seems like an hour. Sit with that special girl for an hour and it seems like a minute. That's relativity."
"First Poems" by Rainer Maria Rilke
Understand, I'll slip quietly
Away from the noisy crowd
When I see the pale
Stars rising, blooming over the oaks.
I'll pursue solitary pathways
Through the pale twilit meadows,
With only this one dream:
You come too.
"Painter Song" by Norah Jones
If I were a painter
I would paint my reverie
If that's the only way for you to be with me

We'd be there together
Just like we used to be
Underneath the swirling skies for all to see.
"Love" by Roy Croft
I love you
Not only for what you are,
But for what I am
When I am with you.
I love you,
Not only for what
You have made of yourself,
But for what
You are making of me.
I love you
For the part of me
That you bring out;
I love you
For putting your hand
Into my heaped-up heart
And passing over
All the foolish, weak things
That you can't help
Dimly seeing there,
And for drawing out
Into the light
All the beautiful belongings
That no one else had looked
Quite far enough to find.
Extract from The Nightmare Before Christmas by Tim Burton
"My dearest friend, if you don't mind, I'd like to join you by your side. Where we could gaze into the stars, and sit together, now and forever. For it is plain as anyone can see, we're simply meant to be."
"I Wanna Be Yours" by John Cooper Clarke
I wanna be your vacuum cleaner
Breathing in your dust
I wanna be your Ford Cortina
I will never rust
If you like your coffee hot
Let me be your coffee pot
You call the shots
I wanna be yours

I wanna be your raincoat
For those frequent rainy days
I wanna be your dreamboat
When you want to sail away
Let me be your teddy bear
Take me with you anywhere
I don't care
I wanna be yours

I wanna be your electric meter
I will not run out
I wanna be the electric heater
You'll get cold without
I wanna be your setting lotion
Hold your hair in deep devotion
Deep as the deep Atlantic ocean
That's how deep is my devotion
Extract from The Amber Spyglass by Philip Pullman
"I will love you forever; whatever happens. Till I die and after I die, and when I find my way out of the land of the dead, I'll drift about forever, all my atoms, till I find you again… I'll be looking for you, every moment, every single moment. And when we do find each other again, we'll cling together so tight that nothing and no one'll ever tear us apart. Every atom of me and every atom of you… we'll live in birds and flowers and dragonflies and pine trees and in clouds and in those little specks of light you see floating in sunbeams… and when they use our atoms to make new lives, they won't just be able to take one, they'll have to take two, one of you and one of me, we'll be joined so tight…"
Now that you've got some interesting wedding readings, find your wedding officiant on WeddingWire »