10 Funny Wedding Readings to Make Your Guests LOL
Add a little humour to your wedding ceremony. These funny wedding readings will have your guests laughing out loud!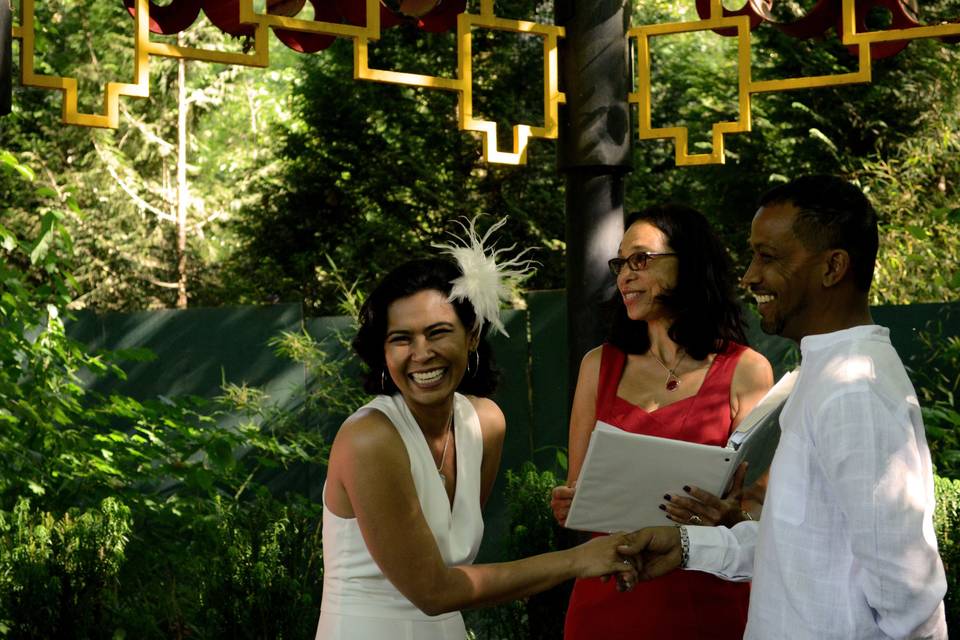 Are you looking to inject a little humour into your wedding ceremony to make it memorable? Choosing a funny wedding reading for a friend or family member to read will throw a few laughs into a day often filled with (happy!) tears. These humorous book passages, funny movie quotes, and hilarious poems will shake off any wedding nerves as well as unite the congregation in laughter. Here are some modern funny wedding readings to get your guests laughing out loud.
Here are some of our favourite funny wedding readings.
When Harry Met Sally
"I love that you get cold when it's seventy-one degrees out. I love that it takes you an hour-and-a-half to order a sandwich. I love that you get a little crinkle above your nose when you're looking at me like I'm nuts. I love that after I spend the day with you, I can still smell your perfume on my clothes. And I love that you are the last person I want to talk to before I go to sleep at night. And it's not because I'm lonely, and it's not because it's New Year's Eve. I came here tonight because when you realize you want to spend the rest of your life with somebody, you want the rest of your life to start as soon as possible." —Harry


"I'll Be There For You" by Louise Cuddon
I'll be there my darling, through thick and through thin
When your mind's in a mess and your head's in a spin
When your plane's been delayed, and you've missed the last train.
When life is just threatening to drive you insane
When your thrilling whodunit has lost its last page
When somebody tells you, you're looking your age
When your coffee's too cool, and your wine is too warm
When the forecast said "Fine", but you're out in a storm
When your quick break hotel, turns into a slum
And your holiday photos show only your thumb
When you park for five minutes in a resident's bay
And return to discover you've been towed away
When the jeans that you bought in hope or in haste
Just stick on your hips and don't reach round your waist
When the food you most like brings you out in red rashes
When as soon as you boot up the bloody thing crashes
So my darling, my sweetheart, my dear…
When you break a rule, when you act the fool
When you've got the flu, when you're in a stew
When you're last in the queue, don't feel blue 'cause
I'm telling you, I'll be there.


Love Actually
"Whenever I get gloomy with the state of the world, I think about the arrivals gate at Heathrow Airport. The general opinion is starting to make out that we live in a world of hatred and greed, but I don't see that. It seems to me that love is everywhere. Often, it's not particularly dignified or newsworthy, but it's always there — fathers and sons, mothers and daughters, husbands and wives, boyfriends, girlfriends, old friends. When the planes hit the twin towers, as far as I know, none of the phone calls from the people on board were messages of hate or revenge — they were all messages of love. If you look for it, I've got a sneaky feeling you'll find that love actually is all around." —Prime Minister


I Like You by Sandol Stoddard Warburg
I like you and I know why
I like you because you are a good person to like
I like you because when I tell you something special, you know it's special
And you remember it a long, long time
You say, Remember when you told me something special
And both of us remember
When I think something is important you think it's important too
We have good ideas
When I say something funny, you laugh
I think I'm funny and you think I'm funny too
Hah-hah!
I like you because you know where I'm ticklish
And you don't tickle me there except just a little tiny bit sometimes
But if you do, then I know where to tickle you too
You know how to be silly - that's why I like you
If I am getting ready to pop a paper bag,
then you are getting ready to jump
HOORAY
I like you because when I am feeling sad
You don't always cheer me up right away
Sometimes it is better to be sad
You can't stand the others being so googly and gaggly every single minute
You want to think about things
It takes time
I like you because if I am mad at you
Then you are mad at me too
It's awful when the other person isn't
They are so nice and oooh you could just about punch them on the nose
I can't remember when I didn't like you
It must have been lonesome then
Even if it was the 999th of July
Even if it was August
Even if it was way down at the bottom of November
I would go on choosing you
And you would go on choosing me
Over and over again
And that's how it would happen every time


"Recipe For Love" by Unknown
Put the love, good looks and sweet temper into a well furnished house. Beat the butter of youth to a cream, and mix well together with the blindness of faults.
Stir the pounded wit and good humour into the sweet argument, then add the rippling laughter and common sense. Work the whole together until everything is well mixed and bake gently for ever.


"Yes I'll Marry You My Dear" by Pam Ayres
Yes, I'll marry you, my dear,
And here's the reason why;
So I can push you out of bed
When the baby starts to cry,
And if we hear a knocking
And it's creepy and it's late,
I hand you the torch you see,
And you investigate.
Yes I'll marry you, my dear,
You may not apprehend it,
But when the tumble-drier goes
It's you that has to mend it,
You have to face the neighbour
Should our labrador attack him,
And if a drunkard fondles me
It's you that has to whack him.
Yes, I'll marry you,
You're virile and you're lean,
My house is like a pigsty
You can help to keep it clean.
That sexy little dinner
Which you served by candlelight,
As I do chipolatas,
You can cook it every night!
It's you who has to work the drill and put up curtain track,
And when I've got PMT it's you who gets the flak,
I do see great advantages,
But none of them for you,
And so before you see the light,
I do, I do, I do.


"I Wanna Be Yours" by John Cooper Clarke
I wanna be your vacuum cleaner
Breathing in your dust
I wanna be your Ford Cortina
I will never rust
If you like your coffee hot
Let me be your coffee pot
You call the shots
I wanna be yours

I wanna be your raincoat
For those frequent rainy days
I wanna be your dreamboat
When you want to sail away
Let me be your teddy bear
Take me with you anywhere
I don't care
I wanna be yours

I wanna be your electric meter
I will not run out
I wanna be the electric heater
You'll get cold without
I wanna be your setting lotion
Hold your hair in deep devotion
Deep as the deep Atlantic ocean
That's how deep is my devotion


What's Mickey without Minnie,
Or piglet without pooh,
What's Donald without Daisy?
That's me without you.
When Ariel Doesn't sing,
and Pooh hates honey,
when Tigger stops bouncing,
and Goofy isn't funny.
When Peter Pan can't fly,
and Simba never roars,
when Alice no longer fits
through small doors.
When Dumbo's ears are small,
and happily ever after isn't true,
Even then, I won't stop loving you.


"A Word to Husbands" by Ogden Nash
To keep your marriage brimming,
With love in the loving cup,
Whenever you're wrong admit it;
Whenever you're right shut up.


"I Rely On You" by Hovis Presley
I rely on you
like a camera needs a shutter
like a gambler needs a flutter
like a golfer needs a putter
like a buttered scone involves some butter
I rely on you
like an acrobat needs ice cool nerve
like a hairpin needs a drastic curve
like an HGV needs endless derv
like an outside left needs a body swerve
I rely on you
like a handyman needs pliers
like an auctioneer needs buyers
like a laundromat needs driers
like The Good Life needed Richard Briers
I rely on you.
Now that you have lots of funny wedding reading ideas, find your wedding officiant on WeddingWire »