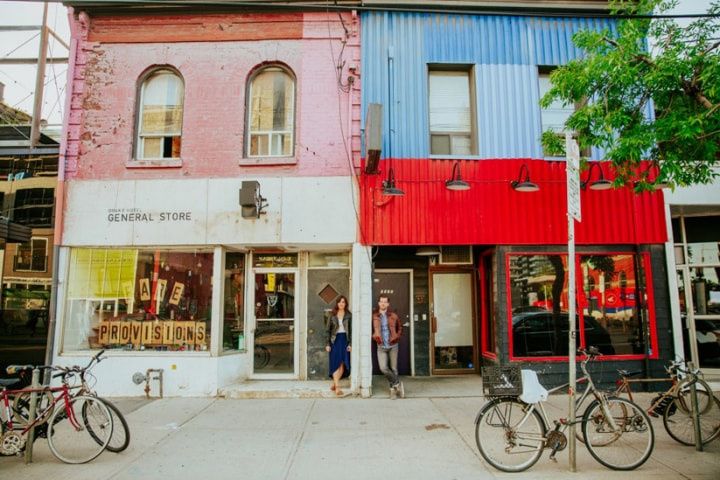 Pictured here: Erin and Eric's engagement session on Queen West captured by Magnolia Studios.
Queen Street West is one of Toronto's busiest stretches. It boasts an array of major retailers, thrift shops, cute cafes and essential eateries - beckoning both locals and tourists to its bustling streets. While you may have to hop on the 501 a few times to get from place to place, you don't need to stray far from the main drag to get your wedding in order.
Here's how to plan the ultimate Queen West wedding.
Venue: The Drake Hotel (1150 Queen Street West)
Where better to host your big day than one of the city's most beloved boutique hotels? The Drake is a one stop shop for all things wedding-related, offering plenty of stunning venue options, drool-worthy catered eats and a place to stay once your reception has wrapped up. While you're in the neighbourhood, head across the street to browse the Drake General Store. It's a great place to pick up favours and bridesmaid or groomsmen gifts. Image: Two Knots Photography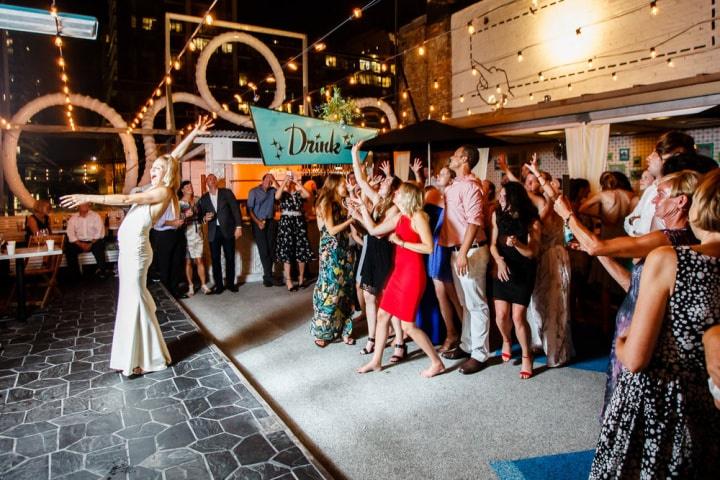 Dress: Hoax Couture (515 Queen Street West; by appointment only)
Hoax Couture is one of Canada's essential wedding dress designers. Owners Chris Tyrell and Jim Searle have been in business since the 80's and have created looks for theatrical performances, skating teams, celebrities, brides and more (so you know they're up to facing just about any design challenge). From short and sweet mini dresses to classic ivory numbers, they can make just about any dress dream a reality. If you want to kill two birds with one stone, the duo also tailors suits.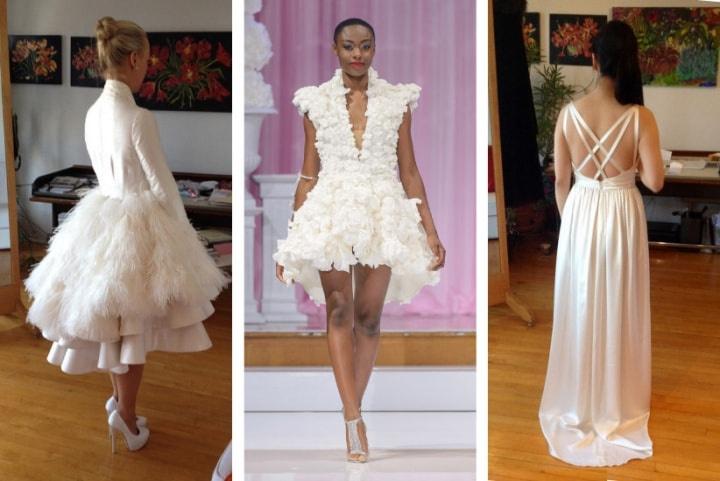 Suit: Frank + Oak (735 Queen Street West)
Head to the corner of Tecumseth and Queen and you'll find Frank + Oak, a Montreal-born shop specializing in modern menswear (though they've recently added a few female-friendly looks to their collection). From sleek suits to plaid shirts (for the more laid back groom), this boutique has it all. The shop also boasts a built-in barbershop, making it a great place to get groomed for your big day, too.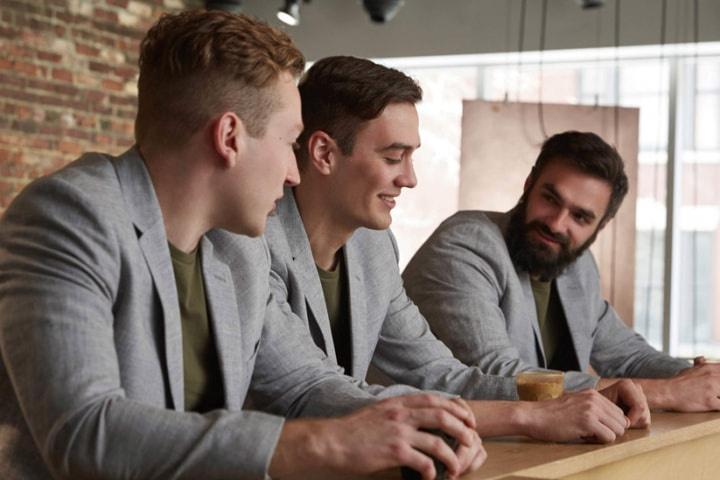 Flowers: Poppies (1094 Queen Street West)
Poppies is brimming with an array of stunning blooms that'll help you elevate your venue space. The shop crafts everything from rustic hand-tied bouquets to colourful rose-filled centrepieces, so no matter what you're in the market for the designers here have got your back. In need of a bit of inspo? Head to its Instagram. Image: via Instagram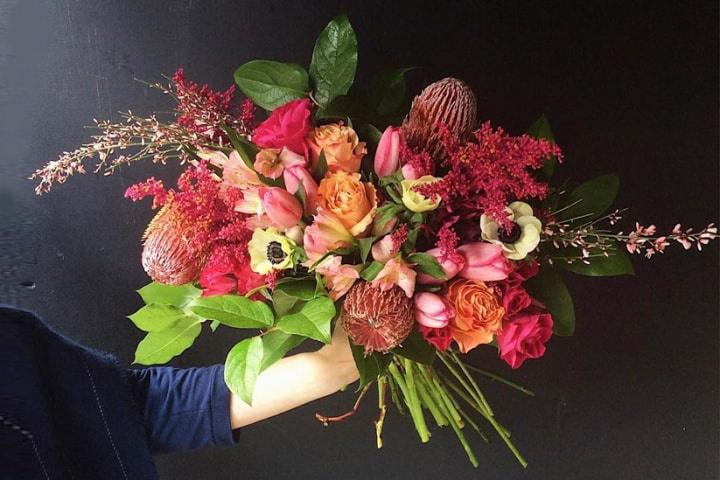 Catering: Provisions (536 Queen Street West)
Treat your guests to a meal to remember with Provisions. The company cooks up dishes with seasonal produce and local ingredients in a range of catering styles (from food stations to sit down meals). So, what's on the menu? Salmon sashimi, pork carnitas, charcuterie boards and everything in between.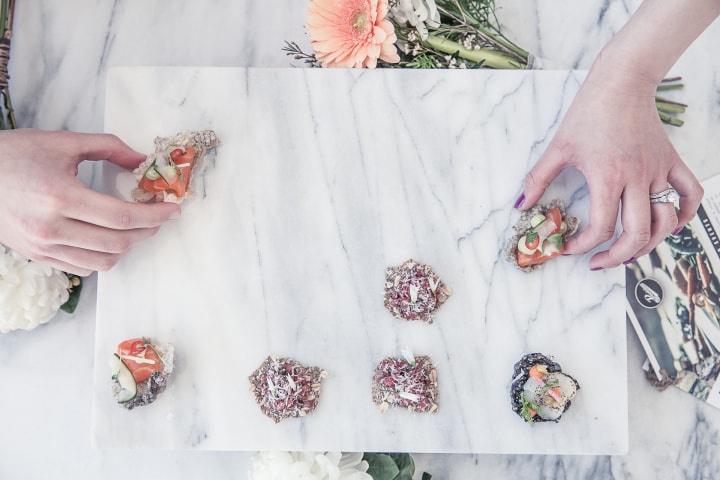 Cake: Dlish Cupcakes (833 Queen Street West)
Want to go off the beaten trail with your wedding cake? Forego the multi-tiered fondant confection and go with a cupcake tower instead. Not only will this save you from the fuss and muss of divvying it up into slices, it'll allow you to indulge in every flavour under the sun instead of opting for just one or two. The largest tower offered by Dlish holds 95 cupcakes. Images: courtesy of DlishCupcakes.com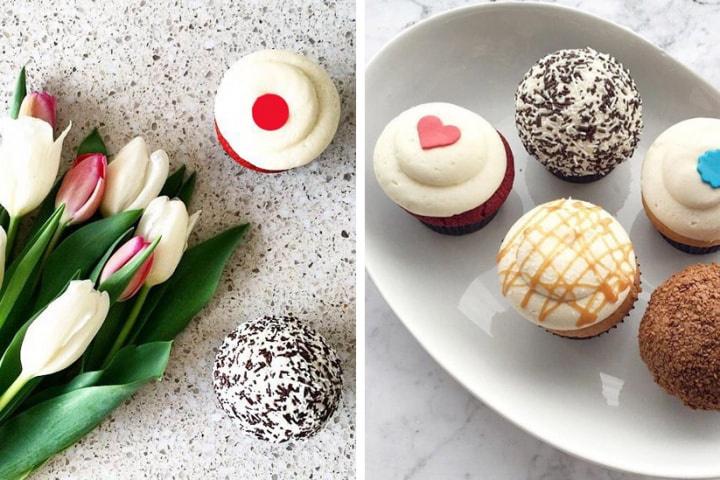 Rehearsal Dinner: Peter Pan Bistro (373 Queen Street West)
Perched on the bustling corner of Peter and Queen is Peter Pan Bistro. The restaurant boasts an eclectic menu, offering dishes like oysters, duck cassoulet, wild mushroom gnocchi and steak tartare. Head to its second floor and you'll find three rehearsal dinner-worthy private rooms: The Queen Room, The Peter Room and The Soho Room. The spaces can be used individually for groups of 10 to 30 or be combined to fit up to 100 guests.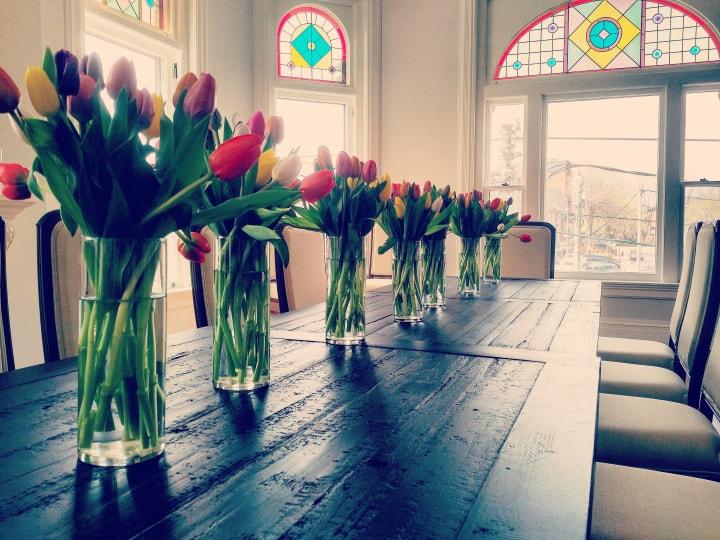 Photoshoot: Graffiti Alley
If you and your S.O. want to do something a little bit different for your engagement or wedding photoshoot, Graffiti Alley is the place to go. It stretches from Spadina to Portland, just south of Queen West and features street art by some of Toronto's best artists.