Gorgeous Bridesmaid Hairstyles We're Totally Obsessed With
Wondering what bridesmaid hairstyles to choose? We've rounded up a few of our absolute favourites to help you out.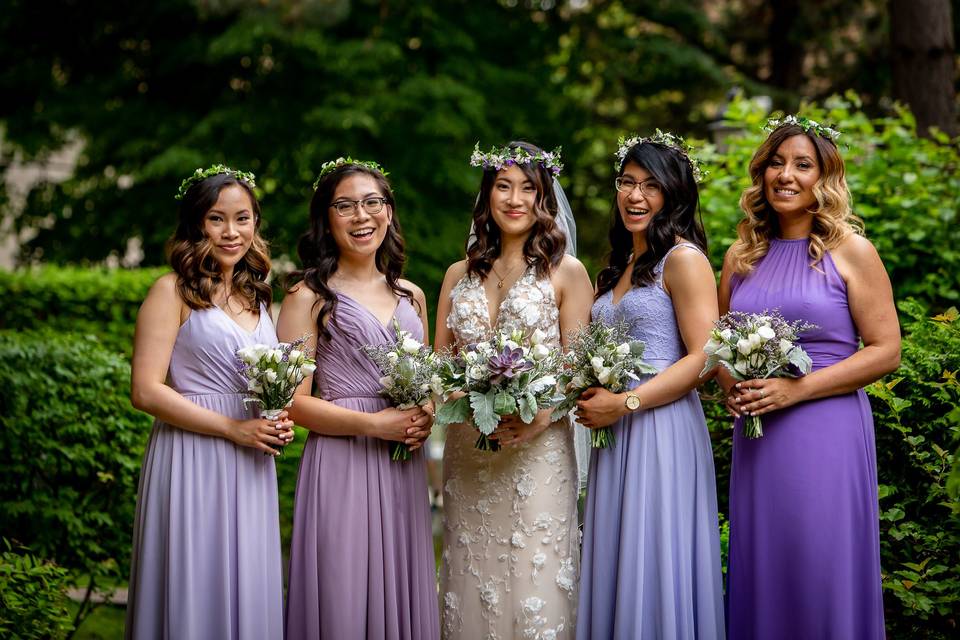 Now, you probably have a Pinterest board or an Instagram album filled with wedding hairstyles for you, but have you thought about what you want your bridesmaids to look like? If not, don't stress! We've put together this post of our favourite bridesmaid hairstyles to make your job just a little bit easier. From braided buns to flower crowns to flowy waves, you're sure to find something that suits your style here. P.S. Some of these looks don't require the help of a professional hairstylist, so you and your 'maids can skip shelling out the extra bucks.
Here are a few gorgeous bridesmaid hairstyles we're totally obsessed with.
Loose Waves
If you've got a group of girls who have medium to long hair, a loose wave hair do is a solid option for your bridesmaid hairstyle. It's the middle ground between a wave and a curl and can easily be DIY-ed by your wedding party. Even if they do require the help of a stylist, this look definitely won't amount to a ton of time in the chair.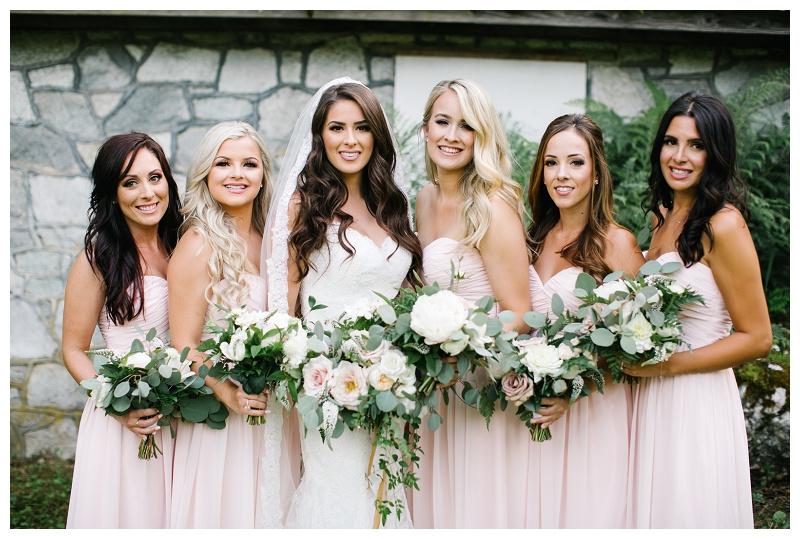 Beachy waves
Beachy waves are the sister style of loose waves, and look just as pretty. They're a bit more of a laidback option, making them a solid choice for both, rustic and backyard weddings, though they can definitely work for ultra-glam affairs, too.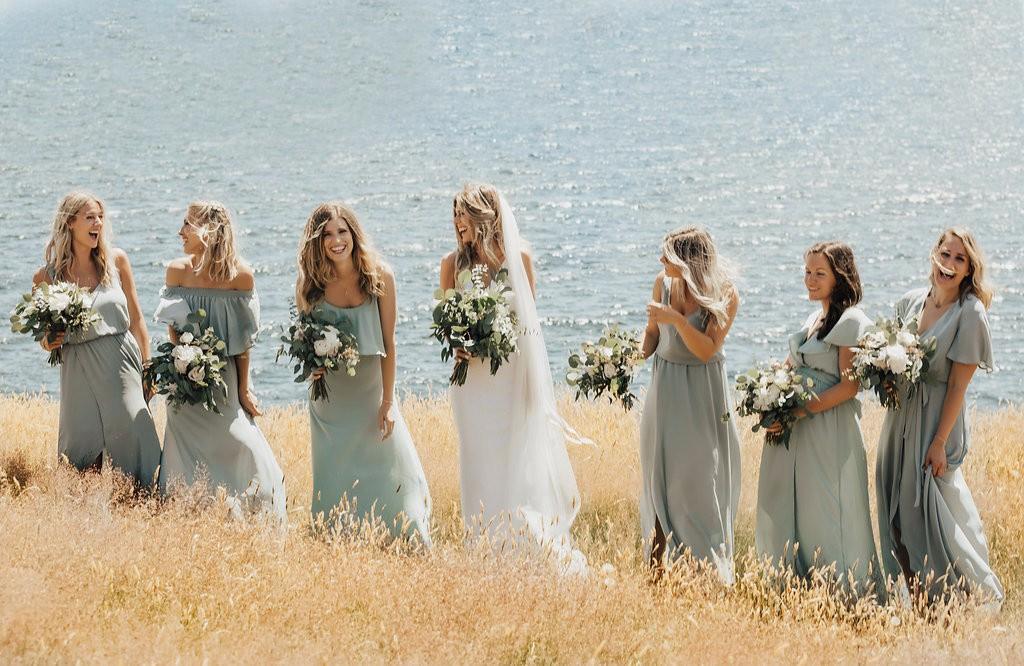 Chic Chignons
If you've chosen an elegant wedding theme, your bridesmaids are going to need equally elegant hairstyles. Instead of opting for down dos, tuck their hair into chic chignons. This may require the help of seasoned stylists and will definitely require the help of a lot of hairspray (but is totally worth the stress of washing it out). This look is super super-sleek and glamourous and will make your girl squad look like perfect tens on your special day.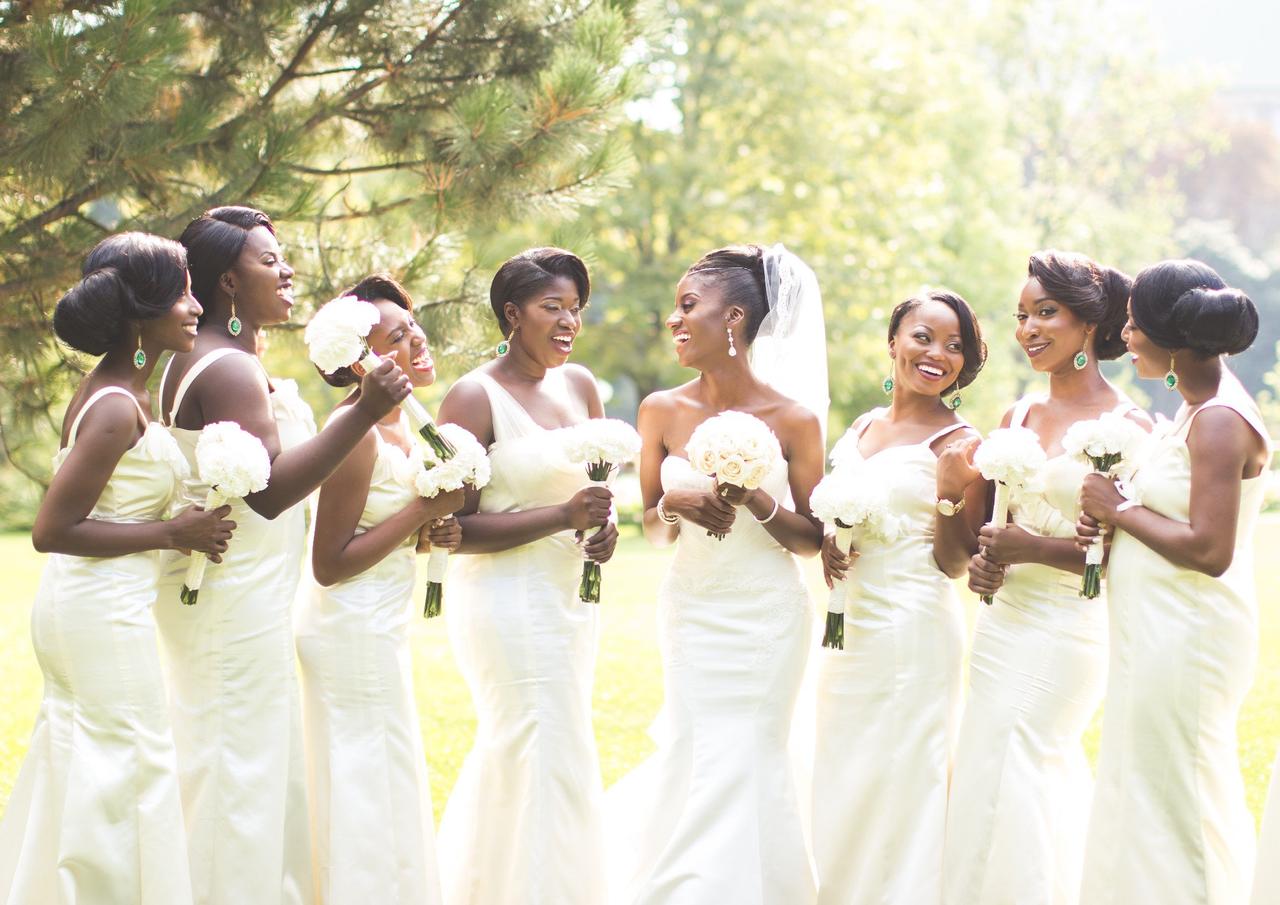 Relaxed Ponies
Want to give your bridesmaids a cute and casual vibe when it comes to their hair? Give them relaxed ponies. Ask your wedding hairstylist to lightly wave their hair (or leave it natural) and then pull it back into a low pony. Pull out a few face-framing pieces and – voila – you've got a stunning laidback look. If you want to amp it up a bit, think about choosing a bold coloured scrunchy, or doing a hair-wrap around the base of the pony to make it a bit more sleek and stylish.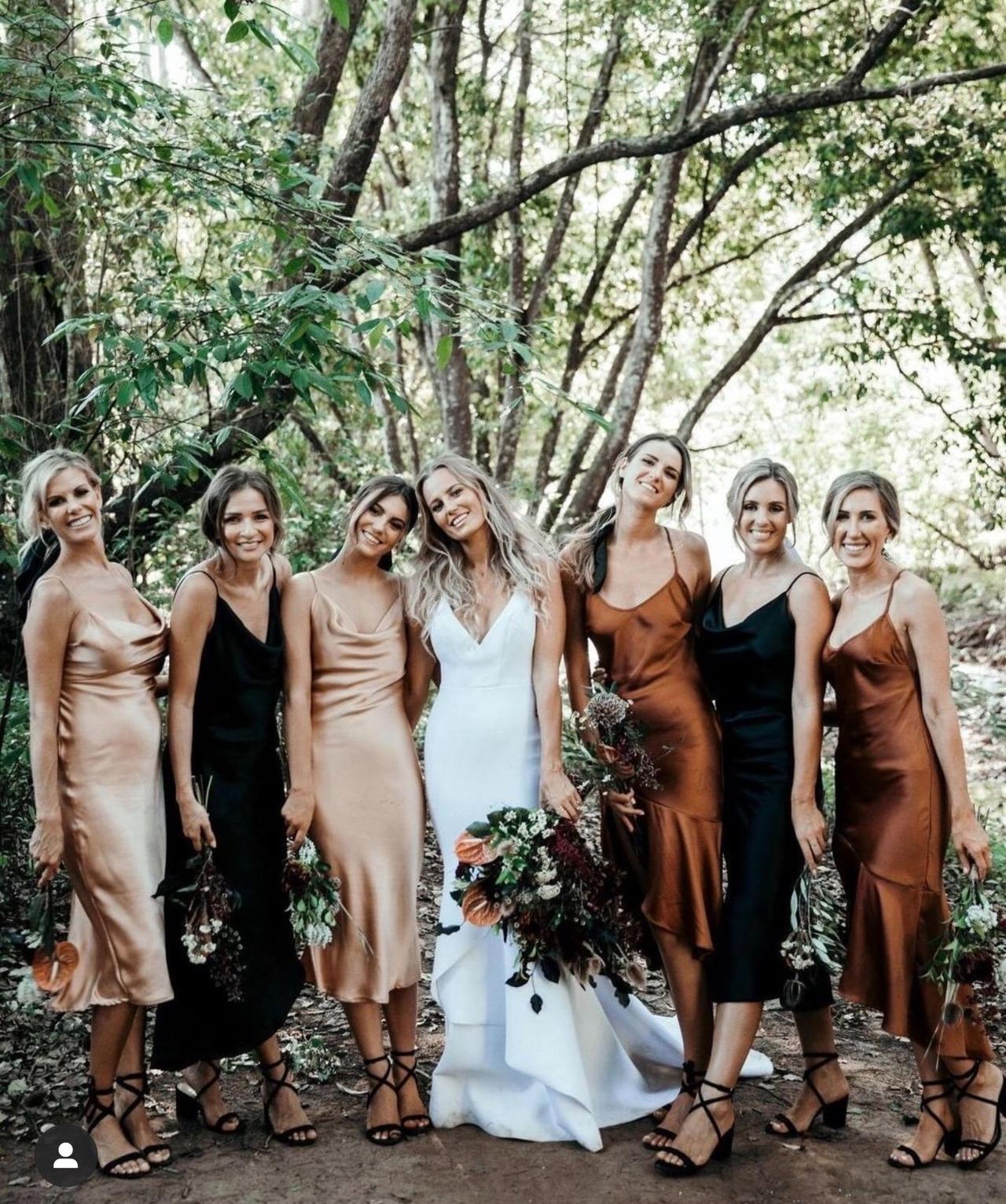 Flower Crowns
Chosen a woodsy or boho wedding theme? If you answered yes, flower crowns are a tried and true option worth considering. If you don't want to go all out and do crowns, you can simply add a few flowers or pieces of greenery to their updos or down dos. Pro tip: already maxed out your floral budget? You can save money by using faux blooms.
Retro Headbands
For those embracing a vintage wedding theme, retro, flapper-esque headbands are worth looking into. They look great paired with finger waves, tight curls and straight bridesmaid hairstyles, so you really can't go wrong. If you're looking to save a bit of money, you can DIY the headbands yourselves with a few inexpensive supplies from your local craft store.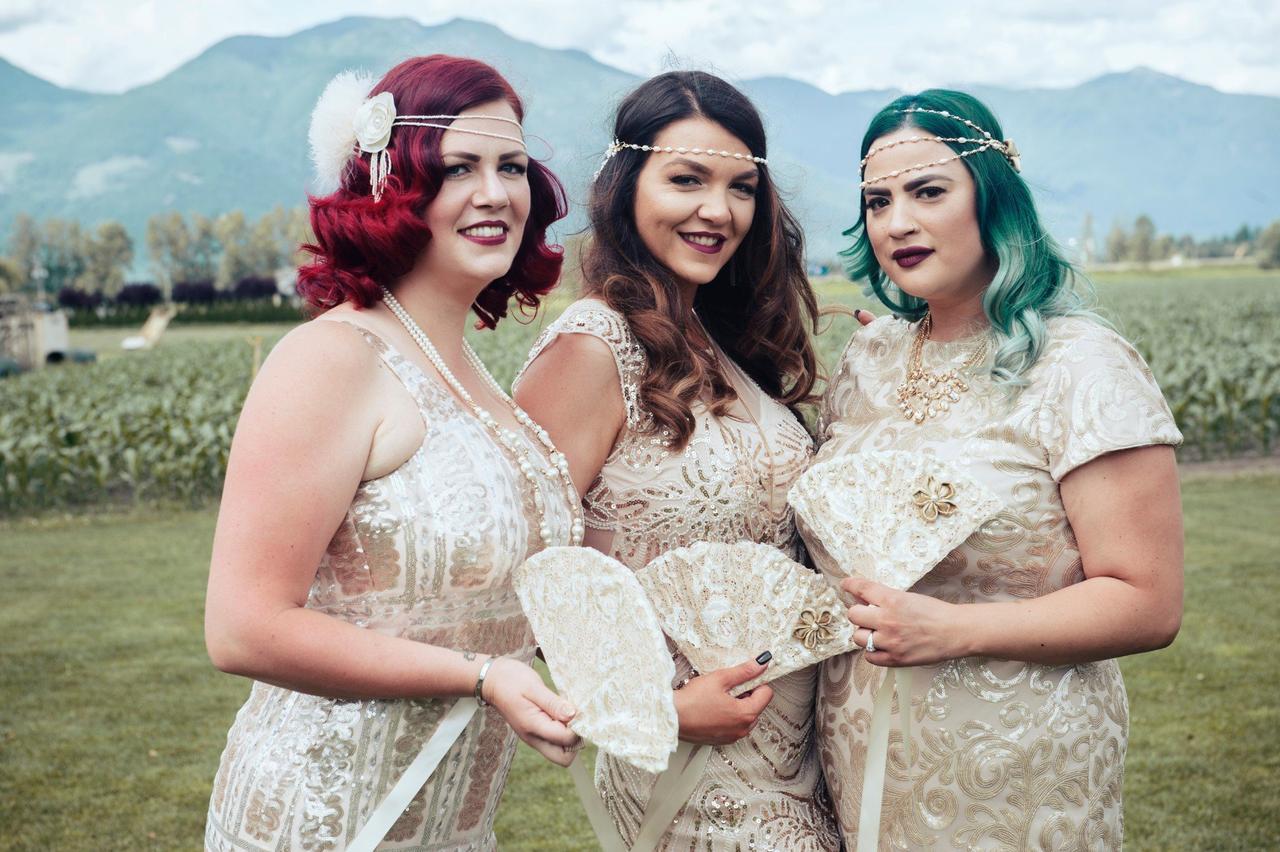 Pulled Back Pieces
if you're looking to shake up a down do and make it a bit more glam, pull back a few pieces of their hair with a clip or two. This is a great opportunity to add a little extra sparkle or colour to their manes. P.S. You can totally give them the barrettes you're using as wedding party gifts (if you think they're special enough).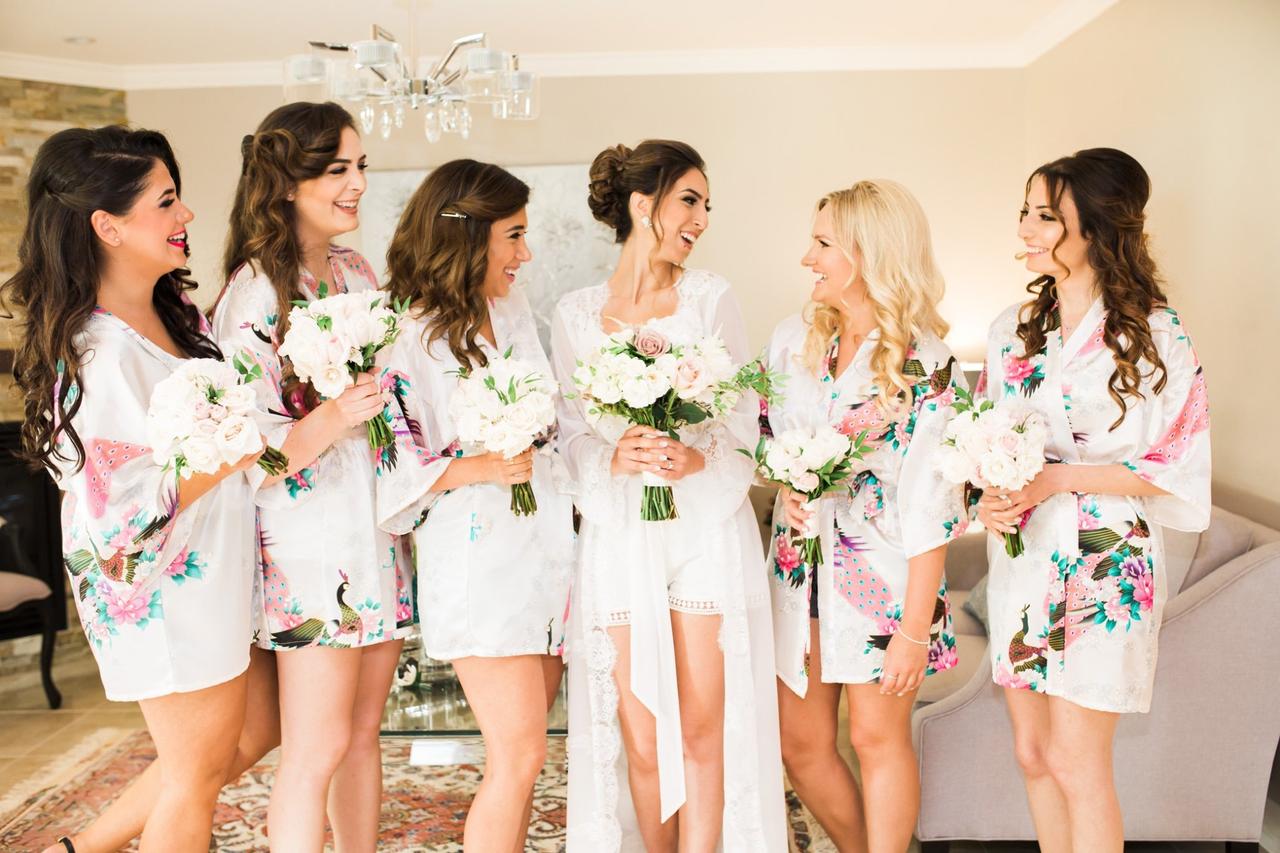 Half up, half down
Can't decide between an up do and a down do? Give your girls the best of both worlds with a half-and-half style. Give the bottom portion of their locks some waves or curls and then tie up the top in your favourite style, be that a bun, braid or pony.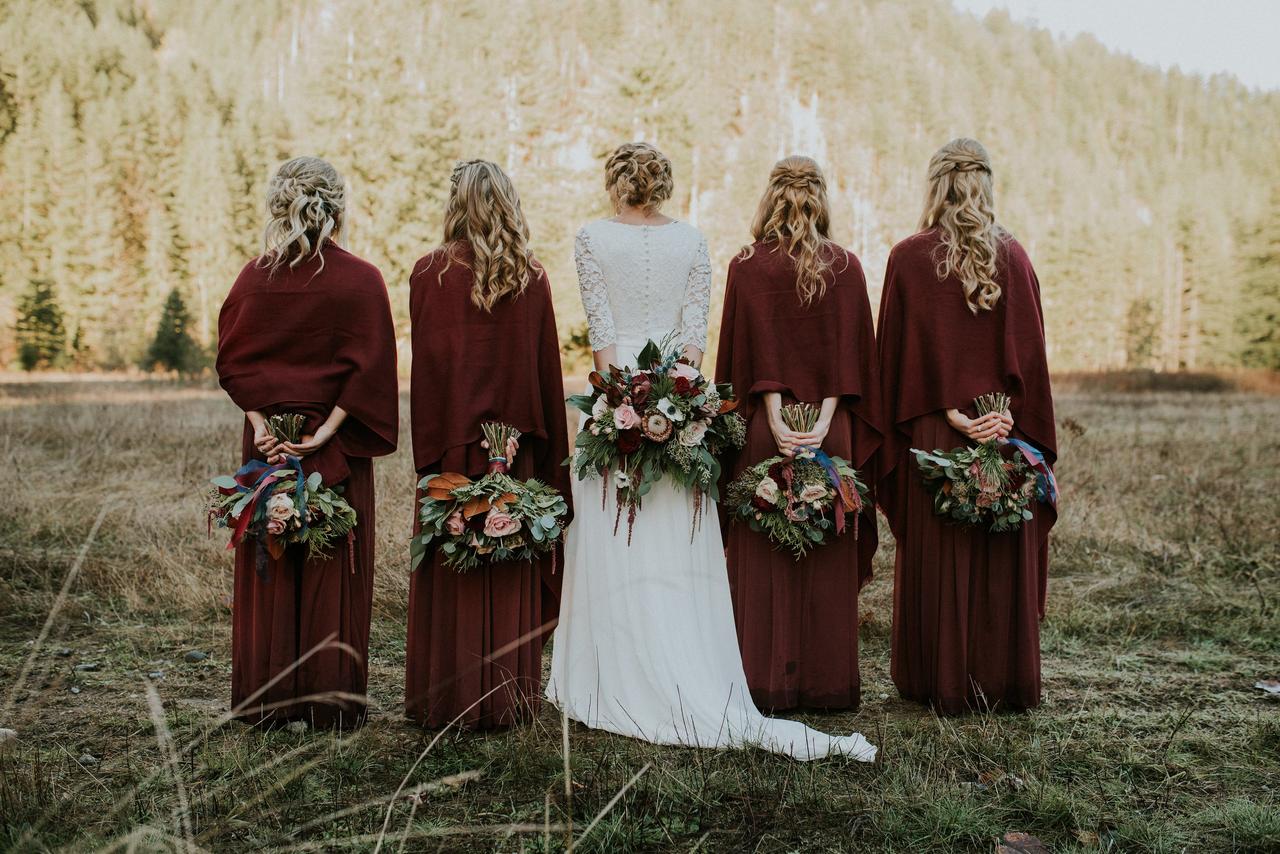 Braided Buns
If you're rocking a braid on your big day and want your bridal party to follow suit without stealing the show, ask them to braid their buns instead of wearing 'em loose. This looks super chic if it's tightly done, but can easily be made boho by untucking one or two strands and messing it up a little.
Tousled Buns
A textured, tousled bun is a versatile bridesmaid hairstyle that we're totally head-over-heels for. It works perfectly for any wedding theme and dress style, so you won't need to overhaul your bridesmaids' looks if you make any last-minute changes. Simply ask your wedding hairstylist to craft a bun and then mess it up by loosening up a few strands throughout the look. To ensure that it's big and bouncy, they may need to curl their hair or have extensions put in beforehand.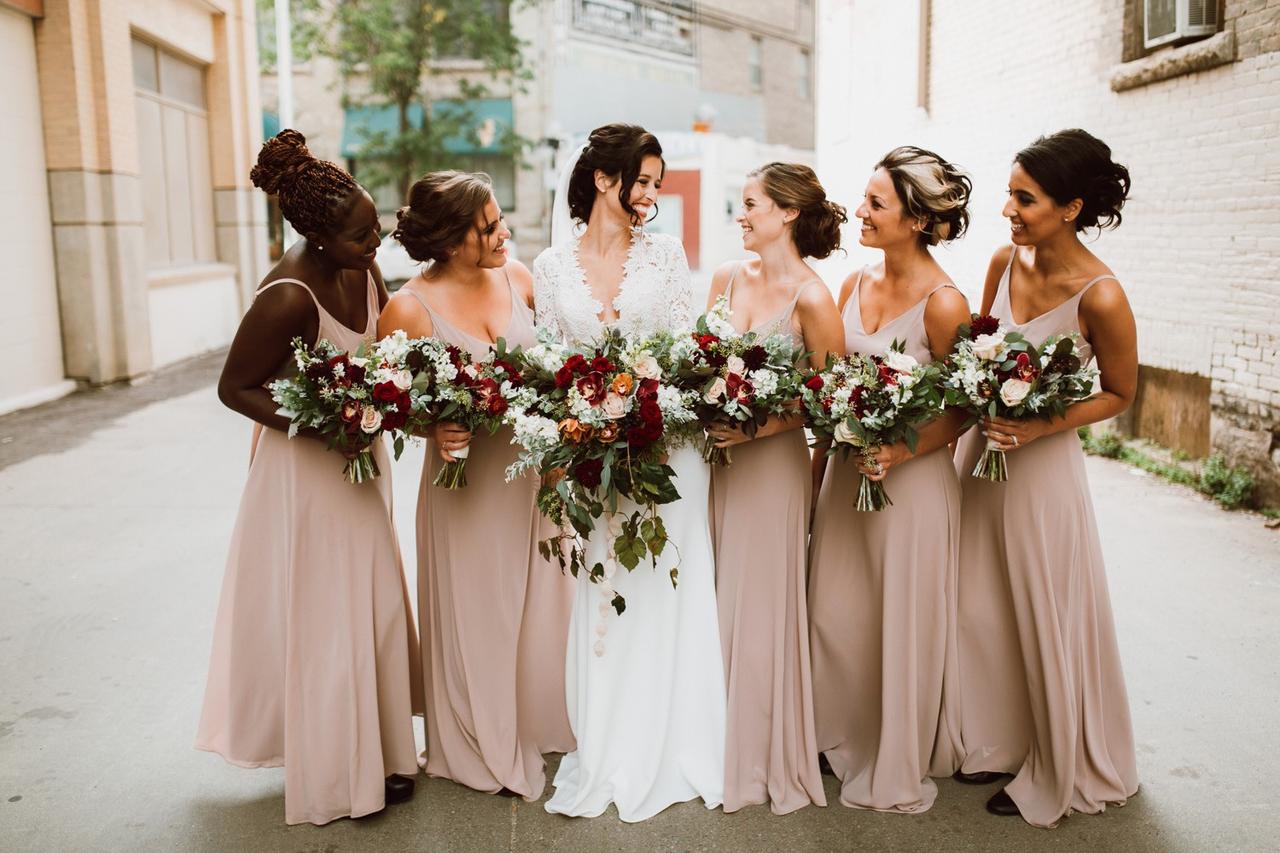 Mix and Match
So, you can't just settle on one bridesmaid hairstyle? Honestly, with a list like this,I can't blame you. Instead of losing sleep over whether your ladies should be rocking buns, ponies, braids or down dos, do it all! That's right, you can have your cake and eat it, too! This is a great choice if you're working with a ton of different hair lengths and textures, plus, this will ensure that everyone ends up with a style that their happy with (don't forget to ask them for input!).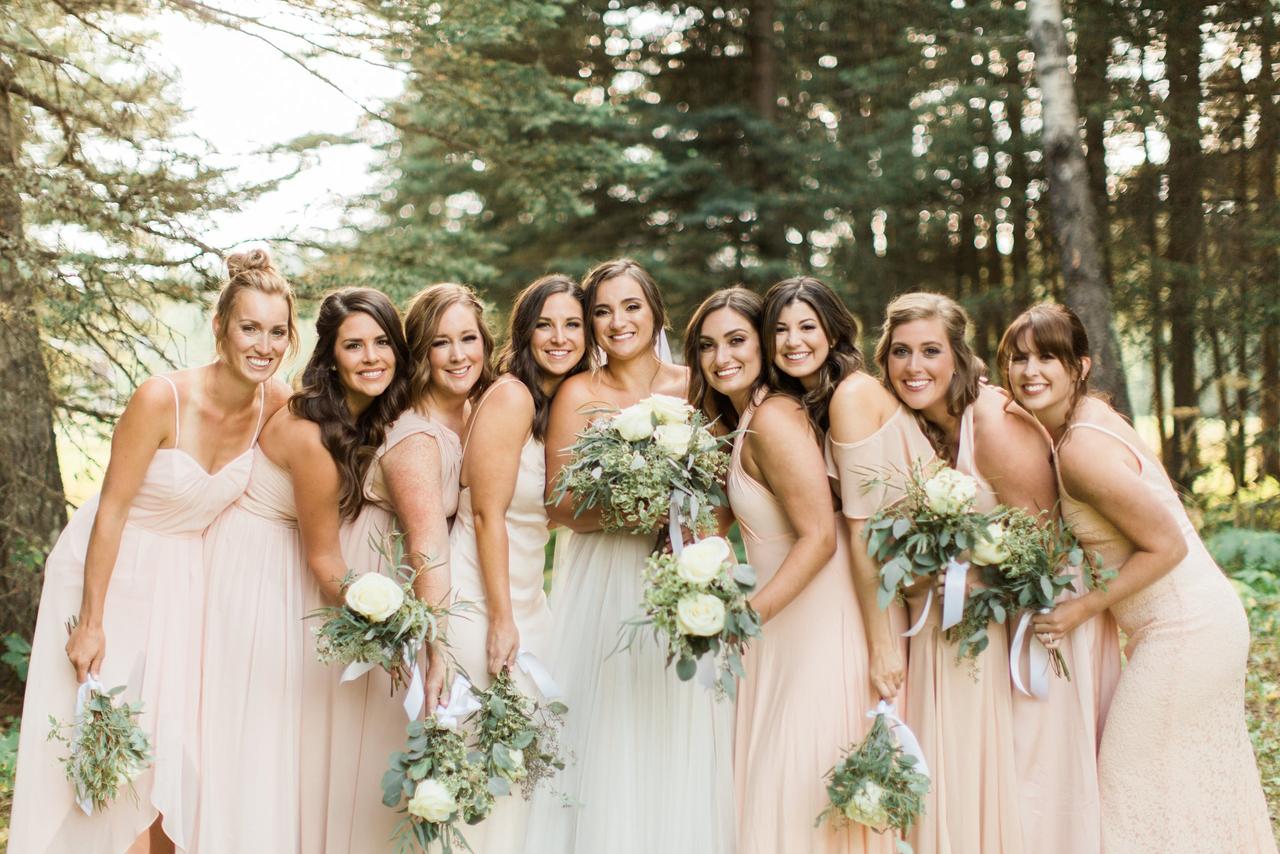 Find your wedding hairstylist on WeddingWire »