8 Trendy Breakfast Foods to Serve at Your Post-Wedding Brunch
Breakfast poutine, confetti pancakes, avocado toast and more foodie ideas worth putting on your menu.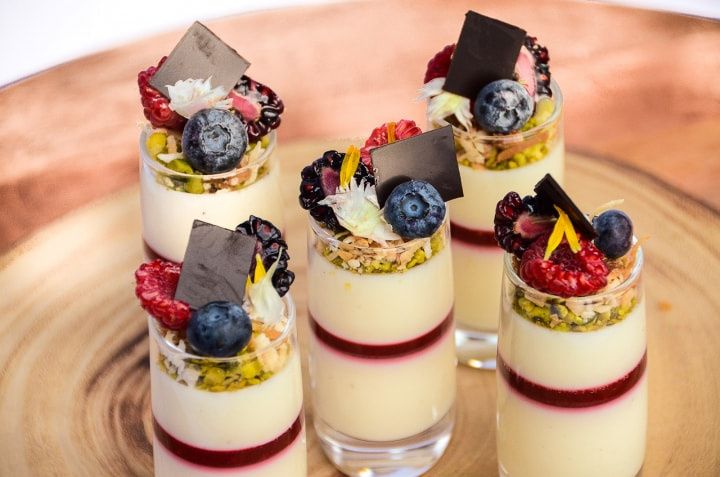 Want to elevate your post-wedding brunch (or breakfast wedding) menu? Turn to the food bloggers of Instagram for a bit of help. These #foodporn geniuses know what's up in the world of food, so you'll never be lost following their lead. From rainbow bagels to acai bowls, there are a few trends worth jumping on the bandwagon for when crafting your menu(s).
Here are a few trendy breakfast foods to serve at your post-wedding brunch.
Rainbow Bagels
Did you stay up 'til dawn drinking and dancing with your guests? Well, they're probably going to need some carbs to help bring them back to life. While sesame, everything and cinnamon raisin bagels will do the trick, we think you should consider adding a few aesthetically pleasing baked goods into the mix. Rainbow bagels are all the rage on Instagram ATM and will really brighten up your breakfast spread.
Breakfast Poutine
This list wouldn't be very Canadian without poutine. Swap out the gravy for hollandaise, crack an egg over top, throw on a few pieces of bacon, and, voila! You've got a kickass breakfast poutine. Make sure you have extra on hand - your guests won't be able to get enough of this one.
Breakfast Pizza
Admit it, you often have pizza for breakfast. It's probably cold two-day old Domino's pizza, but it's pizza nonetheless. Give your guests an amped up version of the age old hangover classic by serving a pie that actually belongs on the breakfast table. Toppings like eggs, hashbrowns and Canadian bacon may not seem like appropriate toppings for 'za, but, trust me, they work.
Confetti Pancakes
Your post-wedding brunch is a party, so celebrate with some cake. No, you don't have to go on the hunt for another massive multi-tiered confection, but you should consider adding pancakes to your menu. The confetti version of the classic is a great way to make yours just a little more festive. Also, if you want to top them with icing, I'm sure none of your guests would complain.
Stuffed French Toast
If you've got a sweet tooth, stuffed french toast is a post-wedding brunch must have. Start by making some run of the mill french toast and then layer in a few of your favourite toppings - like nutella, custard or whipped cream along with a bit of fruit. If you want to go the extra mile try crusting your bread with a dusting of favourite cereal (Nutella stuffed Cornflake toast, anyone?). Think of it like a crepe but with a hundred times more doughy goodness.
Avocado Toast
Avocado toast is the original trendy breakfast food. It brings together two of the best things in the world: bread and avocado. Nowadays people are even swapping out the toast and replacing it with thinly sliced sweet potato to make it even healthier. This one is pretty easy to craft without the help of caterer and cost-effective (if avocados are in season), so it won't push you over budget.
Acai Bowls
Scroll through any health-focused blogger's Instagram feed and there's a good chance you'll stumble upon a few acai bowls. These superfood smoothie bowls are easily turned into miniature works of art with the help of add-ons like chia seeds, goji berries, coconut flakes, cacao nibs and bee pollen. You can have a caterer whip them up for your friends and family or let your guests create their own masterpieces with a DIY food station.
Chicken and Waffles
Chicken and waffles is literally the perfect brunch food. I mean, what could go wrong when marrying a stellar breakfast staple (waffles) with a savoury dinner dish (fried chicken). Don't forget to add a few interesting butters and syrups to your breakfast buffet for good measure!