7 Tips for Communicating With Your Wedding Vendors
Being a good communicator is essential when planning a wedding. Here are a few pro tips to keep in mind when reaching out to your wedding vendors.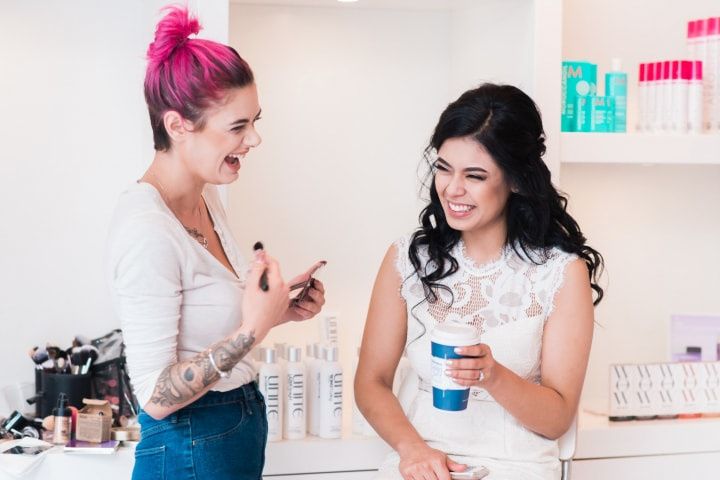 Having a good relationship and communicating with your wedding vendors is key. They're the ones in charge of turning your dreams into a reality, so you'll want to communicate with them effectively. Yes, we all know how to use email and can handle phone calls, but there are a few little things you'll want to keep in mind when reaching out.
Here are a few tips for communicating with your wedding vendors.
Keep everything organized
Now, this probably goes without saying, but being organized is essential. Keep all your important documents (like contracts) inside a binder, files or a planner so that nothing goes MIA - you'll probably need to refer back to these once or twice when talking with your team. This doesn't only go for hard copies - you'll want to keep your email clean, too. Make sure you're checking your inbox (and spam) frequently and move all the important notes from communicating with your wedding vendors to a designated "wedding" folder. Tip: use our Vendor Tool to manage all of your wedding vendors in one place - contact vendors, create notes and save conversations and quotes.
Have realistic expectations
Your BFF might text you back within forty seconds, but your venue coordinator probably won't. Yes, you want to make sure that your wedding vendors get back to you in a timely fashion, but they may not be able to respond to your calls or emails for a few hours - and that's fine. Ask what their preferred method of communication is (and expected response times) so that you know exactly what you're in for from the get-go. Also, keep in mind that this is a two way street, you need to respond to their queries in a timely fashion, too.
Keep things concise and to the point
Even if you have an amazing relationship with a vendor, they probably don't want to spend hours upon hours chatting - they've got a job to do. Don't embellish your conversations or emails with unnecessary info, just tell them exactly what you need. P.S. brief doesn't mean rude, make sure you keep things positive!
Use visual aids
You know what they say, a picture is worth a thousand words. If you're having trouble getting something across to one of your wedding vendors, now's the time to break out the visual aids (this is where Pinterest really comes in handy). Showing them exactly what you're in the market for will make their job that much easier.
Assign a point of contact
Dealing with multiple people is always confusing, so assigning a single point of contact with each vendor is necessary. Keep in mind that you don't have to take on every one yourself, if you need a bit of help you can ask your fiancé(e), your mom or even your MOH to tackle your florist or photographer.
Be aware of your timeline
When you first hire a vendor you won't be doing a whole lot of back and forth, after all, your wedding is months away. You should probably schedule one or two calls to get the ball rolling, but you shouldn't be dropping them a line on a weekly basis. As your wedding approaches you'll need to be communicating with your wedding vendors more and more, so feel free to amp up your communication frequency.
Actually communicate
Your wedding vendors are pros, so have a little faith in them. That being said, if something seems a little off or you don't understand a charge, it's perfectly fine to ask for an explanation. Just be careful about what language you're using, you want to keep things light and upbeat, not sound accusatory.
Use the WeddingWire Vendor Tool for communicating with wedding vendors, to create notes and to save your conversations and quotes. »