What to Include in a Destination Wedding Invitation
From date to location, here's everything you need to include on your destination wedding invitations if you're planning on heading out of town to tie the knot.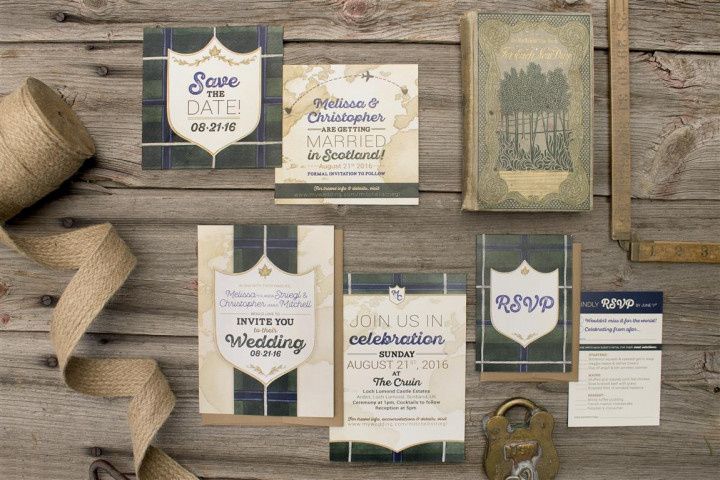 Destination weddings are the perfect mix of vacation and celebration, so it's no wonder they're so popular. If you've decided to head out of town for your big day, there are a few things you need to keep in mind when creating your wedding stationery. From where you'll be having your festivities to accommodation information, here's what to include in a destination wedding invitation.
Here's what to include in a destination wedding invitation.
The destination
Obviously, you need to include the destination part of your destination wedding on your invitations. Before you go into specific venue details, tell your guests exactly where in the world they're going. Have the country and city or town printed clearly, and, if you really want to go the extra mile, put a map on there, too.
The wedding venue
Now that they know where they'll be jet setting (or driving) off to, you can get into the nitty-gritty details. As with standard wedding invitations, you'll want to fill your guests in on the exact address of your venue. Because it isn't local, you'll want to take extra care and list its name and full address so that it's easy for them to track down online.
The wedding date
You don't want anybody missing your destination wedding thanks to any misinformation about dates! Include the specific day month and year of your celebration so that everyone books the right vacation time off work. For destination wedding invitation wording, we suggest skipping the all-numeral style (e.g. 10/10/2020) and going with a full written out version (i.e. Saturday, October 10, 2020, or Saturday the Tenth of October 2020) as some people write the day and month in opposite places when using the all-numeral style.
The time
The time is equally as important since you don't want anyone being tardy to your party. Include the specific hour, followed by a.m. or p.m., or use the 24-hour clock so that no one shows up too early or too late.
The RSVP deadline
Planning a destination wedding can be a bit tricky, so you'll want to have your headcount figured out well in advance of your big day. Have the RSVP deadline clearly listed on your wedding invitations so that no one tries to sneak in at the eleventh hour. Keep in mind that the cutoff for an out of town event is typically 12 weeks in advance instead of 6 (what it would be for a standard wedding).
The hotel info
Unless you're heading to the hometown of many of your guests, almost everyone is going to be in need of accommodations. If you have room on your destination wedding invitations, include information about the hotel or resort you've reserved blocks of rooms at, or add an extra enclosure card with all the details.
The wedding website URL
Your wedding website is a great place to include all the information that just couldn't fit on your destination wedding invitations. Have the URL listed at the bottom of your cards so that everyone knows where to go to seek out travel information, extra accommodation details, links and more.
Find your destination wedding invitations on WeddingWire »